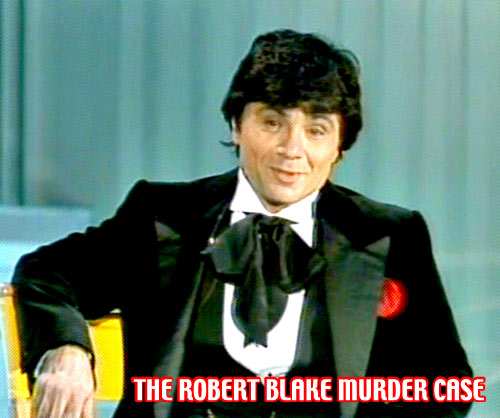 PART TWO : by Billy Ingram

Robert Blake was living in relative obscurity after only a few scattered acting jobs in the nineties, his rarefied existence as a weekly TV celebrity far behind him.
In May of 2001, Robert Blake made headlines when his new wife, forty-four-year-old Bonny Lee Bakley, was shot once in the head and once in the shoulder while sitting in their car on a Sherman Oaks side street. She was pronounced dead at the hospital a short time later.
Bakley, the mother of Blake's eleven-month-old child, had a checkered past, including run-ins with the law and a supposed child by Jerry Lee Lewis (or so she claimed, but it wasn't true). She'd recently been on probation in Arkansas for carrying a false ID; in fact, she had dozens of them.
Because of her checkered past, Blake and Bakley reportedly signed an unusual prenuptial agreement, one that specified that the bride couldn't engage in any sort of criminal activity during the marriage.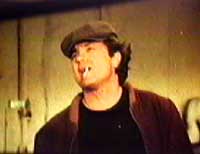 Weirdly, eight months before the murder, Robert Blake's personal assistant Cody Blackwell recalled a September 2000 incident where she thought her boss had already killed his wife. "Knowing him," Blackwell testified, "my first thought was, 'Oh, my God, he's killed her.'" Blackwell also recalled Blake threatening to kill anyone from Bakley's family who might try to avenge her. "Just let 'em try to come over the fence," she quoted the actor as saying. "I'll shoot 'em dead and the birds can pick the flesh off their bones."
WHAT HAPPENING?
The fatal shooting happened on the evening of Friday, May 4, 2001, close to Vitello's Italian restaurant in Sherman Oaks, a normally quiet San Fernando Valley community. After eating dinner that night, the couple left the place together, strolling the block and a half to their car.
Blake told police that his wife stayed behind while he went back into the eatery to retrieve a gun that had slipped from his waistband, a gun he said he was carrying for his wife's protection (he had a valid concealed weapon permit).
This was disputed somewhat by people in the restaurant who observed the actor when he walked back in the door. The restaurant owner, who was well known to the actor, claimed Blake reentered the establishment to nervously drink two glasses of water, but saw him retrieve nothing. It was reported that others in the restaurant remembered him asking, calmly, if anyone knew CPR. Why he needed someone who knew CPR (supposedly before he had even discovered his wife was shot) remains unknown.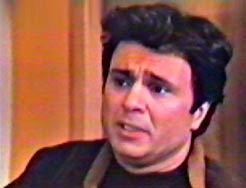 According to Blake, when he returned to the car he was horrified to see his wife had been shot. What no one disputes is, instead of helping his wife who was hemorrhaging blood and dying, Robert Blake ran in panic to the nearby home of film director Sean Stanek, a total stranger, for help.
"He was falling apart," Stanek told the press in 2001. "He was sick, he was throwing up, he was shaking, he was crying. He was really messed up."
Marybeth Rennie and her boyfriend watched but did nothing to assist Blake at the scene while he was wailing and vomiting on the sidewalk. Rennie later told jurors at the murder trial, "It seemed forced."
Could Robert Blake have done the unthinkable and killed his wife? Did he hire someone to do it? Why did he park so far from the restaurant when there were spaces closer to the eatery? If Blake walked into the restaurant with a gun and then lost it, what happened to it?
Was it relevant that Bonny Lee Bakley told her half-brother Peter Carlyon that she lived in fear for her life? Carlyon claims that Blake told Bakley flat out, "There's a bullet with your name on it."
"I'm 99.9% sure it's him," Carlyon told the press days after the murder. "He [Blake] was making a lot of verbal threats. She didn't want him carrying the gun because he had been making threats against her. She told the entire family that if anything happened to her, he was behind it."
Ironically, Peter Carlyon also claimed that he felt his sister would have died happy, knowing she was the wife of a star. It was her lifelong dream. "She was just a harmless scam artist. I don't think she had any true to life enemies that would kill her." Bonny's mother believes Blake killed her for control over the baby.
DAMAGE CONTROL
"Apparently she's had some criminal history," Blake's attorney told the AP hours after the murder, hoping to shift the focus from his client to the victim, "So it could be any number of people that had it in for her."
Braun released a tape recording of a conversation between Bakley and a friend: "I thought, well, when I met Blake I kinda wanted him but I kinda didn't because he wasn't, like, up to par with the looks," Bonny Bakley is heard casually saying. "I thought, well, I don't know if I really would want him the rest of my life because he's going to get even older and worse looking and I'm already in love with Christian [Brando, son of Marlon]."
How romantic . . .
Police found documents in Bakley's apartment (she had been banished to a service house behind her husband's home) indicating that she was running a lonely hearts service targeting old men and prison inmates, even mailing out nude pictures of herself in exchange for a donation.
She was allegedly planning to swindle Oscar-nominated actor Gary Busey and may have even contacted Busey's mother.
Bakley may have been a "harmless scam artist" but you have to give her credit for opening up new markets, though I question just how lucrative they may have been.
Christian Brando, who served almost five years in prison for the shooting death of his half-sister's boyfriend, warned Bonny to be careful. "You better get a handle on that and really think what you're doing," Brando admonished her in a taped phone conversation. "Running around sending letters to guys, embezzling money from all these idiots. You're lucky - not on my behalf - but you're lucky somebody ain't out there to put a bullet in your head."
A private investigator (hired by Blake's lawyers) claimed that a few weeks before the murder, a stranger was showing up in front of the actor's Studio City home. Described as being in his early twenties with a crew cut, the stranger was supposedly watching the property from a black, four-door pickup.
Was Bakley being stalked? Why didn't someone run outside and say, "Hey, pickup drivin' man, why are you staring at my house?"
PART THREE:
NOT ANOTHER O.J.!
Robert Blake on trial for his life...