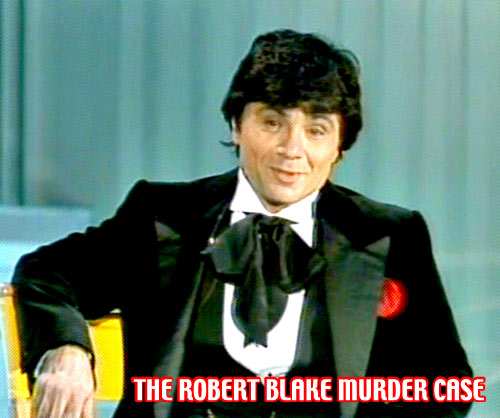 PART THREE : by Billy Ingram

NOT ANOTHER O.J.
With a high-profile celebrity murder case on their hands, the LAPD moved methodically, not wanting another O.J. Simpson-style fiasco.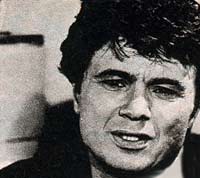 Police interviewed Robert Blake twice about the killing, immediately after the shooting and again a day later. In a search of Blake's house the weekend after the murder, police recovered two 9mm handguns, along with paperwork and phone records.
His home was in disarray according to ABC News, with scrawling on the wall reading, "I am not going down for this."
A third search of Blake's home was conducted a few days later. Police were looking for financial records and a second diary believed to have been kept by Bakley. Friends and family members of the victim swore the diary contained evidence of the blatant threats made by her husband.
Meanwhile, police found the murder weapon in a trash dump near the crime scene. The gun could not be traced to Robert Blake at that time and The New York Post reported that police determined brass bullet casings found near the body did not match the bullets taken from a search of Blake's home.
In the days that followed, a media assault began and the nation's most prestigious news organizations snapped into action.
The National Enquirer announced they were giving the police a tape that reportedly depicted the actor pressuring Bonny Lee Bakley to get an abortion, accusing his future wife of trapping him into marriage by lying about using birth control.
The murder was so shocking that model citizen O.J. Simpson took a break from the exhaustive search for the killer of his own wife to tell the TV show Extra, "I know that watching TV is only going to frustrate him. As far as I'm concerned, this man is innocent until a jury comes back and calls him guilty."
When Blake's ex-wife Sondra was confronted with the news of the murder, she reluctantly recalled her rocky 1982 breakup, when her husband grew violent and threatened to kill her - with his gun planted in her mouth!
She would say little more about the split in the few TV interviews she consented to, refusing to discuss anything that wasn't already on the public record. Was she afraid to say more? She wouldn't say.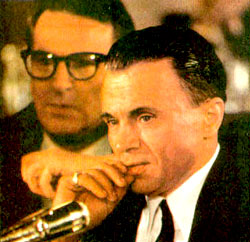 Curiously, Blake had admitted in past interviews to almost killing two people, the father of a girl he dated and a therapist. "I felt like a killer and I liked it. It was an exciting feeling..." he stated in a frank 1976 interview.
Days after the shooting, the LAPD announced that they were confident of a swift arrest in the Bakley case and that Robert Blake was definitely considered a suspect.
Still, months drifted by with no apparent movement on the case.
Pathetically, the first attempt at a funeral service for Bakley had to be called off because the morbid crowd of tabloid reporters and curiosity-seekers frenzied by nonstop TV news coverage made any sort of dignified ceremony impossible.
SAY IT AIN'T SO, LITTLE BEAVER!
In February 2002, almost a year after the murder, Robert Blake's lawyer Harland Braun announced to the world that he may have found Bakley's killer - a man currently under arrest for armed robbery who Braun felt "would be a prime suspect in this type of killing," a man allegedly humiliated by one of Bakley's lonely hearts schemes.
With police turning up the heat on his client, some saw this announcement as a cynical diversionary tactic. Indeed, just a month later, the tables turned when Blake and his bodyguard Earl Caldwell were arrested in connection with the murder.
April 18, 2002, attorney Braun was on the scene at Blake's sister's home in the Hidden Hills area of Los Angeles to advise the actor "to come outside peacefully" and surrender to authorities, which he did. Bakley attorney Cary W. Goldstein told CNN after the arrest, "I think that after thousands and thousands of hours of investigation by the LAPD, they have concluded that Robert Blake and Earl Caldwell are responsible for the death of Bonny Bakley."
The eleven-month investigation led detectives to twenty states and yielded over nine hundred pieces of evidence. Braun earnestly stated on the day after the arrest that Blake was innocent and in good spirits while being held in a medical unit where high-profile inmates are assigned to keep them away from the general inmate population.
By that Monday, the Los Angeles District Attorney had charged Blake with murder and two counts of solicitation of murder and conspiracy. Blake's bodyguard, Earle Caldwell, forty-six, was charged with conspiracy to commit murder.
Prosecutors alleged the actor instructed Caldwell to keep a list "of items for use in the murder of Bonny Lee Bakley." That list, the complaint charged, included, "two shovels, small sledge, crowbar, twenty-five auto, 'get blank gun ready,' old rugs, duct tape, Draino, pool acid, lye, plant."
Police offered a motive at a news conference after the arrest - Blake was unhappy in his short marriage and allegedly tried to hire two different stuntmen to kill Bakley. Having failed at that, the theory goes, Blake shot her himself in cold blood as she sat in his car near Vitello's restaurant.
NOT GUILTY!
Almost four years after the murder there was a trial (which saw numerous law team firings and resignations). Blake faced the death penalty since he was charged with a special circumstance ("lying in wait") in connection with the death. (Bakley's brother Joel told reporters shortly after Blake's arrest, "He deserves to get it.")
Eight of the 12 jurors chosen noted on questionnaires that they recalled the actor from his roles in TV's "Baretta" or in the "Our Gang" comedies - so perhaps it's not surprising that, after a 12-week trial, Robert Blake was found not guilty of murder. The jury foreman stated to AP News, "I felt the primary thing from what I saw was that the circumstantial evidence was flimsy."
Blake was also found not guilty of soliciting a stuntman to kill Bakley; the judge dismissed the other solicitation charge when the jury announced they were deadlocked 11-1 for aquittal.
The trial left Robert Blake with no money and anxious for a Hollywood comeback. He held a raucous news conference outside of the Van Nuys courthouse where he announced, "I used to be a rich man. Right now I couldn't buy spats for a hummingbird."
"I need a job."
---
* A California Appeals Court cut in half a $30 million wrongful death judgment awarded against actor Robert Blake to the estate of his slain wife Bonny Lee Bakley, according to an unpublished opinion filed in April of 2008.