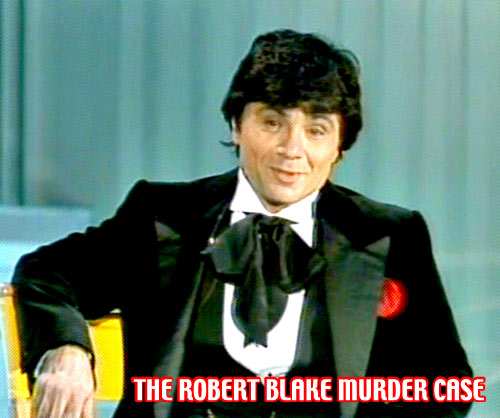 by Billy Ingram

"Scotty" Beckett's pathetic life of drug addiction (and arrest for assaulting his stepdaughter with a crutch), Stymie's decent into an alcoholic hell, Alfalfa's brutal murder in an argument over a few dollars, "Weezer" Robert Hutchins's abusive childhood and early death, and Robert Blake's rocky television career / personal problems are just a few examples of the supposed Our Gang curse.
In May of 2001, things took a turn for the worse for sixty-eight-year-old Robert Blake with the shocking murder of his new bride. The finger of blame was pointed straight at him from the very beginning.
HOW DID IT COME TO THIS?
Blake began his career in 1939 at age six playing Mickey in MGM's Our Gang comedies (credited on screen as Mickey Gubitosi), rounding out the '40s portraying the plucky Indian boy "Little Beaver" in another popular movie series, Red Ryder.
Young Robert Blake made seven to twelve films a year for eight years straight, but, all during that time, the youngster led a desperate life - the victim of a drunken, violent stepfather who would beat him and his brother, sister, and mother mercilessly at night.
As he grew into his teens, movie roles came much less frequently. In his twenties, Robert Blake moved into television where he could pick up supporting roles on shows like Fireside Theater. He became a frequent guest on the many western series of the '60s, just as his Red Ryder theatrical shorts and Our Gang comedies were finding new life in TV syndication.
In 1963, Robert Blake was cast as a regular on The Richard Boone Show, a one-hour anthology. Boone had just come off a very successful run on CBS with Have Gun, Will Travel and Blake was a guest star during the last season. The Boone show lasted only one year, so Blake went back to western guest shots and small movie roles, finally gaining the respect of the acting community with his rivoting performance as the psychotic killer in the motion picture In Cold Blood in 1967 and with a strong part in Tell Them Willie Boy Is Here in 1969.
As the '70s unfolded, so did the actor's addictions.
"I was strung out on heroin for two years, stole, smashed motorcycles into trees, boozed, ate pills by the handful," Robert Blake once confessed. "Self destruction? I could write a book."
TV STARDOM
In 1974, Tony Musante made the decision not to return for a second season of his ABC cop series Toma. He didn't care for the weekly series grind, so producer Jo Swerling, Jr., signed Robert Blake to take over the role. The series was to be retitled Toma, Starring Robert Blake.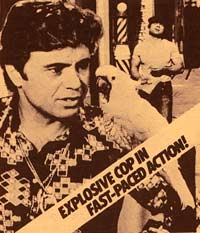 Because Blake was such a strong personality (and the show hadn't been that much of a hit anyway), the network decided to totally revamp the program, switching the locale to California, adding a pet cockatoo and renaming the character "Baretta."
On the effective but highly ironic pilot episode, detective Tony Baretta must cope with the killing of his new wife outside of an Italian restaurant. But then, all the TV detectives got their start by having someone die in their arms, didn't they? It was the only way to elicit audience sympathy for a character who's basically running wild in the streets with a loaded gun, shooting at whomever he pleases in the course of running his "private detective" business.
Baretta debuted mid-season in January, 1975 and was an immediate winner, at least by '75 ABC standards. A subsequent Emmy win that year for the actor put Robert Blake on top of the world.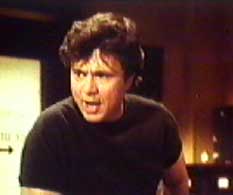 He took full advantage of the situation and started demanding more intelligent scripts, and battling on the set and in court for primary control over the production. He had his wife Sondra brought in as a frequent guest-star and began completely ignoring directors he didn't like, effectively directing the show himself.
"The guild says you gotta have a director, so you stick a director in the chair," Blake arrogantly stated in 1976. "It's like sticking a broomstick in the chair. The show directs itself, anyway."
Blake was further quoted in Esquire as saying this about his employers: "Here at Universal, nobody listens and nobody cares. As far as most people are concerned, they just as soon turn out Perry Mason or Donald Duck, it don't make no difference. 'Cause once you sell the hour, as long as it's on the air, it don't matter. You're on the air or you ain't on the air."

Intense battles on the set ultimately led to original producer Swerling's ouster, and there were many other production personnel firings. Blake had legitimate complaints - he wanted a quality production he could be proud of - but he later had to admit that excessive drug use was clouding his daily judgment. When asked to describe himself at this time in his life, Blake used words like "crazy," "hostile," and "full of hate," and he sought therapy to control those intense feelings.
Solidly in the top ten for the 1976 - 77 season, Robert Blake announced he would not return for a fourth year of Baretta because of a contract dispute with Universal. The studio, faced with losing one of its top productions, acquiesced. With an offer of more money and control over every aspect of the program, Blake decided to return.
Blake was finally handed what he battled so long and hard for, but ratings went south as soon as the 1977­78 season got underway. When ABC moved the show from its Wednesday-night lineup to Thursdays, numbers continued to dip. Less than a year after his victory over Universal, Baretta was canceled in 1978. Robert Blake's marriage dissolved soon after.
To many observers, Robert Blake's confrontational nature and admitted substance abuse led to the early demise of the series. Because of his erratic behavior, Blake found subsequent TV work difficult to find. "Don't do the crime, if you can't do the time," the industry seemed to be saying as the doors slammed shut.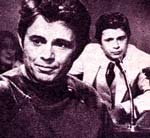 In 1981, Robert Blake roared back with five TV movies in one year, three in the role of detective Joe Dancer. He hosted Saturday Night Live in 1982, starred as Joe Dancer in another TV movie, and was seen as Jimmy Hoffa in the telefilm Blood Feud in 1983.
Because of his reputation, in order to get the Hoffa role, Blake was forced to put his salary in escrow, collectable only if he stayed drug- and trouble-free on the set. This was necessary because the production's insurance company refused to cover him otherwise.
Blake insisted this was no problem; he was drug-free and ready to move forward. He collected the check and won critical acclaim for his performance.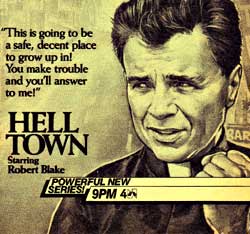 In March 1985, a TV movie pilot starring Robert Blake as a tough inner-city priest scored impressive ratings against powerhouse Dynasty on ABC. Hell Town the series joined the NBC lineup on September 4, 1985.
Hell Town was Baretta in a priest's collar, right down to the tough talk, gritty streets (shot on location in East LA) and, for good measure, a Sammy Davis, Jr., theme song (he had scored a top-forty hit with Baretta's theme).
Typical episode plot: Father Noah "Hardstep" Rivers (Robert Blake) tries to convert a prostitute by helping her homeless little brother.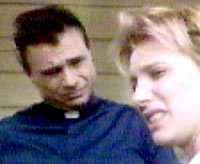 Despite heavy promotion and a natural timeslot after Highway to Heaven, Hell Town tanked against Dynasty on a weekly basis.
The show was canceled after a few short months, broadcasting the last episode on Christmas night 1985.
There were few roles for Robert Blake on television after 1986, although he resurfaced to play the title role in Judgment Day: The John List Story in 1993. His most notable part in the nineties was a supporting role in the 1995 theatrical release Money Train.

NEXT - PART TWO:
LIFE IMITATES ART
(Why is that never a good thing?)
Robert Blake - murderer?!?