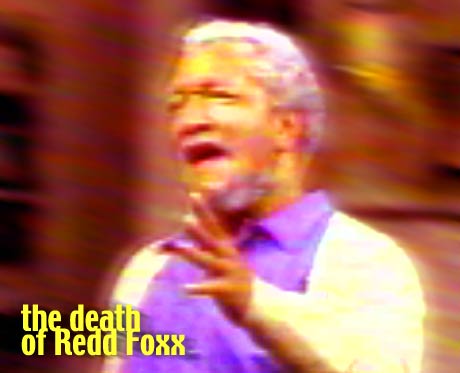 PART THREE - by Billy Ingram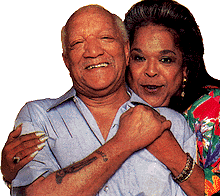 Bankruptcy followed for Redd Foxx in 1989, and the IRS seized all of his possesions for unpaid back taxes. What happened to all the money Foxx made with his long run on 'Sanford and Son'? Most of it went up his nose.
Redd Foxx made no secret of his love of cocaine, wearing a gold coke spoon around his neck and openly doing drugs on the 'Sanford and Son' set. Three divorces and an otherwise extravagant lifestyle left him with few assets by the end of the Eighties. "I was treated like I wasn't human" the comedian lamented to the press after the IRS seizure.
In the Nineties, it looked like Redd's luck had turned around. Eddie Murphy had cast him in his movie 'Harlem Nights' in 1988 - tho the film was a relative flop, critics agreed that supporting players Redd Foxx and Della Reese stole the film. This lead to a new TV series in 1991 - 'The Royal Family', co-starring Redd and Della, and produced by Eddie Murphy (as a part of Murphy's development deal with CBS).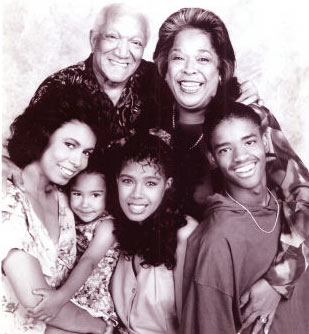 Redd and Della had known each other for twenty years, and worked together in Vegas and on television (including an episode of 'Sanford and Son'). Ratings were respectable for 'The Royal Family' and getting better each week, but Foxx was still bitter.
When asked by Ebony magazine what his thoughts were about returning to television, the comedian said: "The IRS will come in and take the money anyway, and have me living like a bum. Whatever comes out of it, comes out. I'm so disillusioned about the last one that I don't have any thoughts really."
Ironically, 'The Royal Family' was not the first title for the show. "They had an idea called 'Chest Pains'", Redd Foxx told a reporter, "But that sounded too much like Fred Sanford." It was a sadly prophetic title.
On October 11, 1991 (just a month after the first episode aired), Redd Foxx had a massive heart attack during rehearsals. At first the cast and crew laughed at him, they thought he was joking around, doing his "I'm coming Elizabeth" shtick from 'Sanford and Son'.
It quickly became apparent that this was no joke, but still no one on the set was willing to immediately help the comedian as he lay dying. No member of the crew wanted to risk his job and be known as the person who injured the star of the show.
(The death of Redd Foxx on the set)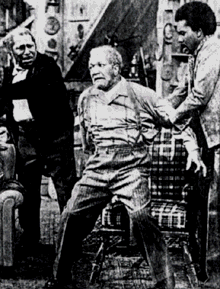 Della Reese (later the star of CBS's 'Touched by an Angel') prayed over him and begged, "Don't die Redd, don't die!" - but it was to no avail. Reese performed the funeral service in Las Vegas, attended by Flip Wilson, Lola Falana, and most of Foxx's cronies from his nightclub and television years. (Notably missing: Demond Wilson.)
The death was written into the show, and Redd Foxx was replaced by Jackee ('227'). 'The Royal Family' only ran for another three months.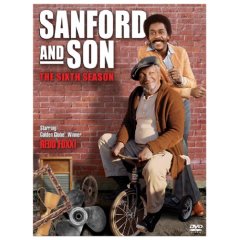 "Hi. I was just reading your account of the death of Redd Foxx, which mentions that Flip Wilson was at his funeral.
"I recall reading in People magazine shortly after in happened, that they had printed a picture of Flip at the funeral -- but it turns out that Flip was on a cruise ship at the time, and the man at the funeral was an IMPOSTOR!
"The article quoted Della Reese as saying she had been completely fooled by the fake Flip!"
- Geoff Smith