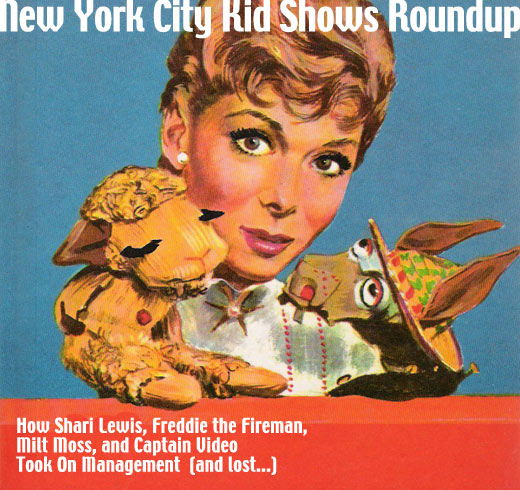 by Kevin S. Butler
Local kid show personalities were real people like you and me. Just like the rest of us, occasionally they had conflicts in the workplace. With the current focus on corporate malfeasance, lets look at some past worker vs. management battles in the local NYC kidvid market.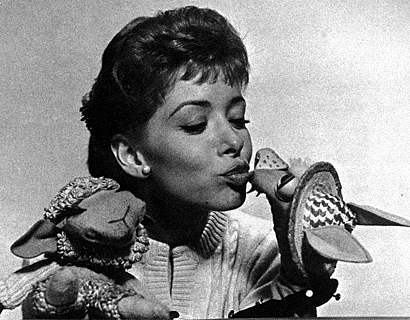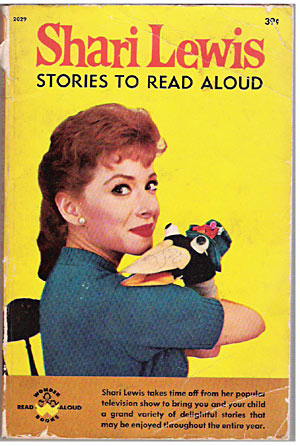 World famous children's entertainer Shari Lewis made her television debut in 1952 when she was a winner on the "Arthur Godfrey Talent Scout" TV show. This led to a Sunday afternoon local kid's TV wraparound show entitled 'Facts N' Fun' on WNBT-TV (now WNBC TV) Ch. 4 in NYC on Sunday, July 5, 1953. Shari would engage her studio audiences and viewers in games, songs, stories, craftmaking, hobbies, and interviews with guest performers and personalities in-between witty conversations with her puppets.
At the beginning of her TV career, Shari did not use hand puppets, she would work with standard ventriloquist figures instead - Samson (a conniving talent manager) and Taffy Twinkle (a silly farm girl). 'Facts N' Fun' remained on the air until Sunday, September 26, 1953.
Shari moved to WPIX Ch. 11 in NYC on Tuesday, July 6, 1954 when she succeeded rock & roll DJ , songwriter and singing bandleader Ted Steele as the second and last host of 'The Kartoon Klub'. (Mr. Steele probably felt uncomfortable as a kid's show host/ performer and left on Thursday, July 1, 1954, Shari took over the program on Tuesday, July 6, 1954.)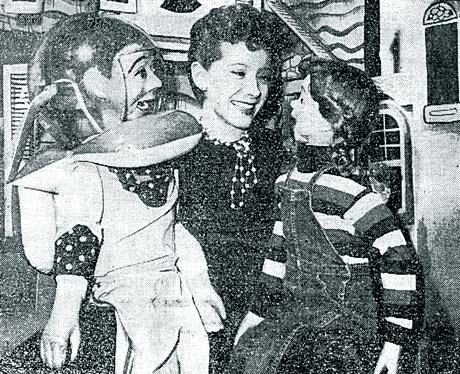 Under Shari Lewis' guidance, "The Kartoon Klub" changed from a loose kid's cartoon show to a fantasy scene.
Set against the backdrop of a mythical kingdom known as Kartoonia, Shari became The Mayoress of Kartoonia, engaging the citizens of Kartoonia (her studio audience) in games, songs, stories, craftmaking, hobbies and informational segments - along with puppet skits with "Taffy Twinkle" and a new puppet character "Randy Rocket".
She would also perform magic tricks and interview members of her studio audience and guest personalities.
Long before he became one of Broadway's most prolific playwrights, Herb Gardner was a comic strip artist for The New York Daily News. Mr. Gardner was invited to appear on 'Kartoon Klub' where he engaged members of the studio audience and home viewers in chalk talks (he would draw pictures on a drawing pad to help illustrate his stories about an unusual group of creatures know as The Nebbishes).
The segment was so successful that on Saturday evening, September 23, 1956, the program's title was changed to 'Shari & Her Friends'.
Shari happily entertained the citizens Of Kartoonia until she began to notice that most of the cartoons that she was screening were filled with racism and violence. She asked the station's programing director Mr. Fred Thrower if he could permit her to either edit out the offending characters and scenes from the films or replace the cartoons with more appropriate film material. Mr. Thrower refused Ms. Lewis's suggestion and promptly fired her from the show.
'Shari & Her Friends' was canceled on Saturday, October 13, 1956. Undaunted, Shari went on to host another kids show again set against the backdrop of a fairytale setting. 'Shariland' was filmed by an independent TV syndicator.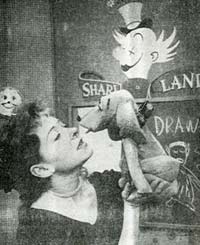 Ironically, 'Shariland' was also broadcast Saturday evenings on WPIX Channel 11 where it ran from Saturday, October 13, 1956 to Saturday, December 22, 1956.
It was on 'Shariland' that Lamb Chop, Charley Horse, Hush Puppy and Wing Ding first appeared on TV with Ms. Lewis. The show was eventually picked up by WRCA Ch. 4, which reran 'Shariland' on Saturday mornings from August 16, 1957 to August 16, 1958.
"Shariland" won two 1957 NYC Emmys: Ms. Lewis beat out Wendy Barrie (WABD TV Ch. 5), Jinx Falkenberg (WRCA TV Ch. 4), Carol Reed (WCBS TV Ch. 2) and Janet Tyler (WABC TV Ch. 7) for "Most Outstanding Female Personality". 'Shariland' beat out WRCA TV Ch. 4's "Children's Theater" With Ray Forrest, WCBS TV Ch. 2's "On The Carousel" with Paul Tripp, WABD TV Ch. 5's "Sandy Becker Show" and WABC TV Ch. 7's"Tinker's Workshop" with "Tinker Tom" (Gene London). The NYC Emmy Awards ceremonies were held at NBC TV's NYC Studios.
Shari hosted her last NYC based kid's TV show, 'Hi Mom!' on Ch. 4 weekday mornings beginning Thursday, August 14, 1957. The show was a combination kid's wraparound show and helpful hints program for housewives and mothers with Josephine McCarthy giving cooking tips and household hints.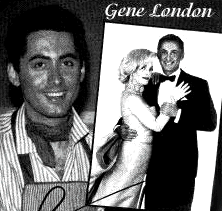 Shari and her assistant puppeteer Gene London performed puppet skits, craftmaking, hobbies, songs, stories, informational segments and interviews with guest performers and personalities.
Gene London left 'Hi Mom' in late December, 1956 to begin his brief stint as the third host/ performer and instructor of WABC Ch. 7's 'Tinker's Workshop'. Shari would continue to entertain and inform viewers on 'Hi Mom' until she left the series on Friday, March 20, 1959.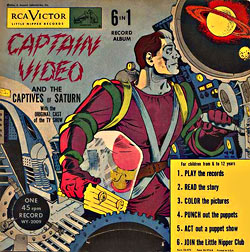 Captain Video's
Final Battle
After his stint with 'Capt. Video & His Video Rangers' and 'The Secret Files Of Capt. Video' (which aired on the full Dumont TV network from 1949 to 1955), Al Hodge's Capt. Video appeared semi-regularily on Sandy Becker's six hour Sunday afternoon version of Ch. 5's Wonderama from Sunday, September 25, 1955 to Sunday, August 13, 1956.
Capt. Video (Hodge) introduced reruns of old movie serials and sci-fi films on the show and would also participate in craftmaking, hobbies, stories and informational segments between the films. Hodge's hosting of movie serials and sci-fi films on Wonderama was so successful that the station execs at WABD TV decided to give him a kid's show of his own.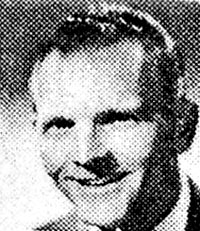 The show also featured "Uncle Fred" Scott as Command Officer Rogers.
On Monday evening, March 26, 1956, Capt. Video returned to the NYC airways with 'Capt. Video & His Cartoon Rangers'. Every weekday evening Capt. Video welcomed visitors to his secret mountain headquarters between reruns of Paramount/ Fleishcer Betty Boop cartoons and Paramount Famous' Superman and Little Lulu movie cartoons.
Capt. Video continued to entertain his viewers until Ch. 5 closed down the Captain's Secret Headquarters on Friday, August 16, 1957. Hodge moved to WNTA Ch. 13 in Newark, N.J. to star in 'The Super Serial Show', hosting of old movie serials weekday evenings on Ch. 13 from Monday, January 19, 1959 until Friday, February 6, 1959.
(Eric Page would continue 'Super Serial' from Monday, March 9, 1959. Towards the end of the series run, the show's title was changed to 'Serial Theater' until WNTA closed down the theater on Friday, March 27, 1959.)
Al Hodge moved to WOR-TV Ch. 9, where he hosted his last kid's show 'The Space Explorers', beginning Monday evening, September 18, 1961. Hodge was happy about the fact that, on this new kid's show, he would MC the program as himself and not as Capt. Video.
Unfortunately, the quality of the sci-fi and the educational films that Al Hodge screened on his show were not on a par with the films that he screened on his previous shows Ch. 5 and Ch. 13. The station execs forced Hodge to cut back on his entertainment and informational segments in favor of promoting the sponsors more heavily.
Fed up with interference from station management and hopelessly typecast as TV's first futuristic space hero, Al Hodge quit WOR and it's 'Space Explorers Club' on Friday, December 29, 1961.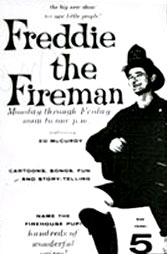 Freddy The Fireman's
Last Stand
On Monday evening, July 16, 1956, Freddie The Fireman made his debut on WABD Ch. 5.
Set against the backdrop of an inner city firehouse, actor, singer, musician, storyteller, scriptwriter and director Ed McCurdy played his friendly Fireman character.
Every weekday evening Freddie engaged visitors (& viewers) to his firehouse in games, songs, stories, informational segments, puppet skits and plugs for toy sponsors along with reruns of the Warner Bros' Looney Tunes cartoons.
Unfortunately, WABD execs began to push more and more toy sponsors onto the program, crowding out the entertainment and informational segments.
Mr. McCurdy was outraged and tried to stop the constant plugs for inappropriate toy sponsors but station execs were adamant and McCurdy was forced to promote their sponsors despite his protests.
'Freddie the Fireman's Firehouse' remained operative until the Ch. 5 station execs closed down the Firehouse for good on Friday, October 21, 1956.