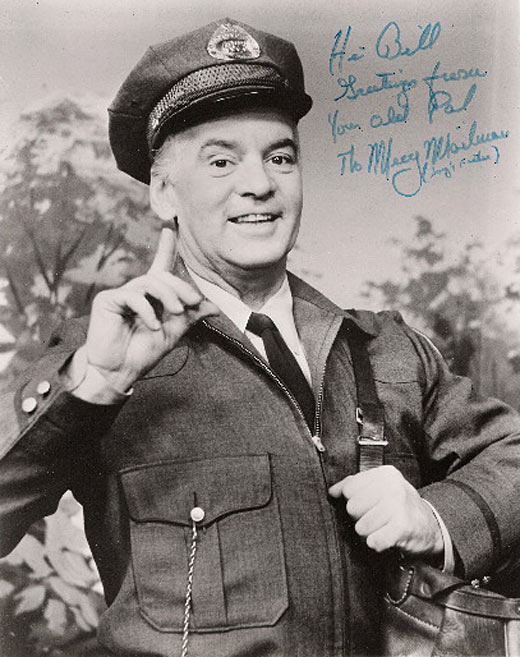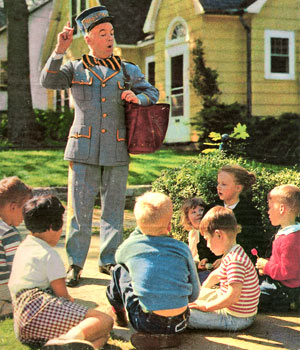 The Merry Mailman
"The Merry Mailman" made his debut on WOR-TV Ch. 9 in NYC on Monday evening October 16, 1950 as a 15 minute cartoon fest (not as the hour long kid's wraparound or variety TV series it would later become).
Originally, Mr. Heatherton's "MM" simply introduced old movie cartoons dressed in his Mailman's uniform working in front of a curtain. The format was not working out and the show was in danger of getting canceled.
WOR TV's general manager Tom O'Neil decided to hire a new producer/director for the show. He found such a creative showman in the person of Mr. Sandford Howard.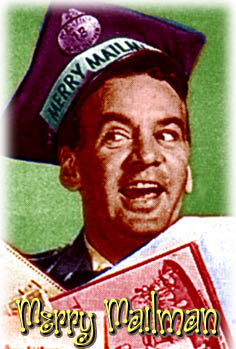 Sandy Howard was a veteran radio director, who helped create many successful radio shows and he also helped to create the landmark TV panel show: "Author Meets The Critics!" with Mr. Martin Stone (the guy who marketed "Howdy Doody!").
Howard felt that Mr. Heatherton needed to work with a studio audience in order for his gentle rapport to be accepted by viewers. He added songs, stories, craftmaking, hobbies, games, interviews with visiting guest performers and personalities and interaction with the kids in the studio and at home. "The Merry Mailman" was also able to instill good values in his young viewers by talking to them about school, customs, health care tips, safety, etc. He spoke in a gentle intimate manner that made him more of a friend than a parental or a teacher figure.
Around 1953 or 1954, Milt Moss joined the show as the Merry Mailman's comedy assistant. A former burlesque comic actor and mimic, Moss performed character comedy skits that were zany without being risqué or raunchy. He played such characters as "Mr. Pennywhistle", "Don Jose" and "The Happy Garbageman". Moss also manipulated the puppets that occupied 'The Puppethouse Stand'.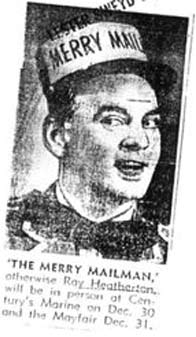 The Merry Mailman was seen weekday evenings and afternoons on WOR TV 9 from Monday October 16, 1950 until Friday June 22, 1956.
Sadly, Mr. Heatherton became a victim of the Communist witch hunts, when a bogus supermarket chain owner wrongly accused him of being in support of "the Red Menace."
The show began to lose ratings and sponsors as a result. Station exec Tom O'Neil didn't believe that Ray Heatherton was a communist and agreed to maintain the series as a self-supported show.
Along with the Merry Mailman, Mr. Heatherton also hosted: The Ray Heatherton Theater (a combination live action and filmed anthology series aimed at teens) that aired on WOR weekday evenings from Monday, January 9, 1956 to Friday March 9, 1956.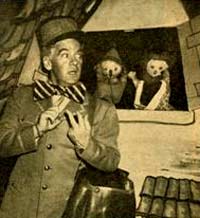 He also hosted The Cartoon Parade on Channel 9 - first as himself (not as "The Merry Mailman") beginning on Monday evening March 12, 1956 to Friday, April 6, 1956.
The Cartoon Parade began it's march again on WOR TV on Monday afternoon, June 25, 1956. Happily, once again Ray Heatherton hosted the show as "The Merry Mailman". "The Cartoon Parade!" didn't end it's march on Ch. 9 until Friday, September 14, 1956.
Heatherton also served as the second sea captain host/performer of WPIX TV Ch. 11 NYC's "Popeye Show" Saturday and Sunday evenings beginning September 8, 1956 until Sunday, April 13, 1958.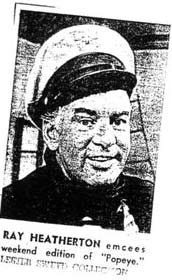 Ray Heatherton returned as "The Merry Mailman" when the series was picked up by WPIX TV Ch. 11 in NYC on Monday afternoon September 25, 1961. Unfortunately, the station execs at Ch. 11 forced Mr. Heatherton to host the show without a comedy assistant/puppeteer - or even a studio audience.
Forced to host cartoons solo in his familiar mailman's uniform (this time against the backdrop of a city park), the series didn't do very well and finally went off the air on Friday, May 31, 1963.
Ray Heatherton died Friday, August 15, 1997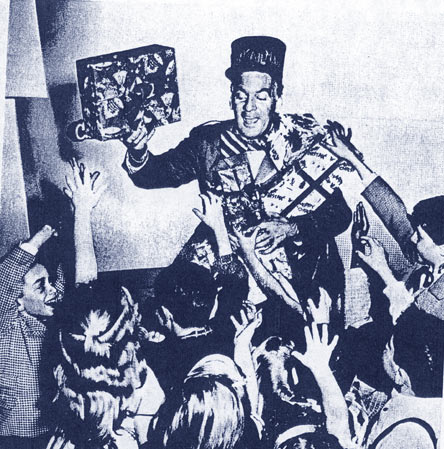 ---
"For what its worth I was a guest in the show's audience when I was about 3-4 years old. My aunt (who was 1 1/2 years older) sat behind me and kept covering up my face for the camera. I watched the show religiously every day and thought the Merry Mailman was a real cool guy.
"As I was growing up I heard rumors to the effect that the reason he was so merry was because he was three sheets to the wind for every broadcast. Don't know if there's any truth to it, though.
"I remember rushing home on the subway so we could see it that evening on TV. I also recall that we got a jar of Ovaltine and a Jar of that marshmallow stuff as a reward for being good during the broadcast taping. It was a lot of fun and now that I think of it, it would be really cool if there was a way to get a hold of that tape, if its still around."
- THX.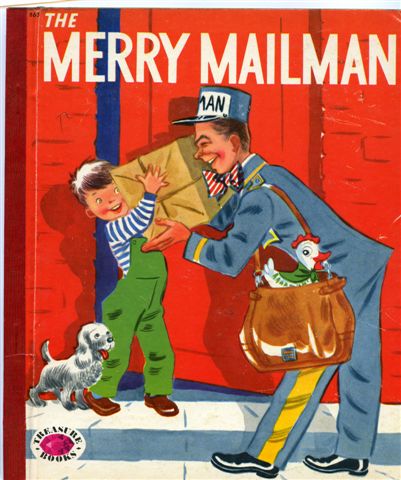 "The Merry Mailman was my first electronic friend, tho I never got to see his television shows - I had one of his delightful children's albums and played it until it wore out. I often wondered, as a three year old, if OUR mailman was the singing Merry Mailman.
"The Merry Mailman was none other than big band singer and Broadway star Ray Heatherton. He had a hit with the Paul Whiteman band in the Forties before he presided over "Merry Mail Land", a world of puppets, songs and lots of letters to read.
"After the show ended, Heatherton performed at the Garden City Hotel on Long Island, where he was also Director of community relations. He also had a radio show and was former president of the actor's union AFTRA.
"His daughter is Joey Heatherton, Las Vegas and television musical variety performer. A frequent Bob Hope Special guest, Joey entertained the troops in Viet Nam and was a spokesperson for Serta mattresses on TV."
- Billy Ingram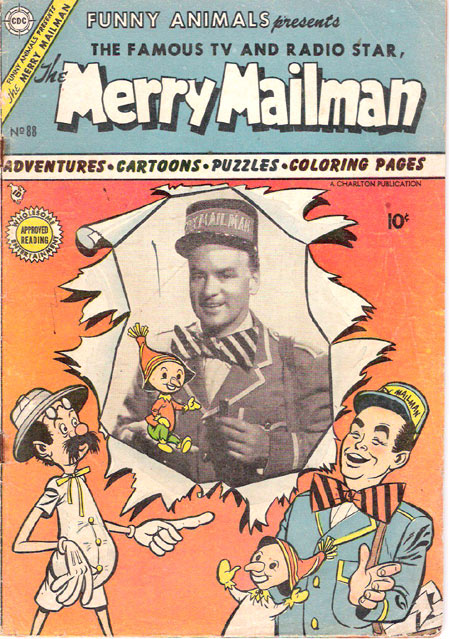 "I was on the Merry Mailman show when I was about 3 -- about 1954. It was broadcast live, I believe.
"Two notable events: 1) My older brother and another kid we knew were on with me. When Ray Heatherton was telling the kids how to behave, etc. just before airtime, our friend yelled out "Hot dog!" I was so proud that our pal Bill had actually succeeded in getting the Merry Mailman to say "Shut up!" to him.
"2) I was still pronouncing "R"s like "W"s. Heatherton asked me on camera, "What's your name?" "Wicky," I said. "Oh, Wicky?" the Merry Mailman cracks wise. "NO -- WICKY!!" I protested, hopelessly unable to modify my articulation. Apparently all the parents were doubled over laughing.
"I am 50 years old and have still not lived this incident down in my family (my brother who was on still addresses birthday cards to Wicky). I also remember the room where all the parents waited, watching a monitor. It wasn't a true technical monitor, lacking a tuner, etc. It was just a crummy old (& this is the early 50's!) TV set with all the knobs pulled off.
"Also, yes, Herb Sheldon did just exude kindness. In fact, he belonged to our synagogue and seemed just as sweet in real life as he acted for kids on TV. I also want to add that the first version of Wonderama (starring my idol, Sandy Becker) was 6 hours long -- I think 10 am to 4 pm. Every 60 minutes, Sandy would say, "OK, time to take a break -- and ask your parents if you can watch the NEXT hour of Wonderama!"
"Just discovered this whole site about an hour ago. My mind is blown. How am I supposed to get anything done with all this amazing stuff to read?"
- R Lieberman
Kevin S. Butler writes: "Sadly, NYC kid's TV and the movies lost another brilliant craftsman. Sandy Howard, the guiding genius behind WOR TV 9's Merry Mailman Show, Mack & Myer For Hire and the producer of Meteor and A Man Called Horse, died on Friday May 16, 2008. He Was 80 years old. Sandy lost a long battle with Alzheimer's disease the same malady that killed Ray Heatherton, (The Merry Mailman) 11 years ago.
"Born in the Bronx on August 1, 1927, Howard began his career as a short story writer for Liberty magazine. He later worked for a Broadway press agent but he left the agency to became a assistant producer on various radio shows.
"He worked for a time as Martin Stone's assistant producer on one of TV's first panel shows Author Meets The Critics on the NBC network. It was not until the early 1950's that Sandy Howard found his own success when the heads of WOR TV hired him to help revamp the format of The Merry Mailman. The program, which debuted on Channel 9 on Monday evening October 16, 1950, was in danger of getting cancelled. At the time, Heatherton's friendly letter carrier character did little more than stand in front of a curtain in his mailman's uniform to introduce cartoons and commercials, making the series appear like any other cartoon fest that was on the air. Howard changed the format by having kids appear in the studio and giving Heatherton more interaction with the studio audience.
He also added games, craftmaking, hobbies, songs, stories, informational segments and interviews with guest personalities.
"Howard was also able to provide better cartoons than the forgettable films from Europe that the program had been screening since the very first broadcast. The silent Terry Tunes movie cartoons made their NYC TV debut on the show and the 1949 Crusader Rabbit TV cartoons were also seen on the program.
"Around 1953 or 1954 Howard hired comic/character actor and mimic Milt Moss to be Heatherton's comedy assistant, puppeteer and commercial announcer for the program. Hiring Moss was a brilliant move for it gave Heatherton the opportunity to serve as straight man to the comedic antics of Moss' resident zanies. Moss also manipulated and voiced the puppets that appeared at "The Puppet House Stand" and he provided voices for the animals that The Merry Mailman spoke to on every show.
Howard also hired entertainer Chic Darrow to appear on the show as the Topsy Turvey Auctioneer (a predecessor to Wally Boag and Steve Martin).
"Darrow's zany salesman character would engage the studio audiences and viewers with magic tricks, juggling, balloon sculptures, songs and dances and crazy comedy skits. The show became a hit with NYC viewers and was broadcast weekday evenings and afternoons.The show was also seen on Saturday afternoons and a radio version of the show was heard Monday, Wednesday & Friday evenings and Saturday and Sunday afternoons on the WOR/Mutual Radio network from 1953 to 1955 (Howard was not involved with The Merry Mailman radio shows). Howard also encouraged Heatherton and Moss to do personal appearances at NYC and NJ movie theaters and Heatherton also did special shows for terminally ill and disabled children at NYC/NJ/CT hospitals.
"Not all of his concepts were a hit however. Howard tried to merchandise The Merry Mailman, a plethora of 'MM' toys, books, comic books, records, play suits, etc. flooded the market but they didn't sell well outside of the NYC viewing area.
"Nevertheless, Sandy Howard continued to work on the show until 1954 when Heatherton became a victim of the Witch Hunts of the 1950's. A crazed individual who claimed to be the owner of a supermarket chain in upstate New York made false accusations that Heatherton was a communistic sympathiser - which was not true since Ray was a total supporter of Sen. McCarthy's fight against communism.
"Unfortunately, The Merry Mailman and Heatherton and Howard's other radio and TV shows began to lose ratings and sponsors. Of these shows, only the pair's pioneering kid's wraparound show remained on TV as a station sustained program.
"By the time The Merry Mailman ended it's run on WOR TV 9 in on Friday March 22, 1956. Sandy Howard had moved onto other venues, he became the producer of Mack & Myer For Hire for Trans-Lux TV in 1965 (these short film comedies for TV were seen in 1965 and starred Mickey Deems and Joey Faye in the title roles).
"Mr. Deems worked on the show as a writer, Eddie Sutherland was the show's director (Sutherland had worked with Laurel & Hardy on The Flying Deuces at RKO Radio Pix in 1939 and with Virginia Bruce, John Barrymore, John Howard, Shemp Howard and the late Charlie Lane on The Invisible Woman in 1940).
"Howard would leave NYC and move to Los Angeles to create and produce such films as Meteor with Natalie Wood, Karl Malden and Sean Connery and A Man Called Horse with the late Richard Harris.
"The films were critical successes but they were not big box office hits. Howard would work on a few more films but when he saw that his movies were not the successes that he hoped they would be he retired from film producing.
"Sandy Howard lived in quiet retirement until he became ill Alzheimer's and he entered the Motion Picture & TV Country Home in Woodland Hills, California a few years ago.
"Despite what has been written in the newspaper obituaries about Mr. Howard, he never worked on Roger Muir's/ Buffalo Bob Smith's Howdy Doody as a director.
"I was lucky enough to do a phone interview with him in 1992 and he was gracious in sharing his knowledge about the creation and development of The Merry Mailman and the creation of Mack & Myer For Hire. A true TV craftsman, he will be missed!"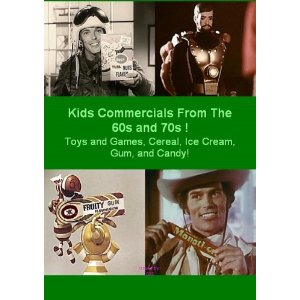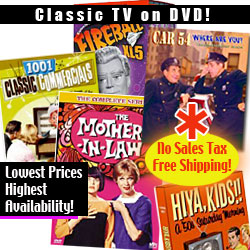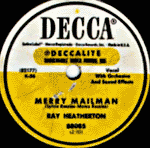 Here's The
Merry Mailman
song as released
on a 78 RPM record.
Thanks to Dan Attison!
The lyrics to the theme song, which were written by Mrs. Sylvia Rosales, go like this:
"I am The Merry Mailman
Ring Ding Your Bell Will Ring.
That's My Very Special Ring
And This Is What I'll Bring?
A Letter From Your Grandma.
Who Says She's Coming To Stay!
And Close Your Eyes
For The Big Surprise
It's A Present For Your Birthday!
I Am The Merry Mailman!
Singing So Merrily!
And I'm So Very Glad To Be!
You're Very Merry, Merry Mailman!"
That record was written and arranged by Mr. & Mrs. Marco & Sylvia Rosales and Mr. Ray Heatherton performed and cut that record for the Decca label back in l938.
Years later, when WOR TV Ch. 9 in NYC needed a kid's tv shows for their weekday evening schedule, they contacted Mr. Heatherton for an audition.
He went to the Ch. 9 TV Studios, won the audition and when he was asked what type of character that he could play on his kids TV wraparound show, he thought back to the recording about the happy letter carrier that he created with the Rosales.
Heatherton suggested to the heads of WOR-TV to allow him to use this "Merry Mailman" character for his show.
That's how the idea for "The Merry Mailman"and his TV show theme song came about.
- Kevin S. Butler
---
"Ray Heatherton was also the father of WCBS Radio host Dick Heatherton, who now is on an LA based radio station. Ray went on after the Merry Mailman to host "Luncheon at Sardi's", "The Celebrity Club" on TV, and Long Island's Radio program "The Breakfast Club" (which he retired from in 1995, leaving his nephew, Dave Heatherton, as host.)
"While in the spotlight, he was also the Vice President of Franklin National Bank and later director of Public Affairs at LI's Garden City Hotel. In late 1967, he was given the title "honorary mayor of Long Island" by then Attorney General, Robert Kennedy.
"On Long Island he performed at just about every organization, parade, and charitable event. He left this world in 1997 to continue delivering mail to the angels in heaven."
- D Heath