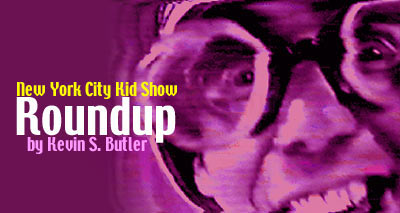 Little Rascals Shows in NYC

Because they timed out between ten and twenty minutes each, stations all around the country employed local hosts who would entertain between the Our Gang shorts.
They were popular all over the country, especially in New York City. They were relatively inexpensive to air, after all, the cast members didn't have to be paid. No one in the 1930s or 1940s ever envisioned that these shorts would have a new life --- a new technology.
On Monday evening, January 17, 1955, WPIX 11 became the first NYC based station to air The Our Gang / Little Rascals films on their own daily kid's TV show, The Clubhouse Gang.
The comedies were screened against the backdrop of a neighborhood clubhouse while school kids made up a major portion of the studio audience to watch the shorts (including one up and coming comedic talent named Billy Crystal).
The show had everything, except someone to host; WPIX's programing director found their MC by conducting a focus group test.
The programming director's son was celebrating his birthday in January of 1955, so he gave his son and his friends a birthday party at the Channel 11 studios. Along with the games, gift giving, ice cream and cake, the PD ran The Little Rascals films at the party to test their popularity with the kids.
Afterwards, he asked the youngsters if they had a good time. The kids all responded with a resounding - "Yes!"
Then the PD told them that The Little Rascals would be seen on a new daily kid's show. Who would the kids vote to be the host/performer of "The Clubhouse Gang Show," he asked?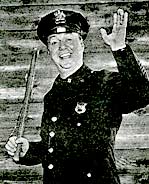 11 out of 12 children at the birthday party screamed, "the Tasteweatherman!"
The programing director was shocked that they would choose the WPIX meteorologist to host a kid's TV show. That's how Joe Bolton (who had been doing the weather reports and other types of TV shows for the station) became the first NYC based kids host to screen The Little Rascals.
Originally the powers that be at Channel 11 wanted Bolton to host the program as a funny tramp character. Bolton balked at the idea, claiming "that a tramp is an inappropriate character" for kids to look up to.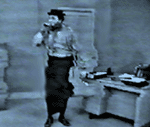 The idea of a kid's TV host/performer playing the tramp clown was a natural since many local and network affiliated stations already had their newscasters and local on-air talent playing buffoons on various kid's series.
Another station exec suggested that Bolton host the show as a policeman and the idea stuck. Despite efforts from other WPIX execs to make Bolton's "Officer Joe" character a clownish version of a cop, Bolton decided early on that he would play the character straight.
On the show, "Officer Joe" engaged his Clubhouse members (his studio audiences and viewers at home) in games, songs, stories, craftmaking, informational segments and interviews with guest performers sandwiched between the reruns of the cinematic antics of the Rascals.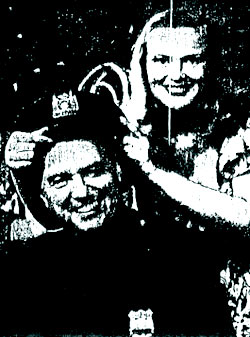 One very special guest on Channel 11's Clubhouse Gang was former "Little Rascal" Jean Darling (seen left), then a successful stage, nightclub, radio & TV performer.
Ms. Darling, who made her appearance on Saturday evening May 14, 1955, entertained "Officer Joe" and the kids and talked about her career as a member of Our Gang.
She also presented Bolton with a new police officer's cap; Officer Joe now had a badge and cap with the number 11 prominently displayed on the front.
Channel 11 closed the doors to its Clubhouse on Friday, September 13 1957 when the TV rights to The Little Rascals film comedies were sold to WABC, Channel 7.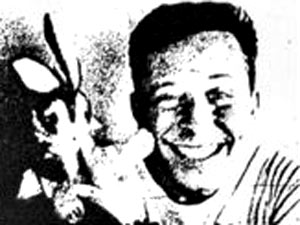 WABC began rerunning the films on The Little Rascals Show twice a day, first on weekday evenings from Monday, September 23, 1957 until Friday, September 9, 1960.
Wraparound host/performer "Uncle Joe" Bova (who had just finished his stint as the second host/performer of WABC TV's Time For Fun) entertained and informed viewers with comedy skits, stories, song and dance numbers, craftmaking and interviews with guests between the films.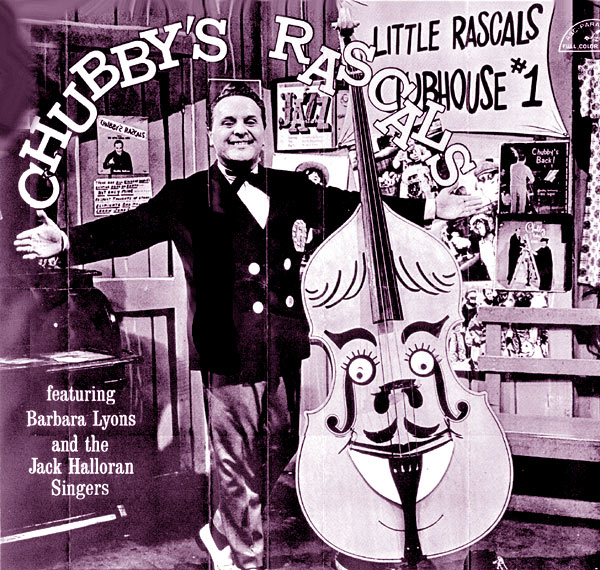 While "Uncle Joe" Bova hosted Little Rascal films weekday evenings, Chubby Jackson MC'd WABC's weekday morning edition of The Little Rascals Show.
Jackson (who had hosted his own Little Rascals Show on WBKB TV-7 in Chicago, during the early 1950's) performed jazz music numbers with a full pop music orchestra - provided by WABC's music contractor Mr. Frank Vanyone.
Director Roger Shope created and staged a child talent showcase on the show called 'The Little Rascals Follies.' Gifted kids from NYC's best dance schools, high school marching bands, choruses and school orchestras would sing, dance, perform magic tricks, ventriloquism and generally clown around.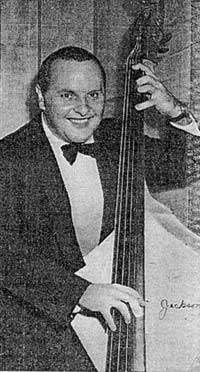 Typically, Chubby performed jazz numbers with his band and then participated in comedy bits with his talking bass fiddle puppet, "Casey."
"Casey" was a favorite character on the show, because he would, more often than not, comically put Chubby in his place. Chubby would also invite well-known jazz musicians to perform on the show and share their love and knowledge of jazz music with the viewers at home - including a memorable appearance by legendary bandleader and drummer Gene Krupa.
Unlike Leonard Berstein's Young People's TV Concerts (which were just debuting on the CBS network) Chubby's explanations on the history of jazz music were not pretentious. He made it fun by simply playing the music and then giving a simple discourse about the creation of the tune and it's creator.
Unfortunately, the station execs at Channel 7 didn't appreciate Chubby's format or his talents as a kid's TV wraparound performer. They replaced Chubby's director Roger Shope with Bill Beale (who had directed Bob Keeshan for a time on WABC TV's Tinker's Workshop) who was better suited to supervising educational programs.
Beale didn't understand the appeal of Chubby's entertainment oriented show and the two conflicted over the format. Arguments over creative matters forced Chubby Jackson to leave WABC's Little Rascals Show on Friday July 14, 1961; WABC aired the films without a host from 1961 until 1967.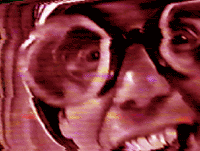 Meanwhile, Sandy Becker entertained his viewers between reruns of the post-1938 MGM Our Gang films on Sandy Becker Presents the Our Gang Comedies weekday evenings on WNEW Channel 5 from Monday, November 17, 1958 to Friday March 17, 1961.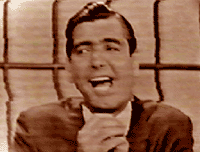 Sonny Fox also screened MGM comedies on his version of WNEW's Wonderama Sunday mornings from 1959 to 1960.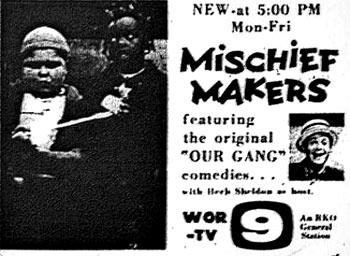 Herb Sheldon entertained his viewers with the silent Little Rascals films (filmed between 1922-1929) on his last kid's show, The Mischief Makers, weekday evenings on WOR TV-9 from Monday, September 19, 1960 until Friday June 9, 1961.
The silent Our Gang shorts were part of a separate syndication package, they were poorly edited with lousy music and added narration by an unknown young boy.
In April, 1967, WPIX TV Channel 11 bought back the TV rights to the Hal Roach Little Rascals from WABC and aired the films weekday afternoons on The Little Rascals Show. "Captain Jack" McCarthy hosted from Monday, April 3, 1967 until Friday, January 1, 1970.
"Officer Joe" Bolton once again hosted the cinematic antics of Darla, Spanky, Buckwheat, Porky, Alfalfa and Butch in 1970 on Channel 11's Little Rascals Show until protests from Peggy Charren's ACT and Forum, Inc. led to its demise.
That group decried the lack of quality educational kids TV shows and felt that too many entertainment oriented kid's shows were promoting too many inappropriate sponsors. ACT eventually presurred Channel 11 into changing their children's programming - "Officer Joe" Bolton and The Little Rascals were dropped on Friday June 30, 1972. The abrupt departure of "Officer Joe" dramatically changed the NYC television landscape for the worst.