PAVING THE ROAD WITH GOOD INTENTIONS
Cartoon All-Stars To The Rescue: A 20th Anniversary Look Back
PART TWO - READ CARTOON ALL STARS TO THE RESCUE PAGE ONE

by Pete Delaney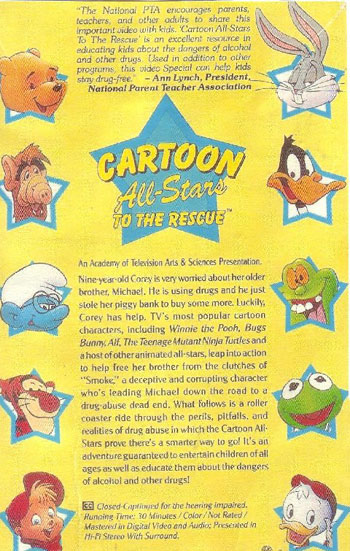 Alf then makes like a wise old uncle when he pulls Michael through the mirror of his stash box for another reality check. "Drugs are your enemy. Storming the battlements. Trying to take control." He then escorts him to the office of the man in charge - Smoke.
This leads into the most incredible and disturbing segment of the show. Even more wild than Michael's tour though his brain is his bad trip to a horror themed amusement park with rotating buzz saw blades and sinister rides with large ghastly Huey, Dewey and Louie heads. The kid then falls into the body of a monster and encounters Tigger and Baby Piggy floating happily in it's stomach. They throw Michael a life raft that speeds him back to the park where he crashes into exhibits and causes a flood that engulfs the area. But it's not really a flood - it's a milk shake that Baby Piggy is drinking. She sucks Michael up her straw, then spits him out.
Exactly what point Swale and Poole were making here is with this is not clear but it is a remarkable piece of animation supported by some kick-ass electric guitar riffs.

The show heads for it's finale as Michael then consults fortune-teller Daffy Duck about his ultimate fate. The image presented in Daffy's crystal ball is astonishing for a kid show. In a cosmic void Michael, his mind and body completely destroyed, lies on an alter bathed in lights creating a cross. He shivers and shakes at the brink of death clutching a hypodermic needle in his hand. He is being crucified by drugs. If the shows writers, producers and director were going for a "sacred-straight" approach, they certainly succeeded.


Movies and television shows tackle the subject of drug dependence with varying degrees of success.

After a final pep talk from the Cartoon All-Stars reassures him that life is great drug-free, Michael returns home just in time to attack Smoke who was tempting Corey with his evil. The now reformed kid throws Smoke into the back of a gamey garbage truck, takes Corey by the hand and the siblings go to their parents for a heart-to-heart talk.
Critical reaction to the show was not encouraging:

"Beyond doubt, some kids got the message and will steer clear of drugs. But there's also a chance that subjecting kids to such pro-social antics as Huey, Dewey and Louie singing about ways to say no will plant a seed in kids that won't always sprout in just the way it's intended.
When each child ultimately grows up to face peer pressures, boredom, anxieties and societal expectations that can make the escape of drugs seem so attractive, it's hard to believe many of them will be swayed by the memory of Baby Kermit telling them 'There's nothing cool about a fool on drugs.'"
---Variety
"Scare tactics instead of getting to the roots of the drug problem. The most vivid character is not one of the All-Stars, it's Smoke. The one-note plot is easy to follow, but the drama is largely trivialized by the producer's effort to keep the message simple. Even the song 'Ways to Say No' is uninspired and insipid."
---Entertainment Weekly

At the preview showing before the joint Congressional committee there was also doubt.
"I hope this doesn't evolve into a mere self- promotion activity in which we finally hear from Hollywood and this is the last shot. Showing this once or twice isn't really going to change anyone's mind who's going to use drugs."
---Representative John Conyers, Jr., (D-Michigan)

There would never be another showing of the show on television due to a threatened lawsuit by Jim Davis, creator of Garfield who claimed he was never consulted about the use of his character.
Since the show was mainly produced for home video anyway, all involved figured that a legal fight was not worth the effort.

With thousands of VHS tapes provided by Kodak and duplication done by Disney Home Video, a copy of the show was sent to nearly every school, library, civic organization and video store's free-rental shelf in the country.

Oddly though, this free public service program could not be home reproduced as Disney still made sure each tape was copy-guarded and had the "home use only" warning at the beginning.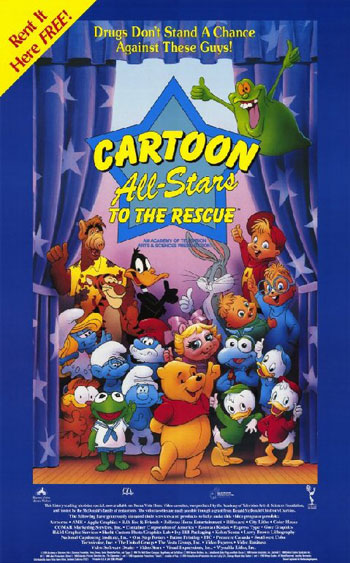 Conclusion

Maybe the road to Hell is, indeed paved with good intentions, but I believe that everyone involved wanted to make a small dent in the drug problem among kids of the late 1980's.

Unfortunately, grandiose predictions like Senator Biden's assertion that the show was "the single most ambitious and important drug education program ever attempted" now seems a bit silly, and maybe the money would have been better spent on that naval carrier group, that new prison or even on those cocaine-eating caterpillars.
Certainly the show had flaws, not the least of which the scene in which Michael takes the horror trip through the amusement park - a scene which in retrospect makes absolutely no sense.
Also, having 20 different cartoon characters together must have looked good on paper (and cels) but ultimately it seemed like they were there just to keep the attention of the smaller-aged viewer.
Some character's appearances (The Smurfs, Slimer and Garfield) were totally pointless. This definitely was no Who Framed Roger Rabbit.
Still, the show's sincerity and ultimate good will should keep it from being remembered as just "the Reefer Madness of the 90's." Hopefully thousands of smaller kids did get the message and eventually rejected drugs because of their memory of the cartoon.
This positive concept comes across in the part of the show that hardly anyone sees - the song over the closing credits. Since most people rewound the VHS tape at the first sign of these credits, they missed the poignant and moving lyrics by Alan Menkin (who died at the age of 40 just 2 years later).
This should have been the song in the middle of the show:

When the going gets tough
And there's times when it will when you grow
Keep these words in your heart
And you'll come through like a pro
If the older you starts to slide
There's a stronger you inside
Saying 'hang on kid hold tight don't ever let go'
And remember all those wonderful way to say no
And as you get taller you'll see
Get stronger and stronger you'll be
That's how the world works, kid
That's how it's designed
You'll even outgrow us one day
Forget that you know us you may
As long as you keep what we say
In the back of your mind
When the going gets tough
You will need someone to help you pull through
You'll always have someone
Guess what kid
That's someone is you
But we hope that even so
You will look back and know
And remember us and how we came to show
That your life begins
The day you learn to say no