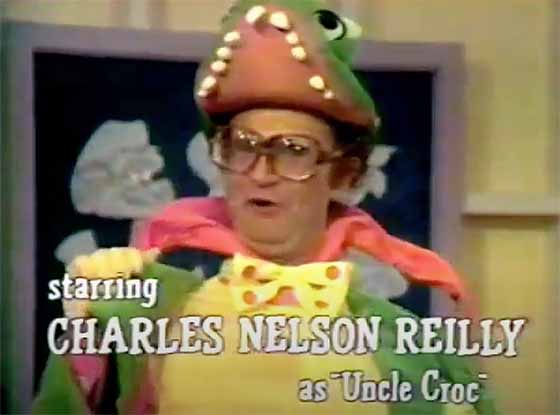 Uncle Croc's Block
by Billy Ingram
This unusual hour-long series, an immediate flop, was a combination of skits starring Charles Nelson Reilly as a kid show host named Uncle Croc, a comic foil who openly despised both his show and his co-host Mr. Rabbit Ears and was in constant conflict with Jonathan Harris (Dr. Smith on 'Lost in Space') who potrayed the show's director Mr. Bitterbottom.
It was played off as a parody of local kiddie show, which were rapidly being swept off the air in 1975, and Sesame Street.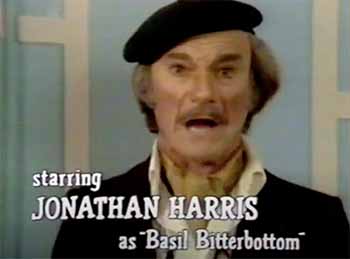 The live action segments were punctuated with dreadful cartoon segments - 'Fraidy Cat', 'Wacky and Packy,' and a cartoon version of M*A*S*H called M*U*S*H (short for Mangy Unwanted Shabby Heroes) starring a pack of canines.
The show was demoted to half-hour status just a few weeks after going on the air, 'Wacky and Packy' was the only cartoon segment returning.
It was pretty unusual for a Saturday morning show in the Seventies to be yanked mid-season but Uncle Croc's Block was such a stinker for ABC that it was removed from the schedule in February of 1976 (along with The New Adventures of Gilligan cartoon) and replaced with reruns of Groovie Goulies (1971) and then Super Friends repeats.
Reportedly, ABC president Fred Silverman severed all ties with Filmation due to the poor ratings this show earned, dragging down numbers for the shows that followed.
One regular segment was "Star Time" when a 'celebrity' guest-star would appear, portrayed by Phyllis Diller, Huntz Hall, Carl Ballantine, and Alice Ghostley. The great Marvin Kaplan was seen in a parody of Shazam! called Captain Marbles.