8:00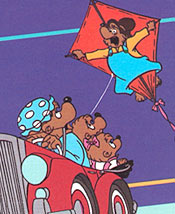 Berenstain Bears / CBS
Back for one last year. These characters starred in a popular series of holiday specials before migrating to Saturday mornings in 1985.
Laugh-In's Ruth Buzzi provided the voice of Mama Bear.

8:30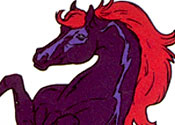 Wildfire / CBS
(debut)
Exciting adventures of a horse named Wildfire, a "mystically powerful stallion" who returns a princess to her kingdom to battle a witch that threatens the realm.
9:00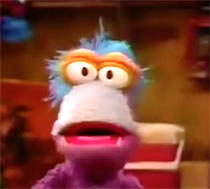 Jim Henson's Muppet Babies and Monsters / CBS
The Muppet Babies had been going strong for two years.
It was very rare for a Saturday morning show to get renewed past two seasons, but the Muppet Babies cruised into the nineties and reruns are still popular today.

Expanded to ninety minutes in 1987.
10:00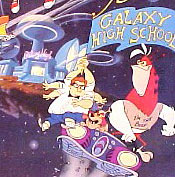 Galaxy High / CBS
(debut)
Outer space style fun revolving around two exchange students from Earth who attend a high school on the asteroid Flutor made up of kids from every planet.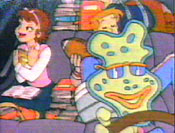 I swear I don't make this stuff up; it ran for two years.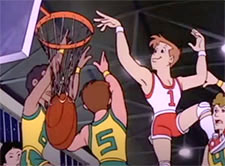 CBS shuffled the schedule mid-season, placing ratings powerhouse Pee Wee's Playhouse in the 10:00 hour, followed by Teen Wolf, then Galaxy High.
---
Galaxy High
is on DVD!
10:30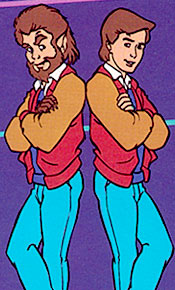 Teen Wolf / CBS
(debut)
Based on the hit movie starring Michael J. Fox, first of three years on Saturday mornings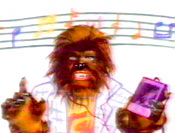 In this version, typical teenager Scott is secretly a werewolf, known only to his family and a few others. The town Scott lives in is a place obsessed with werewolves called Wolverton and even has a distinctly Bavarian-like architecture ala Universal monster movies.
Of course Teen Wolf never threatened anyone, he just got hairy which proved embarrassing more often than not.
11:00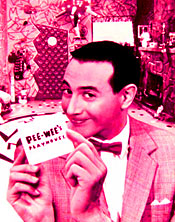 Pee Wee's
Playhouse / CBS
(Debut)
CBS's huge gamble - that paid off big.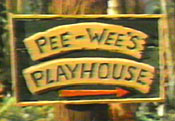 Pee Wee's Playhouse was an ambitious series, a very expensive live action comedy starring Paul Ruebens as Pee Wee Herman, an amalgamation of the kind of kid show host that was so prevalent on TV in the fifties.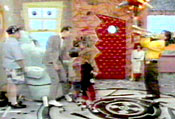 Pee Wee's Playhouse was populated with an oddball assortment of characters, household items and bugs that sprang to life.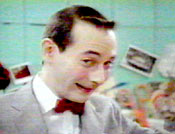 The Nielsen ratings people found that Pee Wee attracted a huge adult audience that would videotape the show and watch it later. This was a new phenomenon as video recorders were just becoming affordable for most people.
11:30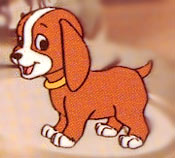 Puppy's Great
Adventure / CBS
Awe, look at the cute puppies!
Debuted in 1983. This was the last season for Petey the Puppy's search for his family; there were a total of thirteen episodes.

12:00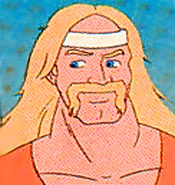 Hulk Hogan's Rock 'n' Wrestling! / CBS
Last year of two, reruns from the previous year.
No, the Hulkster didn't take the time to voice his animated clone, it was Brad Garrett (Everybody Loves Raymond) who did the honors.
The other famous WWF wrestlers featured in this series were also voiced by others - including The Iron Sheik, Andre the Giant and Rowdy Roddy Piper.
12:30

CBS Storybreak / CBS

CBS's answer to ABC's very successful Afterschool Specials.
8:00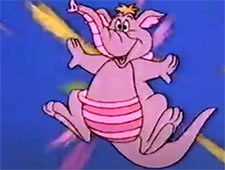 Wuzzles / ABC
Year two, all reruns.

Henry Gibson and Jo Anne Worley from Laugh-In provided voices for this cartoon. For a while, the networks looked to former 1970's variety show stars to add their vocal talents to Saturday kidvid.

8:30
Care Bears Family / ABC
(Debut)
Magical bears from the land of Care-A-Lot frolic in simple morality plays.
Created from a hot line of greeting cards; there was a box office hit starring the Care Bears in 1985.

9:00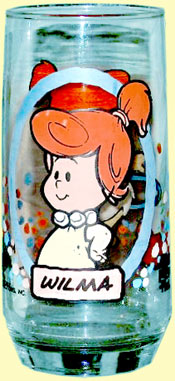 Flintstone Kids / ABC
(debut)

Another attempt to breathe life into a twenty-six year old franchise; this time Fred, Wilma, Betty and Barney were depicted as little children. Hey, it worked for the Muppets!

In 1986, Pizza Hut released limited edition Flintstone Kids drinking glasses.

Although they continued to sell cereal and vitamins, years of pointless scripts and lousy animation killed the whole idea of watching anything but the classic Flintstones episodes and the first Saturday morning revival with Pebbles and Bamm Bamm as teenagers.
10:00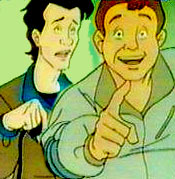 The Real
Ghostbusters / ABC
(debut)
Based on the hit movie. Four guys search for ghosts with Slimer, their pet glob of green goo.
Just as in the cartoon version of Teen Wolf, no attempt was made to have the animated characters look like their big screen counterparts.
This cartoon was so popular it began running on weekday afternoons.
10:30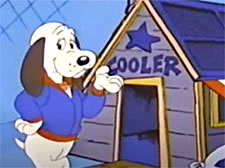 Pound Puppies / ABC
(debut)
Some great artists lent their voices to this one - Frank Welker, Ruth Buzzi, Nancy Cartwright, Pat Carroll among many others. Like most cartoons of this period, it was based on a line of toys.
In the animated adventures of the Pound Puppies, 11-year old Holly and her five adorable puppies battle their evil next door neighbors - who are cat lovers.

11:00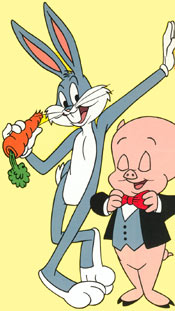 Bugs Bunny &
Tweety / ABC
Familiar cartoons from the Looney Tunes gang.
11:30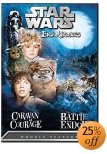 Ewoks / ABC
These Star Wars cuties became even more annoying in animated form.
12:00
Weekend Special / ABC
A new season of educational half-hours - kicked off with an animated 'Cap'n Readmore meets Dr. Jekyll and Mr. Hyde.' Sounds real exciting...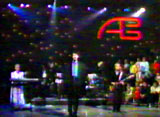 12:30
American
Bandstand / ABC
Dick Clark hosted another year of new wave dancing and rating records.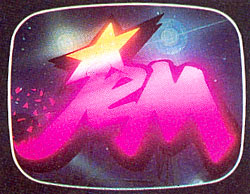 Commercials from
Saturday mornings in 1986:
Jem - She's truly outrageous!
The Jem TV show debuted in 1985, the adventures of a glamorous rock group, Jem and the Holograms.
G.I. Joe
Airing as a wildly popular cartoon for syndication in 1986 - promoting the toy line, of course.

Sugar Bear was still hawking cereal after 25 years or more. The product was originally named Post Sugar Crisps but had evolved into Super Golden Crisps by the mid-eighties to appeal to a more health concious society.

Oreo Cookies had one of the catchiest jingles of the mid-eighties. They knew if they could get kids singing, they'll remember the product and bug their parents about it.
Lazer Tag!
It was the hottest game in 1986 - but when children got shot by the police who thought they were packing heat, the craze faded and the company went bankrupt. Video games soon picked up the slack, you didn't have to worry about return fire.

The Dominoes Noid? He was hot in 1986 but no one could figure out why. Claymation characters were everywhere in TV commercials of the mid-sixties.
William Shatner and his daughter were selling Oldsmobiles.

Tony the Tiger was stressing the health benefits of Frosted Flakes. 1986 was the 35th anniversay of Tony the Tiger.
The New Gidget was beginning a long run in syndication.

Froot Loops 1986 - this was the third decade for Toucan Sam on TV.
Cap'n Cruch with Crunch Berries was still going strong after more than a decade.
Construx made a line of build it yourself toys.

Reeses Pieces became a hot selling candy in 1983 thanks to a tie-in with the movie E.T. After that, product placement in movies became big business.
"Gatorade is thirst aid for that deep down body thirst."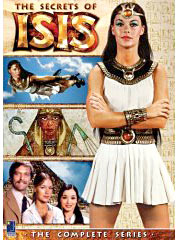 8:00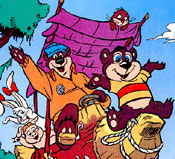 Kissyfur / NBC
(Debut)
Some random nonsense about a couple of clown bears who join a bizarre animal commune.

Returned in 1989 for two seasons.

8:30
Disney's Adventures of the Gummi Bears / NBC
Reruns from the last year. June Foray, Bill Scott, Paul Winchell and other greats provided voices for Disney's first attempt to create a program for Saturday mornings.
Based on the popular candy. Everything had a tie-in!
9:00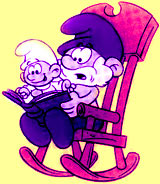 Smurfs / NBC
Third year of nine, this time in a ninety-minute format.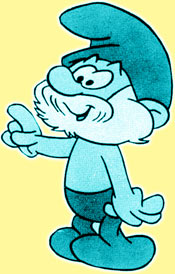 10:30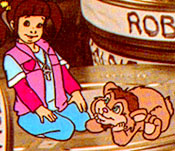 It's Punky Brewster / NBC
Punky was prime time kiddie fodder that translated well into cartoon format. Year two of four.
Soleil Moon-Frye provided the voice of Punky; in fact, all of the original cast was on hand, as well as the obligatory added animal cohort with magical powers - in this case a gopher-like thing named Glomer.
11:00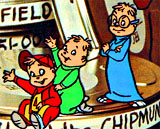 Alvin and the Chipmunks / NBC
Ran continuously from 1983 (when the Chipmunks enjoyed a revival and a new hit novelty record) until 1991.
The Alvin Show starring the Chipmunks aired on Saturday mornings from 1962-1965. They returned briefly in 1979.
11:30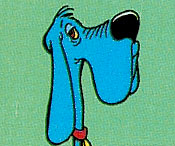 Foofur / NBC
(debut)

Story of a rich hound dog voiced by Frank Welker. Ran for two seasons of original shows.

12:00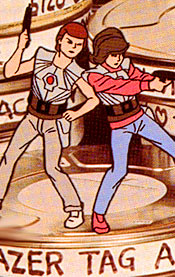 Lazer Tag Academy / NBC
(debut)

A time traveling teen girl from 3010 lands in the present to stop the villain Draxon Drear from changing history.

She teamed with her ancestors, Tom, Nicky, and Beth who are uniquely able to use Lazer Tag guns to travel through time and manipulate objects. There were 13 episodes filmed by Ruby Spears Animation.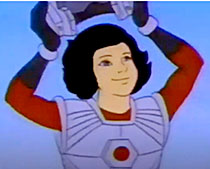 12:30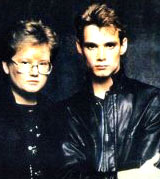 Kidd Video / NBC
MTV inspired teens (who are also a rock group, of course) who fall into a magic land ruled by the evil Master Blaster when they play a certain song.
What?!?! The idea is these kids morph from live action to animated form when they enter 'the Flipside.'
Featured Robbie Rist (Cousin Oliver from The Brady Bunch) as Whiz and popular music videos hot off the charts by artists like Lionel Richie, Hall & Oates and Eddy Grant.
Shown here are the actors who played the musical group.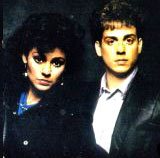 Kidd Video lasted through two seasons (26 episodes) of original episodes - in 1986 a year of reruns were broadcast. A soundtrack LP was released in 1984.
This show moved from NBC after three years for a half-season of reruns on CBS in 1987.
The show was also very popular in Japan and Israel.

Saturday Mornings 1966
Superheros and comic characters spring to animated life.

Saturday Mornings 1967
More flying guys in tights to capitalize on the popularity of Batman in primetime.

Saturday Mornings 1968
The Archies was the top cartoon of the day.

Saturday Mornings 1969
Chase cartoons and Krofft puppets H. R. Pufnstuf ruled Saturday mornings.

Saturday Mornings 1970
Live action shows take over Saturday mornings leading to a new golden age.

Saturday Mornings 1971
Harlem Globetrotters and The Jackson 5 are hits.

Saturday Mornings 1972
More musical shows with cartoon versions of The Jackson 5 and The Osmonds Brothers joining the Saturday shows.

Saturday Mornings 1973
Scooby Doo debuts and shoots to the top of the ratings.

Saturday Mornings 1974
Adaptations of former primetime shows are all the rage on Saturdays now.

Saturday Mornings 1975
Far Out Space Nuts, Shazam and Ark II are just a few of the action, sitcom and musical variety shows this season.

Saturday Mornings 1976
Krofft Super Show, and Ark II are just a 2 of the many action, sitcom and musical variety shows this season.

Saturday Mornings 1977
The most unsuccessful Saturday morning line up of the decade - flops everywhere as the networks lost track of what kids wanted to watch.

Saturday Mornings 1978
Superheros, Tarzan and The Bay City Rollers.

Saturday Mornings 1984
Smurfs, Snorks and Dungeons & Dragons.

Saturday Mornings 1986
Galaxy High, Pee Wee Herman, Teen Wolf are all hits on CBS Saturday mornings in 1986.

Saturday Mornings 1988
Mutant Turtles, Transformers and G.I. Joe.

Saturday Afternoon Shows of the 1960s
Relive those lazy Saturday afternoons with episodes of Sky King, Whirlybirds, Highway Patrol, Robin Hood & more!