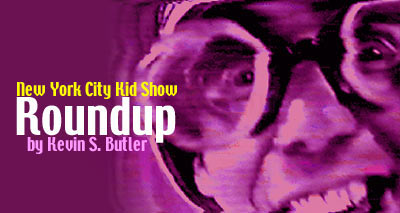 Time For Fun / Johnny Jellybean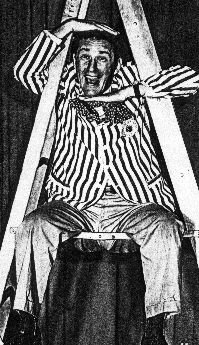 Bill Britten atop the ladder, sporting the stripped Blazer and floppy pa dot bow tie doing the crazy schitk with one hand under his chin and the other hand on his head is Mr. Britten doing - "The Jellybeaner's Salute."

The popular Johnny Jellybean first appeared on Time For Fun and was an important part of the evolution and success of NYC's thriving kid show market.
"Time For Fun" was the creation of two TV producers - Jules Power and Daniel Wilson. A veteran radio-TV producer since the 1940's, Mr. Power's first venture into kids television began in March, 1951, when he worked with actor, scriptwriter and producer Donald Herbert to create and co-produce television's first educational science show for kids "Watch Mr. Wizard".
"Watch Mr. Wizard" was a successful means of getting kids to learn about and enjoy science by having them see simple experiments or magic tricks demonstrated. With this success, Mr. Powers created and produced other kid's shows in the Chicago viewing area, including a daily wraparound show for WBKB Channel 7 entitled "Time For Fun."
Developed by the J. Walter Thompson advertising agency and their client, The Ward Baking Co., Powers and director Jack Miller developed "Time For Fun" into a successful program that featured comedy skits, craftmaking, hobbies, stories, games and informational segments.
It was hosted by veteran clown Nicky Francis (who was still appearing on ABC TV's Super Circus With Claude Kirchner, Cliffy Sobrier, Mary Hartline and "Scampy"at that time).
The show was so successful that other stations throughout the country were creating and presenting their own versions of "The Time For Fun" concept. In September of 1953, WJZ (now WABC) TV Ch. 7 in NYC decided to present their own local version of this series.
Jules Power & Jack Miller left Ch. 7 in Chicago to produce and direct the NYC program. Bob Keeshan (formerly NBC TV's and Roger Muir's/ "Buffalo Bob" Smith's "Clarabelle" and "Prof. Oscar" on "Howdy Doody") was hired to host the show as a gentle, soft speaking clown known as "Corney".
Set against the backdrop of a city park "Time For Fun" was seen weekday afternoons on WJZ Ch. 7 in NYC beginning on Monday, September 21, 1953. "Corney the Clown" and his dog "Pudgey" (Keeshan's actual family pet) would engage his visitors (viewers) in games, stories, craftmaking, hobbies, informational segments, comedy skits and interviews with guest performers and personalities between reruns of old movie cartoons and comedies.
Keeshan's "Corney The Clown" would entertain viewers on "TFF!" until he left the series on Friday, July 29, 1955 to begin writing, co-producing and filming the pilot for "Captain Kangaroo".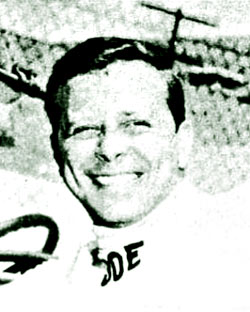 Joe Bova was hired to replace Keeshan's "Corney The Clown" as the show's second host. A stage and radio performer, Bova had a lot of experience as a stage and radio performer since the age of 12. He had also MC'd his own daily kid's shows on WJBK TV in his hometown of Cleveland, Ohio.
Bova later moved to NYC and began hosting WJZ TV Ch. 7's "Time For Fun"on Monday, August 1, 1955. Unlike Bob Keeshan, "Uncle Joe" Bova's humor depended more on his utilizing comedic ideas. He did skits and little blackouts that added sights gags and other electronic gimmickry to the show.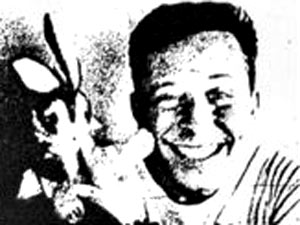 Joe Bova also performed song and dance numbers, his version of the show was set against the backdrop of a neighborhood clubhouse.
Oftimes "Uncle Joe" would play different characters in his skits: "Pedro" (a naive little Hispanic boy), "Mr. Lob Dob" (a Charlie Chaplin-like Tramp), "Mr. Blooper" (a zany janitor), "Waldo the Clown" and "Rembrandt the Dog". "Uncle Joe" Bova was so popular with kids that NYC's "Polo Grounds" held an "Uncle Joe Bova Day" on Saturday, June 16, 1956.
Bova left the show to host two more kid's TV shows at WABC - "Tales From Animalland" on Saturday mornings and the weekday evening version of "The Little Rascals Show" from 1957 until Friday, September 9, 1960.
Bill Britten (who had just finished his stint as the second and last puppeteer and cartoonist of WABC TV Channel 7's "Jolly Gene & His Fun Machine!") became the third host of "Time For Fun".
Like Joe Bova, Britten had also been a child performer in his hometown of Philadelphia, Pa., where he began his career as a impressionist and pantomimist at children's parties and other functions in Philly.
Britten also served as a social director for "Beautiful Wantashawnta Lodge on Glorious Lake Winnamostkoe" during the 1930's following his stint in the Army during WWII. He enrolled at the University of Washington (State) in Seattle, where he performed in nightclubs as a stand up entertainer and as a tramp clown for a gas station franchise. He even studied puppetry with a course at Washington U that also led him to perform puppet plays in the Seattle area.
From there, Britten trained and performed with another puppet theater that would create, produce and perform their own plays in the city parks of Seattle during the early 1950's.
In 1954, Britten graduated from Washington State U and left for NYC where he briefly performed in nightclubs and won an audition to perform with "Ringing Brothers Barnum & Bailey Circus!" as "The Funniest New Clown Of The Year!"/ "Prof. Oakey Doakey".
Britten performed with "Ringing Bros" for the spring 1954 season, until the circus left NYC. He remained to continue performing in the clubs before joining WJZ TV Ch. 7 in NYC around December, 1954 - when he replaced Mike King as the second head puppeteer of "Jolly Gene & His Fun Machine!".
Bill not only manipulated and voice the puppets, he also did the cartooning on Jolly Gene's Fun Machine Screen. After the show's cartoonist Chuck Luchsinger left the show to pursue other ventures, Britten puppeteered and did the cartooning on "Jolly Gene" until the series left the air on Friday, February 25, 1955.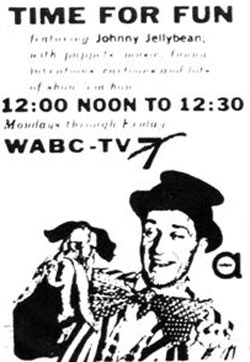 On Monday, December 31, 1956 Bill Britten became the third host of "Time For Fun" and the first host/performer to play everyone's favorite clubhouse leader - "Johnny Jellybean".
Set against the backdrop of a clubhouse, "Johnny Jellybean" engaged his clubhouse members in an assortment of games, songs, stories, craftmaking, hobbies, puppet skits, magic tricks. He would interview the kids in the studio, have guest performers on and, of course, show cartoons.
"We were the highest rated kid's TV show in NYC at that time," Britten recalled in a 1988 interview. "We actually beat out soap operas in the ratings and I think that we were watched by just as many adults as kids."
Britten also performed comedy skits in a manner similar to L&H, Chaplin and even Buster Keaton. For instance, Johnny Jellybean would try to get a drink from a malfunctioning water fountain. The skit would have poor "JJ" trying to do everything that he could do get a drink - perform a rain dance, sneak up on the fountain like "Snoopy", but that fountain would never give me a drink".
Britten's Johnny Jellybean would continue to entertain and inform his fellow "Jellybeaners" until Friday August 1, 1958 when he left to begin his stint as the third host/performer ofn WABD/WNEW's long running comedy-variety kids show Wonderama. Britten began hosting Wonderama on Sunday morning August 8,1958.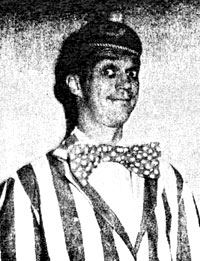 Keith Hefner became the fourth and last host/performer to MC "Time For Fun". The brother of "Playboy" publisher Hugh Hefner, Keith Hefner had been a stage, radio and TV performer since his teens.
He had also hosted his own daily kid's program since the early 1950's - "Mr. Toby's Top Top Merry Go Round" weekday mornings on WAAM/WJZ TV Channel 13 in Baltimore, Md. In 1958, one of the staffers for Jules Power had seen Mr. Hefner hosting "that show and decided that he would be a good replacement for the departing Bill Britten.
Hefner went to NYC, auditioned for the role, won the audition and left WJZ TV Ch. 13 in Baltimore to host "Time For Fun."
Instead of hosting the show as Johnny Jellybean, Hefner portrayed "JJ Jellybean," the gentle but funloving cousin of "Johnny Jellybean". Hefner would host the show (without a studio audience) featuring games, cartooning lessons, comedy skits and interview guest personalities between reruns of the Van Burean/Rainbow produced Felix The Cat, Molly Moo Cow, Toonerville Trolley movie cartoons. Also seen were Willie Wonderful puppet films that were produced for TV.
On Friday, July 3, 1959, Hefner's "JJ Jellybean" had a visit from the host/performer of WABC Channel 7's weekday morning version of "The Little Rascals Show" Chubby Jackson. On that morning, the duo sang the folk song, "This Old Man."
Hefner continued on "Time For Fun" until the show moved to a weekday morning format around the latter part of 1959. The program was retitled "The Johnny Jellybean Show" and the name of Hefner's character was also offically changed to "Johnny Jellybean."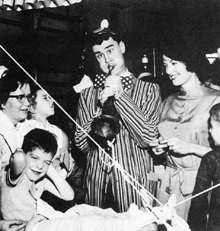 WABC Channel 7 finally closed down JJ's clubhouse for good on Friday, morning June 24, 1960.
"Johnny Jellybean" reappeared in the mid 1960's, this time on the Canadian TV Network, when Power and Wilson revived the character starring Ted Ziegler (shown) who would later be seen on The Sonny and Cher Show.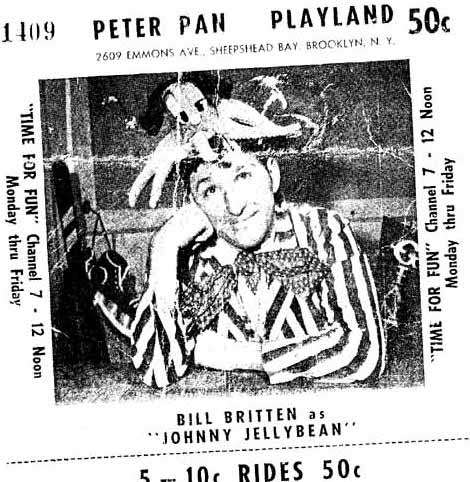 Bill Britten as Johnny Jellybean - a ticket stub from 'Peter Pan Playland' a kiddie park in the Sheapshed's Bay section of Coney Island. Ever been there?