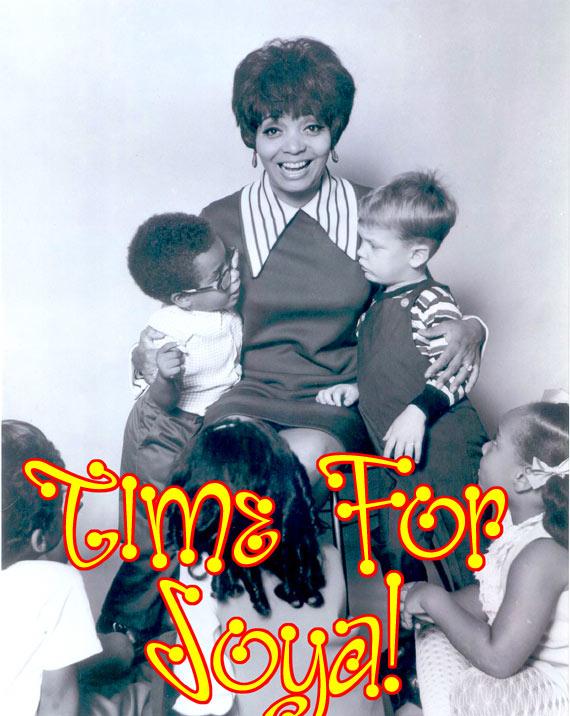 TIME FOR JOYA! by Billy Ingram
Mike Taylor shares this very rare episode of Time For Joya, the only one known to exist. For the full rundown on the series hop over to this page but the short of it is starring Joya Sherrill, who passed away recently, was the second African-American to host a kid's show in NYC and the first African-American woman to do so. A former vocalist for the Duke Ellington band, she had a hit in the 1940s with "I'm Beginning To See The Light" and starred in Time for Joya on WPIX in New York from 1970 - 1971.

In the first clip, Joya asks the audience at home if they've ever heard of John Brown and then launches into a cute ditty based on the abolitionist song.
It's easy to see why Joya was such an effective kiddie show host, her buoyant charm and lilting voice are one of a kind. Which makes me wonder - were there any Romper Room ladies of color? I know LA had an hispanic hostess but were any of the women black? I bring that up because Time For Joya was very much like Romper Room with the educational focus, the classroom-like set, and the engaging teacher speaking directly into the camera.
In this second bit, Joya interacts with Seymour, a puppet character. Mr. BB, aka Brumsic Brandon Jr., tells us this about the character: "When a requirement for a "one show" appearance of a Book Worm character arose. It seemed to all of us that a puppet would be perfect. Making the puppet in time for the next show became my hurry up assignment. That evening I discussed the project with my wife, a first grade teacher, and together with the assistance of her sewing machine and some scraps of felt we created Seymour, the Bookworm. Automatically, I became it's voice and puppeteer. Seymour's popularity surprised everyone and the "one show" guest puppet stayed so busy it was almost constantly in need of repairs. Today Seymour, tattered and worn, rests comfortably in a box of my archives in an air conditioned storage facility." A lesson on safe bathing leads to another of Joya's original tunes.
Speaking of Brumsic Brandon, he's a skilled comic artist, he wrote and drew the daily strip 'Luther' from 1968-1986 and he would draw cartoons on Joya's show.
Finally, the ending where Joya sings goodbye to the camera. Brumsic Brandon Jr.: "Time for Joya was indeed an 'easy gig' and I believe that was true because all of us, especially Joya, The Professor and Mr BB, respected each other highly and we loved what we were doing. I thoroughly enjoyed being apart of that wonderful experience and I wish we could do it all again. Thanks Joya! And thank you, kids!"
Time For Joya was replaced by Joya's Fun School which ran from 1971-1972, reruns continued for another decade on WPIX. Thanks to Mike Taylor for sharing this TV treasure!
READ ABOUT THE TV SHOW TIME FOR JOYA HERE