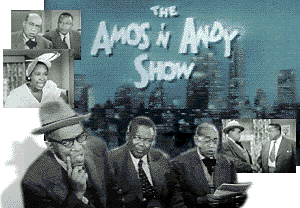 WHAT HAPPENED TO AMOS 'n' ANDY?
by Billy Ingram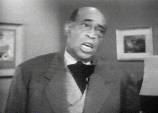 There is a classic TV show that you don't hear much about - and you have a slim chance of ever seeing broadcast on television again.
Amos 'n' Andy had all of the elements of an enduring classic - first-rate scripts that would rival the best episode of 'Seinfeld' for hilarious plot weavings, and lovable characters played with aplomb by masterful actors clearly in their element.
But there was a component to 'Amos 'n' Andy' that overshadowed the superior accomplishments of the actors and production staff - the characters were black and the year was 1951.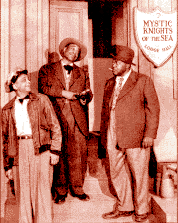 'Amos 'n' Andy' was brought over to television from radio, where it dominated the ratings beginning in 1928. Life in America came to a standstill when 'Amos 'n' Andy' was on, because everyone was at home listening to two white guys (Freeman Gosden and Charles Correll) pretend they were two black guys.
It might be one thing if actual brothers were writing and producing the show, but the fact that the principals were white (and appeared in black-face in a popular series of movies) made the whole thing an insulting affair for the country's black population engaged in an emerging civil rights struggle.
CBS paid a fortune for the television rights to the characters from Gosden and Correll. There had been just a few sitcoms featuring any African-American actors at all (mostly as maids) since TV's inception. When 'Amos 'n' Andy' was mounted as a television production in 1951, Godsen and Freeman knew they needed to have black actors in every role. Ernestine Wade (Saffire) and Amanda Randolf (Saffire's mom) were brought over from the radio series - because they actually were black.

The producers assembled a flawless cast featuring Alvin Childress as sensible cab driver Amos (actually a minor character despite first billing in the show's title), Spencer Williams, Jr. as gullible Andy, Tim Moore as conniving George 'Kingfish' Stevens, and Johnnie Lee as fast-talking lawyer Algonquin J. Calhoun (role model for the Johnnie Cochran-like lawyer on 'Seinfeld'). Horace Stewart was seen as Lightnin', a lazy, slow talking Stephen Fetchit style janitor - the show's most racially insensitive character.
Like most Fifties' sitcoms, 'Amos 'n' Andy' had broad, comic characterizations and outlandish plotlines. None of the stories had anything to do with race, and on a positive note, introduced the concept of black doctors, business leaders and lawyers in dignified roles - a first for any mass medium.
CONTROVERSY
Still, times being what they were, it was inappropriate - no matter how excellent the show was - to show blacks as buffoons if there were no other shows on television featuring African-Americans in serious roles. There was no balance on television then (or now, if you ask me) and civil rights leaders saw 'Amos 'n' Andy' as a twenty-five year stain that had to be removed.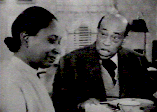 CBS canceled Amos 'n' Andy after a two-year TV run in 1953 because of the outcry. They immediately began distributing the reruns in syndication, where it drew consistently big daytime ratings for local stations (especially in rural areas and down south).
In 1966, black leaders finally convinced CBS to withdraw the series entirely, despite the economic impact it had on the company and its affiliates.
---
"I would like to add something to your new Amos 'n' Andy page. I am an African American (35 years old) and a big fan of Amos 'n' Andy, especially the radio series. The TV series is also funny.
"When Gosden and Correll started the series in 1928, they based the show on people they knew. Both men were from the south and they were surrounded by black people.
"If you take a unbiased look at the characters, the majority of them hold respectable jobs and own their own business. The only exceptions were Andy and the Kingfish. Even Lightnin', as dense as he was, was a janitor and there is nothing wrong with that. But you had Lawyer Calhoun, Shorty the Barber, and of course Amos, owner of the Fresh Air Taxicab Company.
"A lot of the shows today and even in the 70's, made a big deal about people's color. If you take a look at the Amos & Andy Scripts from both radio and television, there are not too many instances where the characters mention they are black, nor do they complain that the "white man has everything and we don't because we're black." These were average people, who just happened to be black.
"I once attended a class on Cultural Diversity where I brought in a copy of an Amos 'n' Andy radio series and a Lum and Abner radio series (Lum And Abner were two backwood hillbilly characters created by Chester Lauck and Norris Goff at around the same time as Amos 'n' Andy.) I played them both, and although both shows have stereotypes that can be considered negative, no one wanted to talk about Lum and Abner, they just wanted to talk about Amos 'n' Andy.
"The plots of Amos 'n' Andy could fit into many other situation comedies, in fact I read where a number of Amos 'n' Andy scripts were reused and turned up in...Leave It To Beaver! This was because Joe Connelly and Bob Mosher produced both shows.
"Thank you for talking about a subject that very few dare to talk about."
- Gary Williams
---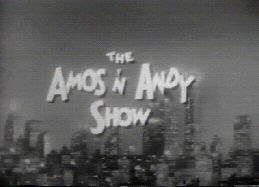 "I am an African-American. I loved the Amos 'n' Andy show and grieved when it was discontinued. I think people fail to realize that comedy has an element of ridicule that is why it is funny.
"As a small child in the fifties I didn't care about stereotypes and the likes, all I know is that there were blacks on television. I, and my parents lived for the Amos 'n' Andy show. We would laugh and enjoy ourselves while it was on.
"It really hurt us when the show was taken off the air. What an injustice. There were no longer any blacks on television that we could take pride in. Only the occasional guest appearance of Mahalia Jackson, or Pearl Bailey on the Ed Sullivan show. Sometimes in our diligence to make things better we actually shoot ourselves in the foot.
"If the show had been allowed to continue, I don't think we would have had to wait until the 1980's for a Cosby show. How many black actors were denied a chance because of Black shows being seen as too risky or controversial."
- Charles L
---
"I am a child of the economically segregated suburbs of New York City. When I was growing up in the 1950s, I watched the reruns of Amos 'n' Andy. I thought nothing about these people being foolish black stereotypes.
"In fact, quite the contrary. Most of the news I watched coming from New York City only showed blacks in the worst light --- as criminals or in dire poverty. It was not until I went to college that I realized there was a black middle class. I always thought they must only be in the South since New York news showed only poverty.
"Anyway, if we put aside the color and look at the characters, for every negative attribute there has been a corresponding white male who has been portrayed the same.
"Amos - an owner of his own business - Herbert T. Gillis on "Dobie Gillis"

"Andy - an unemployed male - Lou Costello on "Abbot and Costello" and Freddie on "My Little Margie"
"Kingfish - the crafty con man - Ralph Kramden on "The Honeymooners" and Eddie Haskell on "Leave it to Beaver"
"Lighting - the dumb/slow/fool - Lumpy on Leave it to Beaver and Gilligan on "Gilligan's Island"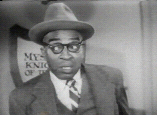 "A.J. Calhoun - shyster lawyer - Angel (comic relief) on the Rockford Files (and a felon to boot!)
"And could you get much more foolish and condescending than the Beverly Hillbillies and their horrendous spin-offs?
"These characters were (are) funny because to characterization not white, black or otherwise. In fact those comedy shows thereafter that tried to show "race" in a positive light, don't hold up over time (Chico and the Man, even Sanford and Son).
"I agree with many of the other commentators. Amos 'n' Andy was a chance to see real middle class blacks in a cross section of a working class neighborhood. My parents were both born and raised in Manhattan, in fact my father was from what is now Spanish Harlem. He reminded us that although we rarely came in contact with people of color in lily-white suburbia, that his life in a working class section of Irish, Hispanic, Italian and African-Americans was lived pretty much the same as the Harlem of Amos 'n' Andy because they were all in the same economic situation.
"Still, I can understand the feelings of blacks at the time. But what passes for comedy now makes one yearn for the scripts of Amos 'n' Andy."
- Chris Wood
---
Read the entire history of Amos 'n' Andy here:
Amos 'n' Andy - the Beginning
Amos 'n' Andy - Radio Program
Amos 'n' Andy - Format Change
Amos 'n' Andy TV show
What Happened to the Cast?