Opening to the Saturday Superstar Movie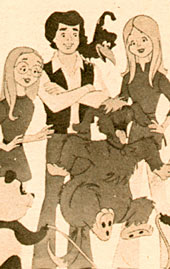 ABC Saturday
Superstar Movie / ABC
9:30 Saturday Mornings 1972 - 73
TV-movies were big winners for ABC in primetime so they counter-programmed Scooby Doo movies on CBS with cartoon movies of their own - like 'Willie Mays and the Say Hey Kid', 'Yogi's Ark Lark', 'The Mini-Munsters', 'Daffy Duck and Porky Pig Meet the Groovie Goolies', 'Oliver and the Artful Dodger', 'Bewitched', 'Lassie's and the Spirit of Thunder Mountain', 'That Girl in Wonderland' and 'Popeye'.
'The Brady Kids' (with original cast members) was on the first episode to launch this new cartoon series.
Highlights: 'Nanny and the Professor' - the original cast of the primetime series (Juliet Mills, Richard Long, etc) is reunited in cartoon form - a spy adventure that starts when the boys find a stolen microdot.
"Robin Hoodnick" Lennie Weinrib does most of the voices for a cartoon version of the goings on in Nottingham Forest.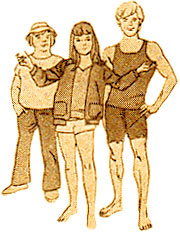 "Gidget Makes The Wrong Connection" - an animated Gidget gets mixed up with gold smugglers.
A lot of the 'movies' were pilots for possible Saturday series, many (Like Lassie) were picked up for future seasons.
Produced by Filmation, Rankin-Bass, Hanna-Barbera and others.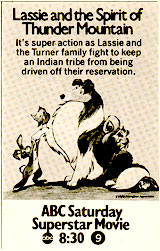 12:00 Saturday Mornings 1973-74
The New Saturday
Superstar Movie ABC
Despite the 'New' title, only three fresh episodes aired this season.

Still, the second season starts with a bang - 'Space Family Robinson', the animated adventures of the 'Lost in Space' Robinson family - well, sort of. The original Dr. Smith (Jonathan Harris) was on hand, but (for legal reasons) it's a different Robinson family he's lost in space with.
This was a pilot for a Saturday morning series that was ultimately shelved by Hanna-Barbera. Very weird, guess they decided to do 'Josie and the Pussycats in Outer Space' instead - it was basically the same show. Clever character designs by Alex Toth made it watchable.
Other new features this season: 'Nanny and the Professor and the Phantom of the Circus', basically a Scooby episode with different characters. The original cast of a much-loved primetime series (Nanny and the Professor, 1970-71) is reunited in cartoon form for a second time.
'Luvcast, USA', a 'Love American Style' cartoon-style with three segments about love potions and feminist werewolves. Now that's scary!