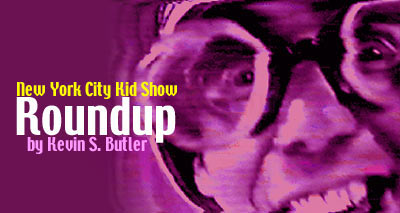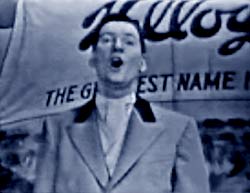 Claude Kirchner, Super Circus,
The Scrub Club and more...
Following his stint as the ringmaster host and announcer of ABC TV's Super Circus on December 18, 1955, Claude Kirchner moved from WBKB (WLS) 7 in Chicago to WOR 9 in New York City to begin a stint as the ringmaster host and puppeteer of one of the areas most popular cartoon shows.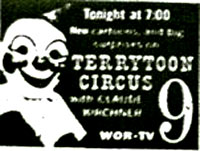 Terrytoons Circus debuted on WOR Monday evening, October 22, 1956. Set against the backdrop of a traveling circus, Claude Kirchner would engage his viewers in stories, informational segments, interviews with guest performers and personalities and try to suppress the wisecracks of his smartaleck clown puppet "Clownie" between reruns of the Paul Terry "Terrytoons" movie Cartoons.
Terrytoons Circus remained on the air until Friday, April 27, 1962.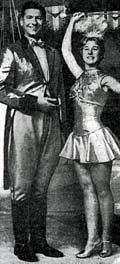 Kirchner went on to host another cartoon show set against the backdrop of a circus, "Merrytoons Circus" became the first NYC based kid's show to air reruns of the Columbia Pictures/Charlie Mintz "Krazy Kat", "Scrappy" and "Lil' Abner" movie Cartoons. "MerryToones Circus" also screened the Paramount/Famous "Talkertoons" and was seen weekday evenings on Channel 9 from Monday April 30, 1962 to Friday, September 20, 1963.
For a time, Kirchner hosted another cartoon show on Channel 9, this time set against the backdrop of a neighborhood clubhouse. The Scrub Club opened on WOR Ch. 9 on Wednesday afternoon, May 8, 1957.
Unlike Terrytoons Circus and Merrytoons Circus, Kirchner hosted this series as a clubhouse leader working with a different set of hand puppets, built by a dollmaker known as Caroline.
Mr. Kirchner once again entertained his clubhouse members (and home viewers) by trying to suppress the antics of his puppets "Scrubby The Pig" and "Dr. Owl" between reruns of old movie cartoons.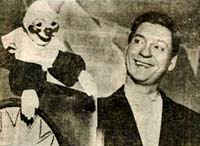 The Scrub Club remained on the air until Friday afternoon, September 13, 1957.
Kirchner then went on to host a Saturday and Sunday morning movie show for kids - Super Adventure Theater opened for business on WOR Sunday morning, September 20, 1959.
Super Adventure Theater aired reruns of 1950's sci-fi films like "Godzilla", "The Incredible Shrinking Man" and film comedies like Laurel & Hardy's "Pardon Us", "Pack Up Your Troubles", "Abbott & Costello Meet Frankenstein" and "The Three Stooges in Have Rocket Will Travel".
Kirchner and "Clownie" continued to entertain a their viewers at Super Adventure Theater until Channel 9 shutttered the Theater in 1967.
Mr. Kirchner then went onto host another circus oriented comedy/variety show. Marx Magic Midway was seen Saturday mornings on the NBC network beginning Saturday, September 22, 1962.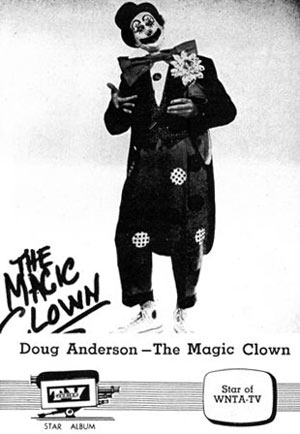 This series featured performances from popular circus acts from around the world and comedy skits from Marx Magic Midway's resident clowns: "Mr. Hocus Pocus" (played by WNTA Ch. 13 Newark, NJ's "Bonomo The Magic Clown" Doug Anderson), "Boom Boom, The Tramp Clown" (played by former circus clown Bill Bailey) and "Coo Coo, The Crazy Clown" (Paul Dooley, who was working then under the name of Phil Kiley).
The show also featured a game segment where members of the studio audience would play to win a treasure chest of Marx Toy Prizes.
Unfortunately, Marx Magic Midway was plagued by interference from producers. Marx Toys dropped it's sponsorship of the show and NBC closed the Marx Magic Midway on Saturday, March 6, 1963.
Kirchner returned to WOR 9 to host a weekday morning version of The Scrub Club, reopening the doors on Monday, August 26, 1968.
This time however, the station bosses at WOR would not pay Caroline to build new puppets for the show. Undaunted, Claude Kirchner worked with two sock puppets - "Super Flop," a sad faced loser and "Super Flo," a mean spirited witch, who, like "Clownie," took great delight in putting down Mr. Kirchner's height with wisecrack putdowns like, "Skinny Bones," "String Bean" and the somewhat controversial "High Pockets."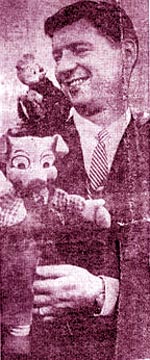 The 1968 weekday morning version of TV 9's Scrub Club was the first NYC kid show to air the Hanna-Barbera/RKO General TV/ Jomar's Abbott & Costello cartoons along with "Spunky & Tadpole" animated films.
The Scrub Club would remain open for business until Channel 9 locked the Clubhouse doors for good on Friday, December 13, 1968.
Claude Kirchner hosted one more kids show on WOR from Monday morning, February 3, 1969 to Friday, January 30, 1970, serving as the ringmaster, announcer and co-host for Channel 9's Bozo Show.
---
King Kong and Claude Kirchner
New York, 1967
"I don't know if TV screenings of KING KONG had become a bit rare in New York by the late '60s, early '70s - at least up until the time that Channel 9 (the former WOR-TV) began their odd, but popular, tradition of showing KONG on Thanksgiving Day.
"The film did pop up in some unusual places. In 1967, many young New Yorkers first saw KING KONG, on WOR-TV's Saturday morning SUPER ADVENTURE THEATRE, hosted by a pop culture icon of more recent vintage - Claude Kirchner.
"On this Saturday and sometimes Sunday morning movie show Kirchner, still fitting into his center-ring garb, was accompanied by his puppet sidekick, Clowny, who appeared within a small, big-top decorated, box-like 'puppet-theatre.'
"Seeing that middle-aged man standing next to a small podium talking to a hand-puppet was an odd introduction to the legendary movie - ultimately, just one more tale of -
King Kong and the City!"
- Jim Burns (James H. Burns)
---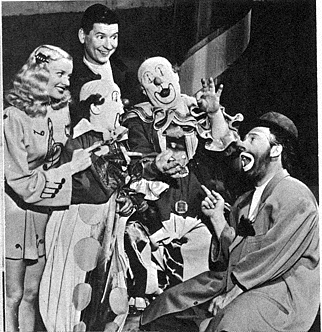 "What a great site! I have tears in my eyes as I see my dad's name mentioned here! (Claude Kirchner)
"Dad passed away in March of 1993 from lymphoma. A brief blurb in the TV section of the NY Post mentioned his illness just before he died. I saved every single letter (over 500) and have them in albums.
"I still can't get over the response and emotions shared concerning those who watched "Terrytoon Circus" every night. I guess it was a ritual, but some kids were watching to escape unbelievable abuses and found comfort from the show... If anyone reading this was one of the corespondents, thank you sooooo much! What memories we all have from those good old TV days!
"Here's another couple of shows dad had that some of you might recall: Marx Magic Midway (mid 60's on channel 4, I think) Did you know that he was the "voice-over" voice for all those Marx commercials for a long time?
"We had a closet full of Marx toys, but for some reason, my brother & I were not allowed to touch them! I guess they were to give away. My 5th grade class (public school in Conn) went on a field trip to this show - it was a great experience for all!)
"The other show was Super Adventure Theater - I think it played old movies - science fiction, I believe.
"I have tons of stuff of dad's including his original boots & ringmaster costume. (He wore it late in life for a show called Remember When.... hosted by a reporter named John Johnson. (I videotaped it, but our son accidentally recorded over it!) Dad and Mary Hartline both still fit in their costumes from the 40's!
"I also have many of the Super Circus shows with all those live commercials. Kellogg's was their main sponsor; by the way, Mike Wallace was the emcee on that show and it aired from 1947-55 live from some "hall" in Chicago.
"Oh yeah, I also have Clownie!!!!"
- Lynn