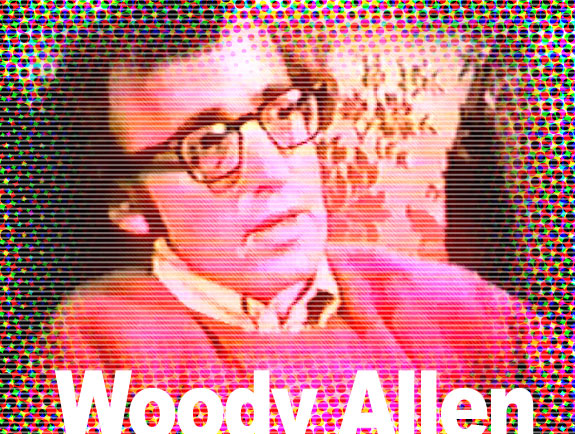 THE BEST OF WOODY ALLEN'S 'EARLY/FUNNY' TV
PART THREE / / / / by Pete Delaney
'THE WOODY ALLEN SPECIAL' (September 21, 1969, CBS)
After the unsatisfying experience of the Kraft show, Woody Allen decided that he would only do another TV special if he had complete artistic control. Thus, The Woody Allen Special would become the high point of his brief TV career.
Promoted by Woody as "an hour of horny comedy," the show was refreshingly adult by the standards of 1969 network TV. After wacky animated titles that depicted Allen as an astronaut, a guillotine victim and Virgil Starkwell, his Take The Money & Run character and after the first of 3 very funny Libby's commercials featuring Tony Randall as detective Justice Dunn, the show opens with the monologue.
Looking very relaxed and confident, Allen comments on sex and death ("Two things that occur once in my lifetime."), Dick & Liz ("I wonder if Burton gets bored doing the same thing every night."), sex education ("I asked my mother, 'how do you get babies.' She thought I said 'rabies.'"), his backward exhibitionist uncle ("He goes on the subway naked and then gets dressed."), the Museum Of Natural History ("You can visit an exhibit on human evolution to find out just where Spiro Agnew fits in.") and pornographic movie theaters ("The film was accidentally shown upside down but nobody noticed.").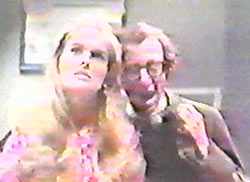 This was followed by the first of three hilarious skits that each feature a tall, busty, blonde 23 year old Candice Bergen who shows a true flair for comedy. She and Woody play actors in an off-Broadway drama on the first day of rehearsal.
"This play really has it all," she comments. "Violence, drugs, poverty, corruption, betrayal, fascism."
"Yeah," Woody replies. "Finally, someone has written a play about the New York City school system."
The director of the play demands that they rehearse in the nude. An upset Woody complains, "My mother hasn't seen me naked in 30 years. She will know something's wrong! She'll see my ribs!" Candice then strips, throwing her clothes across the stage. When Woody catches her panties he says, "I've got a real find here." When Woody & Candy finally get naked (thanks to some imaginative camera angles) it is one of the funniest moments in TV comedy history.
"You are definitely female! Our naked bodies are nothing to be ashamed of." After taking a closer look down, Candice makes a face and says, "Well, I dunno."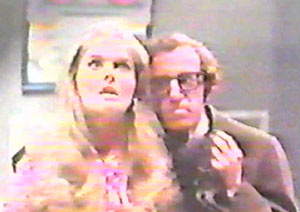 Candice can be seen trying to hold back laughing while Woody primps and postures saying that being nude makes him feels like a Greek God. "Better calm down, Venus," she advises him as the bit ends.
After two songs by The Fifth Dimension comes the next skit, 'Cupid's Shaft' a great spoof of silent movie comedies where Woody bears an astonishing resemblance to Harold Lloyd. With solo piano by Marvin Hamlisch and hints of Woody's 'later/serious' films (black & white photography, sad ending) it's a tale of the love that can never be between a street sweeper (Woody) and a rich girl (Candice).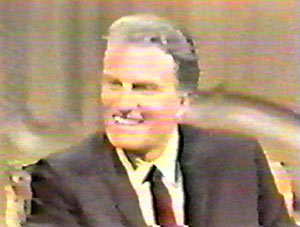 A memorable 9 minutes in TV history followed when the paths of two significant figures in American culture would cross for the first and only time as Woody Allen interviewed Billy Graham.
"We just sat and talked," Allen would say a few weeks later. "I let the conversation go where it went. I just hoped that the conversation would be light and amusing. I knew that every time he got laughs it would add to the warmth of the bit. That's when I was happiest. I didn't want it to seem that the man was humorless and that I was the wiseguy."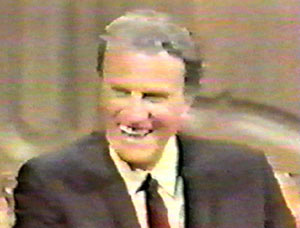 Some of the exchanges are truly hilarious:
GRAHAM: The Bible teaches that pre-marital sex relations are wrong.
ALLEN: Yeah? That would be like getting a driver's license without a learner's permit.
GRAHAM: God didn't say 'Thou shall not commit immorality before marriage' in order to keep you from having a good time or having fun.
ALLEN: Yes he did.
GRAHAM: We are there to serve and worship God
ALLEN: That doesn't seem to you to be an egomaniacal position?
GRAHAM: On God's part?
ALLEN: On God's part.
GRAHAM: Oh no, God is perfect.
ALLEN: You know, when I look in the mirror it's hard to believe that.
GRAHAM: Maybe you can give me ideas about how to give up coffee.
ALLEN: Yes, if you will have faith in me, I will lead you.
GRAHAM: I can't promise you a white robe and wings.
ALLEN: One wing, maybe?
GRAHAM: I would have liked to have worn a very loud coat for this occasion.
ALLEN: Yeah, something casual and devil-may care, if you will excuse the expression.
GRAHAM:You mean something wild like a blue coat.
ALLEN: Yes, something really crazy like a blue coat.
The segment was funny, bright, lively, irreverent, impertinent and gentle. The show's final bit 'An original folk tale', shows how Woody Allen in his 'early/funny' days was a master of intellectual comedy.
It's a simple tale of Sondra, described by her father as, "A beautiful girl with a sweet disposition. But stu-pidddd."
Sondra is upset by her lack of smarts when she complains, "I'm tired of going into museums just to use the bathroom." Distressed by her lack of social graces Sondra's father is advised by a fish peddler to hire a great tutor.
The tutor is Woody dressed as a Rabbi who instructs Sondra in the ways of good food, great jazz music and the elegant life through such quizzes as - LENNY BRUCE WAS, A: A comedian B: A food C: A device for measuring rainfall.
Sondra then puts her teaching to the test when she attends, "the annual Norman Mailer cocktail party and fist fight." At the party she equals a guest's assertion that, "capital punishment is fine as long as it is done in good taste," with the observation that, "If Dostoyevsky was a jazz singer he would have sounded like Ray Charles." Seeing that he has achieved success, Woody removes his Rabbi disguise and reveals that he is actually a psychiatrist with a new form of therapy that will make anyone a swinger, "unless he's an Arab."
Woody and Candice kiss, agree to marry, ending the show on a high note despite the specter of their eventual divorce. There's a final funny moment in the closing credits when the announcer says, "Portions of the recorded program were previously recorded."
The show ranks as Woody Allen's crowing achievement in a medium he explored only briefly.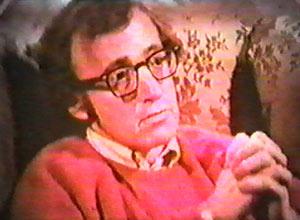 'HOT DOG!' (1970, NBC)
In this Saturday morning show for children, produced by Lee Mendelson and directed by Frank Buxton (a writer and voice from the Woody Allen comic masterpiece What's up, Tiger Lily?) Allen joined Jonathan Winters and Jo Anne Worley (as well as Tommy Smothers in the pilot) in helping to explain how common day items were manufactured.
Woody is seen on a bare set, sitting in a large chair responding to Buxton's quires such as 'How do they get toothpaste into a toothpaste tube,' 'Who's picture is on all of the dollar bills,' 'How do they make plywood,' 'What's in bubble gum,' etc. Some of Woody's funniest replies involved crayons, tennis shoes, the dollar bills and the toothpaste.
'MEN OF CRISIS: THE HARVEY WALLINGER STORY'
(1971, PBS, never broadcast)
Woody Allen's last significant work for TV from his 'early/funny' era is a half hour comedy masterpiece where he brilliantly spoofs politics in general and the Nixon administration in particular in a satirical profile of the Kissinger-like Harvey Wallinger (played by Allen) who is portrayed as the real power and brains in the White House.
There's non- stop hilarious dialogue to savor including such lines as, "After much discussion, Republicans choose a man of force and magnetism. But that man refuses the nomination so they settle for Richard Nixon," and "John Mitchell, the new attorney general has many ideas for strengthening law and order but finds himself hampered by an old, little known government document called the Constitution."
In addition to actual newsreel clips that are brilliantly turned against the politicos, there's extremely funny new segments that feature a host of familiar faces.
Diane Keaton is Wallinger's wife Renata, a cross-eyed, blacksmith major from Vasser who regrets inviting Nixon to her wedding when the president talks for 20 minutes about corn blight. She also comments on sex: "If you are ashamed, it's American sex," and "Only Republicans can have clean sex."
Louise Lasser is Harvey's ex-girlfriend who after telling the press how lousy Wallinger was in bed found herself drafted the next day. This is in contrast to the glowing reports about Wallinger's bedroom skills offered by a nun: "He's an unbelievable swinger. A real freak!"
Also in the cast are Conrad Bain (Maude, Diff'rent Strokes), Dan Frazier (Kojak), Graham Jarvis (Mary Hartman, Mary Hartman) and Nixon look-a-like Richard Dixon who adds incredible comic authenticity to the scenes he shares with Allen's Harvey Wallinger.
But funniest of all are those hilarious out of context newsreel clips that show Nixon, Agnew, Mitchell, Hoover, Laird and Wallace at their reedited comic worst. Even Pat Nixon is skewered when a clip is rehashed to have her admit she wants to have an affair with Harvey. Woody later admitted that the entire show was in bad taste but added, "It's hard to say anything about the Nixon administration that wouldn't be in bad taste."
Unfortunately, PBS in 1971 was worried about it's funding from Washington and felt that this was no time to broadcast a scathing comic assault on the current administration. They asked Woody to make cuts of scenes that PBS brass thought were particularly offensive. When Woody refused to make any changes in his film PBS simply offered it to member stations to broadcast at their own risk. None did. The program never aired.
Years after the Richard Nixon and his crew self destructed, a video cassette of a scratchy and spliced lab print of the show was discovered in the New York offices of WNET/13. Copies were sent immediately to the Museum of Television and Radio in Los Angeles and New York where today, for the price of admission, anyone can have a private screening of one of the funniest satires ever produced for television.
After Wallinger Woody Allen decided to abandon television and stand up comedy in order to devote himself completely to making movies where he had complete artistic control.
The cinematic 'early/funny' era continued for another 6 years with 'Play It Again, Sam' (1972, directed by Herbert Ross), 'Everything You Always Wanted To Know About Sex' (1972), 'Sleeper' (1973) and 'Love And Death' (1975). Though having dramatic scenes 'The Front' (1976, directed by Martin Ritt) and 'Annie Hall' (1977), officially marked the end of a great comic talent's desire to make an audience laugh.
Since 1978, there has been the annual serio/comic film, flat out misery drama or weak comedy from Woody as the former clown strives for something deep and important while alienating the thousands of fans who loved his work in the '60's and early '70's.
Woody would rarely appear again on TV, and when he did he was usually seen looking stiff, uncomfortable and sad, reluctantly promoting his new film. This morose Woody presents an astonishing contrast to what was once a happy and jovial talk show guest.
But thankfully, from the 1960s and early 1970s there are the videotapes and kinescopes of the once cheerful, hopeful little guy with the big glasses and the red hair who made a brief but memorable impact on the small screen with his unique comedy.
---
Woody Allen Part One
Woody Allen's TV Shows Part Two
Woody Allen on TV Part Three