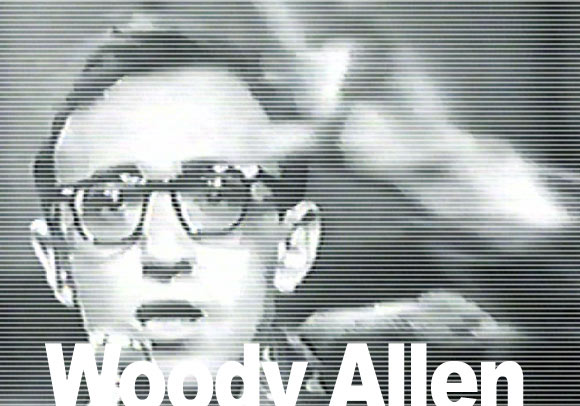 THE BEST OF WOODY ALLEN'S 'EARLY/FUNNY' TV
PART TWO / / / / by Pete Delaney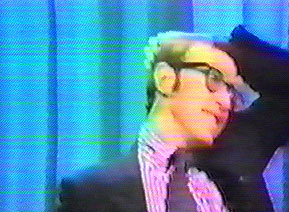 'KRAFT MUSIC HALL: WOODY ALLEN LOOKS AT 1967'
(December 27, 1967, NBC)
The closing credits for this show list 7 writers in 2 different groups. First there's 'WRITTEN BY FRANK PEPPIAT, JOHN AYLESWORTH, JACK BURNS & PAT MC CORMICK.' Then there is 'WOODY ALLEN'S MATERIAL BY WOODY ALLEN, MARSHALL BRINKMAN (sic) & MICKEY ROSE.'
This delineation is significant as, except for the monologue, the segment with William F. Buckley and a few choice lines in the skits Woody is merely a fine comic performer hired to star in what is a standard 60's variety show. Despite having no artistic control over the majority of the material, Woody comes across well even when appearing in skits that are just slightly beneath his talents.
The monologue is classic Woody Allen (with additional gags by his long time writers Marshall Brickman and Mickey Rose) as he plays up his nebbish persona with gags about the military ("The Army burnt my draft card after I took my induction physical."), his psychiatrist ("My analyst would write down my problems and send them to Dear Abby."), his religion ("People always think I'm Jewish just because of the way I worship. I'm really Scotch-Irish."), a recital by a topless cellist ("I was OK with her andante but her allegro drove me crazy!") and a street brawl ("I hate violence especially since I was beaten up by Quakers.")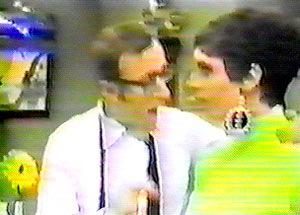 He then segues into the first of the show's three mediocre skits. It's a 6 minute sketch where Woody is a husband who overreacts to his wife's (Liza Minnelli) mini-skirt. Though there are a few funny lines it's mostly on a sub-par sit-com level with Woody showing an odd and uncomfortable violent streak as he threatens to break Liza's legs and forcefully slams co-star John Byner into a wall causing more than a few props to unexpectedly fall and break.
There are a few choice lines that were clearly written by Woody: "Don't tell me that we don't freak-out. We went to your parent's house for dinner. That's the biggest freak-out I can remember!" and "You are insipid. You lack sipid."
Following Aretha Franklin singing her hits 'Respect' and 'Chain Of Fools' comes the second bit, a spoof of former child star George Murphy's run for the senate in 1967. Woody Allen has often said that, except for his 1969 CBS special, he felt that his early television work was essentially "One long humiliation." After seeing this bit, he might be right.
It's beyond startling to see the 33 year old comedian as Baby Bobby Dimple, dressed like Shirley Temple and dancing effeminately while he sings in a high pitched shrill, "I'm A Little Lollipop Fellow." It's a case of not enough satire and too much sheer shock value.
The bit mopes along with the adult Bobby throwing tantrums and childishly attacking his Senate opponent at a debate until we have a melancholy finale of the defeated former child star being reassured by his mother that the world still loves him. Next, Liza Minnelli performs hammy versions of '59th Street Bridge Song' and 'Up, Up And Away' before Woody moderates an audience Q&A with conservative icon William F. Buckley, Jr. The duo enjoyably field serious and funny questions about politics and what the true definition of conservative is.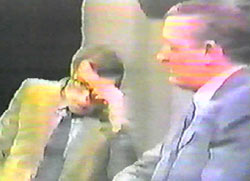 When asked if he ever went to a discotheque, Woody answers for him. "Mr. Buckley can not do a dance invented before 1860." When asked by a pretty girl if mini-skirts are in good taste, Buckley surprisingly answers, "On you it is." When Woody is asked if the Israelis should give back land won in the 1967 war he replies, "No, they should sell it back." Of course there is that unmistakable dulcet voice of Buckley when he delivers lines like, "Salubrious juices will flow," and "The megalomania of the aging despot."
It's all very amusing especially when we realize how much fun Buckley & Woody are having. The last comedy bit in the show is a Bonnie & Clyde spoof with Woody as Clyde and Liza in a blonde wig as Bonnie. It's mostly an excuse for a lot of running around by a on a small set by Clyde, Bonnie, 10 relatives and a nice Jewish couple that Clyde met in Miami Beach. Aside from the hilarious spoof of the slow-mo finale of the film, it just isn't very funny.
As Woody says good-bye he thanks his cast. "I'd like to thank Liza Minnelli, Aretha Franklin, John Byner, William F. Buckley, Jr. and the Millsteins, a very nice couple I met in Miami Beach."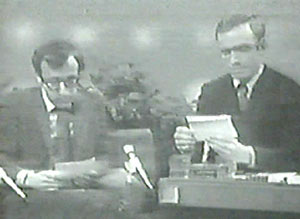 'THE DICK CAVETT SHOW' (July 1969, ABC)
Though it's one of Woody's briefest appearance on the Cavett show, it might be the funniest, especially when he talks about filming Take The Money & Run at California prisons: "These men haven't seen a woman in years, let alone a fair-skinned Jew.''
READ AND WATCH PART THREE:
Woody goes head-to-head with Billy Graham
PLUS: Hot Dog - and one controversial show gets yanked!
---