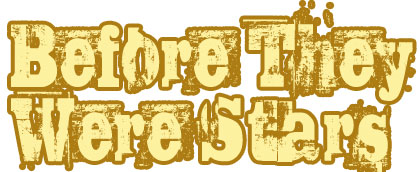 PART FOUR / / / by Cary O'Dell
Look who's been at it again! Going back through some "Fall TV Previews" issues of semi- vintage "TV Guides" (yes, I save them; doesn't everyone?), I uncovered some now-familiar faces in some unfamiliar, early roles. Just further proof that we all have to pay our dues, we all have to start somewhere and, sometimes, a show NOT being a success can be the best thing ever for a young career.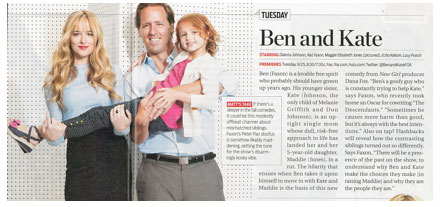 BEN AND KATE
Before she got tied up in "Fifty Shades of Grey," Dakota Johnson exercised her comedy muscles (and quite well, as I recall) in the FOX comedy "Ben and Kate" about a pair of grown-up siblings living together. She (Kate) had gotten pregnant in college and was now a single mother moving up in the world while he (Ben) had just decided to move in. Nat Faxon (later of "Married") starred as brother Ben. Also featured in the cast was Lucy Punch. The show aired 2012-2013.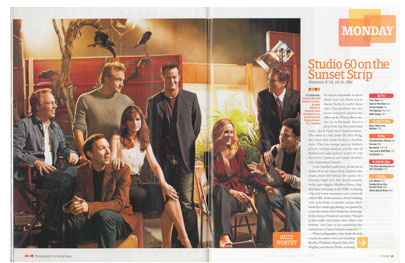 STUDIO 60 ON THE SUNSET STRIP
See any familiar faces here? You should, "Studio 60 on the Sunset Strip" was a critically-acclaimed but short-lived NBC hour-long comedy-drama. It brought back to TV such proven talents as Matthew Perry, Timothy Busfield, and Bradley Whitford. But also in this group shot was a talented actress now far more famous for her creepy roles on the various incarnations of "American Horror Story"—Sarah Paulson. That's her third from right in the picture. "Studio 60," created by Aaron Sorkin, aired 2006-2007.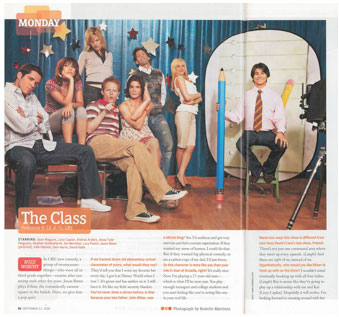 THE CLASS
Speaking of familiar faces…. "The Class" is a now long forgotten sitcom from the 2006-2007 season about some reunited friends from grade school. But at least two of its cast members have gone on to considerable fame. Jesse Tyler Ferguson (pictured above before his beard and mustache) is now, of course, on "Modern Family" and Lizzy Caplan, second from left, has scored on cable's "Masters of Sex" series. "Class" was dismissed after 19 episodes. (Of note: also featured in some of the completed installments was the aforementioned Lucy Punch.)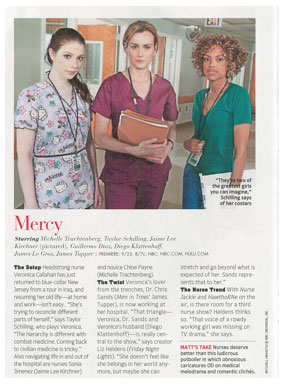 MERCY
Before she wore orange, she wore scrubs. "Mercy" was a 2009-2010 hour-long hospital drama about a team of dedicated RN's. Taylor Schilling, pre-"Orange is the New Black" and pictured center, was one of the nurses in this NBC series. "Mercy" produced 22 episodes before being announced DOA. For you trivia fans, appearing in 10 of the episodes was Schilling's later "OITNB" co-star Kate Mulgrew.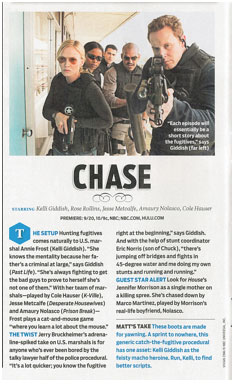 CHASE
Now working for "SVU," actress Kelli Giddish began her TV drama law-enforcement career on the generically-named, short-lived series "Chase" from the 2010 season. Jesse Metcalf and Cole Hauser were also featured in this series about a US Marshalls tracking down fugitives. The show produced 18 episodes.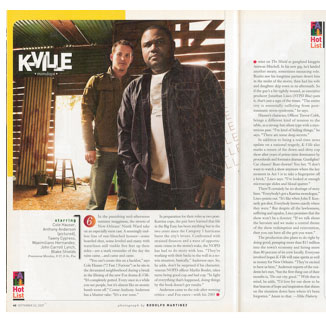 K-VILLE
And speaking of Cole Hauser, here he is pictured alongside Anthony Anderson. The 2007 FOX series was set in a post-Katrina New Orleans and followed two policemen trying to bring order and humanity back to the Big Easy. Anderson played it straight in this series but had more luck when he got to be funny on ABC's "Black-ish."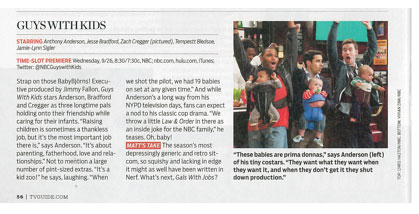 GUYS WITH KIDS
Well, Anderson didn't immediately have success when he went for laughs. Before "Black-ish," Anderson was featured alongside Jesse Bradford (of the original "Bring It On" movie) and Zach Cregger on the NBC sitcom "Guys with Kids." This series aired in the 2012-2013 season and was based on that tried-and-true sitcom formula of incompetent dads. Also featured in the show were former "Cosby" kid Tempest Bledsoe and former "Sopranos" actress Jamie-Lynn Sigler.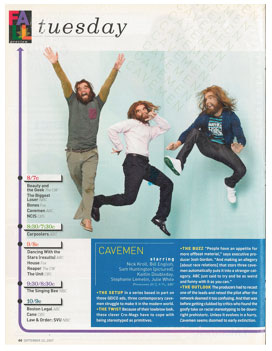 CAVEMEN
And remember what I said about sometimes a "flop" being the best thing? Consider the infamous ABC comedy "Cavemen." Inspired by a series of TV commercials for the GEICO insurance company, "Cavemen" relocated a trio of cro-magnon men to present day. The sitcom was one of the most critically lambasted of the 2007 season and was extinct by the end of the year. The cancellation, probably, came as something of a relief to two of the program's leads—Nick Kroll (now one of TV's busiest comedy actors) and, also buried beneath latex above, Sam Huntington, who has now moved up to being a werewolf on Sy-Fy's "Being Human."
---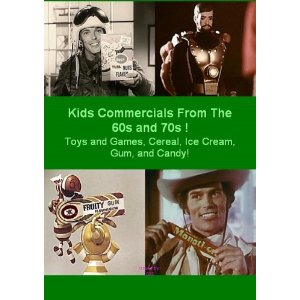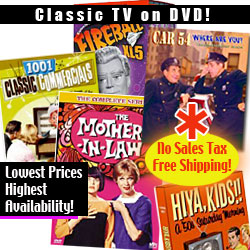 STARS BEFORE THEY MADE IT!
For more:
Before They Were Stars - Part One
Before They Were Stars - Part Two
Before They Were Stars - Part Three