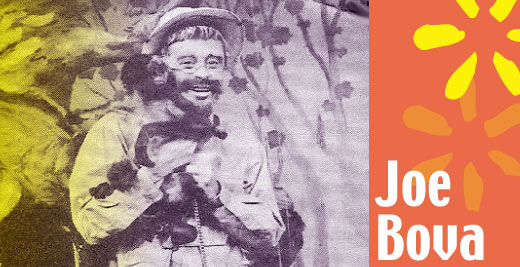 part of the New York City Kid Show Roundup
by Kevin S. Butler

On March 12, 2006, former Cleveland, Ohio and NYC radio/TV broadcaster and entertainer Joe Bova passed away. He was best known to Cleveland and NYC kids as "Uncle Joe." He died at the Actor's Fund Home in Englewood,N.J.
A veteran performer since the age of 12, Mr. Bova began his career as a child actor on local radio shows and stage productions in Cleveland. Following his graduation from Northwestern University in Chicago, he moved back to Cleveland where he worked as a broadcaster, programming director and entertainer for various local radio and TV stations.
Among his many local TV series, he was best remembered by Cleveland's youngsters as the kindly but bumbling clubhouse leader on "Tip Top Clubhouse" which aired on WNBK-TV in the early-fifties. Bova MC'd the show with an up-and-coming performer named Dom DeLuise. Eventually, the duo moved to NYC where they hoped to recreate the success of "Tip Top Clubhouse" with NYC's kids - but the show never made to the Big Apple's airwaves.
Bova instead became the second host/ performer of Jules Powers and Danny Wilson's very popular WJZ/WABC channel 7 weekday afternoon kiddie program "Time For Fun." From the summer of 1955 until the winter of 1956 'Uncle Joe' Bova entertained and educated his clubhouse members between reruns of old movie comedies and cartoons.
Following his stint on "Time For Fun," Bova headed ch.7's weekday evening edition of "The Little Rascals Show" from 1957 until the left the station (and NYC kid's TV) in 1960.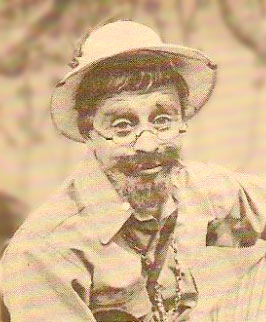 A popular segment on the "Rascals" show was Animaland with Bova appearing as Professor Golly. Golly would narrate films showing animals in their natural habitats, as well as hosting different critters in the studio.
TV Fun Fare magazine in 1958 described Bova as, "the perfect guide for [kid's] zoological safaris. With his uncombed mustache and beard and his somewhat baggy uniform, the bespectacled professor makes a rather comic sight. But he's truly fond of animals and knows an amazing amount about them. He helps make Animaland the delight that it is."
In the sixties, Bova returned to the legitimate theater where he appeared in a number of acclaimed dramatic plays and seminal musicals like "Once Upon A Mattress" with Carol Burnett & Jack Gilford, and "42nd St." with Carole Cook, Tammie Grimes and the late Jerry Orbach. He was nominated for a 1970 Tony Award as Best Supporting Actor (Dramatic) for "The Chinese and Dr. Fish."
JOE BOVA in the first TV adaptation of Once Upon a Mattress:
He appeared in major motion pictures like "Serpico" and "Up the Sandbox" as well as contributing voice-overs for many radio and TV commercials. His many guest appearances on television included the classic 1964 "Once Upon a Mattress" production; in the 1970s he turned up on such stalwarts as "Kojak," "Starsky & Hutch," and "Happy Days."
Bova actually did return to kid's TV in 1990 when he appeared with Ned Beatty in the Disney Channel Production of "Back to Hannibal: The Return of Tom Sawyer and Huckleberry Finn."
This made-for-TV movie told the story of Jim, a friend of Tom and Huck that was framed for murdering a well-to-do steamboat owner. Beatty and Bova played two con men, a bogus mind reader and his assistant, in this 'updation.'
Bova continued working in the theater until just recently, when he entered the Actor's Fund Home because of respiratory problems. He was 81 years old when he passed.
Joe Bova leaves his wife Dr. Lee Lawson, children and grandchildren and a lifetime of triumphant Broadway and television performances that will continue to inspire future generations.

Here's a delightful musical number - 'Shuffle Off To Buffalo' from 42nd Street, taped in 1986 for Japanese television starring NYC local kid show host Joe Bova, Beth Leavel, and Lucille Ball's protege the wonderful Carole Cook.