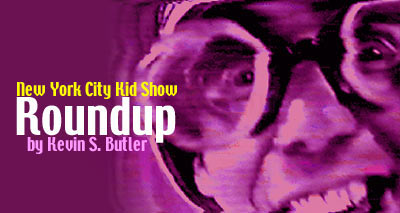 J. Fred Muggs
and Steve Woodman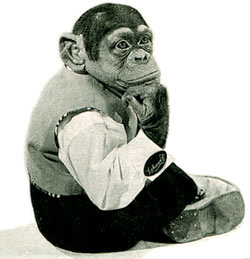 The J. Fred Muggs Show, a daily comedy/variety kid's show based upon TV's popular animal, debuted on WNTA (formerly WATV, now WNET) Channel 13 in Newark, N.J.
Muggs had appeared on numerous TV shows during the 1950's; he was a well known chimp. The station execs at Channel 13 created a series for him for their weekday evening schedule.
To MC the program WNTA hired a talented young fellow by the name of Steve Woodman. Woodman (whose credits as an entertainer are unknown) engaged viewers in songs, stories, craftmaking, interviews with guest performers along with comedy and puppets - alongside the manic antics of J. Fred Muggs.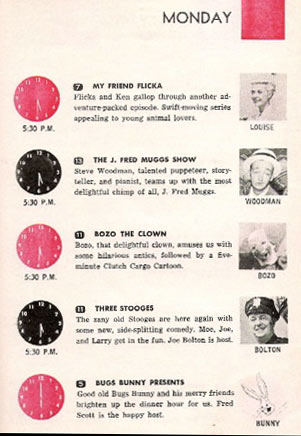 Despite Mr. Woodman's efforts, The J.Fred Muggs Show was not a hit with Newark/NYC/Ct. viewers and it was quickly dropped.
During the early 1960's, Steve Woodman served as a guest host on two of WPIX Channel 11's most popular kids shows. For a time, he served as a guest performer on The Popeye Show with Ms. Carol Corbett. (Corbett's other guest co-host was comic / character actor/ singer/ dancer and pantomimist Pierre Olaf from the stage musical "Carnival" and the Woody Allen comedy Don't Drink The Water.
But Mr. Olaf's thick French accent made it hard for the young viewers to understand him and Ms. Corbett had to try and translate his dialogue for the kids).
Corbett and Woodman hosted The Popeye Show when the series regular sea captain host "Captain Jack" McCarthy was unavailable.
For a time, Woodman MC'd The Three Stooges Show during the month of May, 1964, while "Officer Joe" Bolton was on the West Coast appearing in the trio's last feature film, "The Outlaws Is Coming!"
These guest hosting stints may have been created as an audition piece for these talented and caring people. Ms. Corbett's guest hosting stint did impress the heads of WPIX - they hired her as the fourth and last host/performer of The Mighty Hercules Show (later on the series was retitled The Carol Corbett Show).
But for poor Steve Woodman, his guest hosting efforts on The Popeye Show and The Three Stooges Show didn't lead to his own TV program; he soon dropped out of NYC television.
Mr. Woodman's situation was not the only incident where a guest host of a local program failed to click. During the summer of 1961, entertainer and radio/ TV broadcaster Jimmy Blaine (the first host of NBC TV's Ruff & Ready Show) was invited to sub for "Officer Joe" on The Three Stooges Funhouse.
Mr. Blaine accepted the job in the hopes that it would lead to a program of his own. The effort was for naught; Mr. Blaine was never able to regain the popularity that he once enjoyed during his years with The Ruff & Ready Show.
His last NYC based TV appearance was again as a substitute host on Paul & Ruth Tripp's/ Lester Lewis'/ Alton Alexander's Birthday House on WNBC Channel 4 in 1965. This was during the period when Mr. & Mrs. Tripp were in Rome with Sonny Fox, Rosaino & Lydia Brazzi and Mischa Aurer filming "The Christmas That Almost Wasn't."
During the early 1960's WPIX was planning to produce a pilot for three potential kid's show MC's - Jack Gilford, John Byner and Joe Silver.
Mr. Silver was one of Paul Tripp's regular's on the pioneering educational show Mr. I. Magination and he was the second and last host of WCBS Channel 2's Space Funnies / The Capt. Jet Show)
The series' pilots were to be produced by an up and coming showman Fred Silverman (who later headed CBS, ABC and NBC) but for unknown reasons they were never taped. It sad that these talented, creative and caring men were never given the chance to showcase their potential in the NYC TV market.