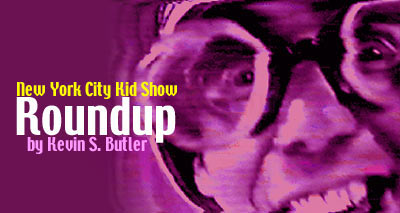 Dick Tracy Shows 50th Anniversary
by Kevin Butler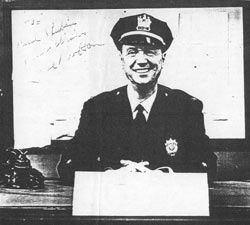 September 7, 2011 will mark the 50th anniversary of the debut of the UPA Dick Tracy TV cartoon show on WPIX TV in NYC. It was on Thursday evening channel 11 aired "The Dick Tracy Cartoon Show" (or "The Dick Tracy Show") weekday evenings from 5:00 to 5:30 P.m. EST. Joe Bolton, who had already finished his stint as "Officer Joe" on "The Three Stooges Funhouse" the previous evening, was promoted to the rank of "Police Chief" and he would entertain and inform visitors to his police station with games, songs, stories, craftmaking, hobbies, informational segments and interviews with guest performers and personalities - between reruns of the Dick Tracy films.
Unlike the Dick Tracy comic strips (which were violent and surreal in it's presentation) the UPA cartoons were presented in a comedic style. As Tracy's squad of bumbling undercover detectives "Hemlock Holmes" (a bulldog who sported a Keystone Kops helmet and spoke like movie actor Cary Grant) and his men "The Retouchables" (a spoof of the then current prime time crime drama "The Untouchables" who looked and sounded like The Keystone Kops), "Joe Jitsu" (an asian sleuth who used self defense methods and disguises to foil the villains), "Go Go Gomez" (a fast moving Latin American cop who also used disguises) and "Officer Heap O'Calorie" (a fat bumbling cop who was a spoof of comic/character actor Andy Devine). These characters would foil the evil deeds of "Stooge Villa & Mumbles", "Sketch Paree & The Mole", "BB Eyes & Flat Top", "The Brow and Oodles", "Prune Face & Itchey" and "Cheater Gunsmoke". (The voices for the characters were performed by Everett Sloan, Paul Frees, Mel Blanc, "Uncle Johnny" Coons and Frank Nelson)
The show became a hit with NYC kids and the series also featured reruns of Universal and Republic movie serials.
Police Chief Joe would welcome visits from Tracy's creator Chester Gould who presented an 8x10 drawing of Dick Tracy to Bolton and The Three Stooges Moe Howard, Larry Fine and "Curly Joe" De Rita made their last NYC TV appearance with the series mc on the program in the fall of 1962.
"The Dick Tracy Show" remained on TV 11's weekday evening schedule until the execs closed down the police station following the Friday evening broadcast on August 31,1963.
The UPA Dick Tracy TV cartoons would also be seen on "The Popeye/Dick Tracy Show" weekday afternoons at lunchtime on WPIX TV hosted by "Capt.Jack" McCarthy from Monday September 14, 1964 to Friday October 16, 1964. The films were later acquired by WOR TV 9 in NYC and aired weekday afternoons (sans an on camera host/performer) during the late 1970's.
The films made their final bow on "The Fox Five Kids Club" on WNYW TV 5 in NYC again on a weekday afternoons schedule and hosted by "DJ Kat" and Craig Marin's "Flexitoon Puppets" from 1990 to Friday March 15, 1991.