THE JUNKYARD BAND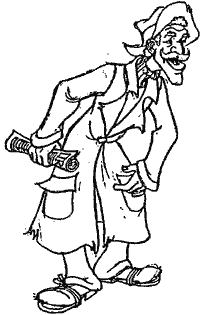 The lessons the writers tried to pass along each episode were hammered home in two ways - through Cosby, with his live-action performances, and through songs.
A group of studio musicians performed as the Junkyard Band. The musicians were pulled together by Richard Delvy, who produced the musical segments for Filmation. Delvy was the drummer for the first surf band, the Bel Airs and later performed with and lead the Challengers. For the songs, he turned to Ed Fournier, who played guitar with him during his days with the Challengers.
Michael Gray gave Fat Albert his singing voice, not Cosby. That's Gray, Fournier and Kim Carnes you hear singing the theme song.
Fournier wrote each song to jibe with the moral in each episode. Other Filmation cartoons used a rock band, including The Archies, Groovie Goolies and the Hardy Boys. Fournier wrote songs for the Groove Goolies and the Hardy Boys, and the theme for "Will the Real Jerry Lewis Please Sit Down."
"By then I had been working for them for a couple of years and I knew what they wanted," Fournier said. "They liked me because Richard and I were always on time and under budget."
Fournier would receive a stack of scripts, pick up his guitar and noodle with the idea until he found the sound and song he wanted. That didn't take long.
"A couple of those songs I literally wrote as fast as I could write them down," Fournier said. "A couple of those songs took me a half-hour, 45 minutes. Most of them, I'd say, took me a total of a few hours."
Recording the songs didn't take long, either. Musicians gathered in the studio and record six songs in a day's time after briefly rehearsing each one. Gray would dub the vocals separately. The style of the songs varied, from blues, soul, reggae and rock in the manner of the Rolling Stones.
"I've got a couple of tapes of them and I think a few of them are pretty good," said Jon Belcher, the studio drummer on the tracks. "They're all kind of cute, the kind of stuff that maybe you would expect from the Jackson 5 or a group like that."
In his mid-20s then, Belcher only bothered to watch "Fat Albert and the Cosby Kids" once. "It was on kind of early on Saturday," he said. "We were up late usually working in a club after doing sessions during the day, so I didn't usually get up early enough to watch the show. But when the first of the shows that we recorded was coming on the air, my wife and I got up early one Saturday and watched the show just to see what it was like. It was a crackup, too. Here I was thinking of myself as a serious studio artist and I see this little kid banging on trash cans in a junkyard."
THE BIG SCREEN BECKONS
"Fat Albert and the Cosby Kids" hadn't been gone long enough to be forgotten when talk began circulating about bringing the show back, this time as a movie. Talk of a live-action "Fat Albert" began in 1993, before Hollywood began to mine Saturday morning TV for big-screen treatments of "Josie and the Pussycats," "The Flintstones," "Scooby-Doo" and other cartoons.
Fournier even found a singing actor to play the part, a fellow named Tracy Coley, recorded a hiphop version of the "Fat Albert" theme with him and then took Coley to see Scheimer.
"On Lou's wall he's got a big cartoon cutout, bigger than full size, of the Fat Albert character with a red sweatshirt, khaki pants, white tennis shoes and a yellow dress shirt underneath the sweatshirt," Fournier said. "I had Tracy come in exactly like the cartoon and sing it live. The guy's 300-some pounds. He sings incredible, dances, and looks like Fat Albert. I blew Lou out of the water."
But the project died - temporarily - for lack of interest by the studios. "It should have been done," said Scheimer, who was going to produce the movie with Cosby. "It was worthwhile and appropriate and had all the stuff that should have made for good entertainment."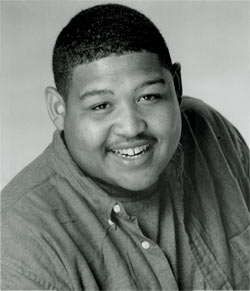 The "Fat Albert" movie moved closer to reality in 2001, with Cosby having co-written a script, hired a director, Forest Whitaker, and finding his title character. The role went to Omar Benson Miller (seen left), an unknown who has since appeared in "8 Mile" and "Sorority Boys." But creative differences early on between Cosby and Whitaker breifly killed off plans for the movie.
The movie was released in December, 2004 starring Saturday Night Live's Kenan Thompson, a mix of animation and live-action, with the characters leaving their TV show behind and entering the real world. In the original script, Mushmouth learns to speak correctly, Dumb Donald becomes bright and takes off his hat, Weird Harold overcomes his gangly limbs and becomes a basketball star. Fat Albert doesn't drop any weight, but he does manage to turn to Cosby for advice. But the characters can't survive in the real world; their colors begin to fade and they must return to life inside the television.
For some fans of the classic series, that's where Fat Albert and his friends belong.