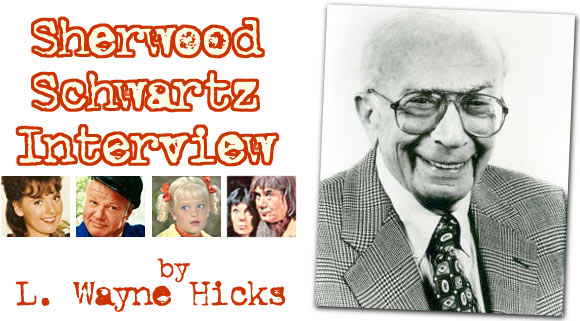 PART THREE - READ PART ONE OF THE SHERWOOD SCHWARTZ INTERVIEW
TVP: Are you a big fan of Shakespeare?
SS: Yes. I think he's the greatest writer who ever lived.
TVP: I think you have a lot of children their first taste of Shakespeare with your musical "Hamlet" on "Gilligan's Island."
SS: I did. I got a lot of letters from teachers who said thank you for exposing our children to Shakespeare and to opera.
TVP: It's hard to hear "Carmen" now without thinking of that episode.
SS: Thank you. That's a very nice thing for me to hear. That was a remarkable episode. I always give credit to the writers. I put the music in. They didn't have that. I got the idea to add the music to the soliloquy. And it's hard for me to hear (sings)
"I ask to be or not to be/A rogue or peasant slave is what you see." I hear that in my head whenever I hear "Hamlet." (sings) "Neither a borrower nor a lender be."
It just seems so natural with that music. Shakespeare never had music in it but the music seems to fit exactly.
TVP: I think it works.
SS: Yeah.
TVP: Both shows that you're known for, it's hard to imagine anyone but those actors, Bob Denver as Gilligan and Alan Hale as the Skipper, in those roles.
SS: That's a great example. Once that show ended, they had hard luck trying to get other work because they were so identified. Almost the clothes made them identified, that red shirt on Gilligan and the blue shirt on the Skipper. It was so engrained in the social conscience.
TVP: Is that a tragedy that they were typecast?
SS: Yes. And they were not sufficiently financially rewarded for that, in my opinion. All they got were six residuals. By the time I did "The Brady Bunch" there were 10 residuals and after that there were no residuals. Then, about four or five years later, it became residuals in perpetuity, which I think it should be, because part and parcel of the reason people tune in is those actors.
TVP: Was it easy to get them to come back and do the later reunion shows and movies because there wasn't much else for them to do?
SS: Yes. Yes. However the money was very attractive, for those two-hour shows. They got much more money than they would normally get because Bob Denver was irreplaceable. You couldn't think of doing a show without him or without a Skipper.
TVP: And the Brady movies, and "The Brady Brides."
SS: Yes. Those were all the originals. They were well paid for that. Much better paid. That made it fair.
TVP: How happy were you with the Brady Bunch movies?
SS: I was happy. I didn't always get what I wanted. With movies, the director somehow is more important than the producer. I didn't always get the character I wanted or the part I wanted. I would say it's half and half. Half of the time I won.
TVP: How do you think you influenced television?
SS: Not a great deal. Not a great deal. I influenced people because I don't know any other writer-producer who gets the kind of fan mail I get. Not just from this country, but from all over the world. I get some 80, 100 letters a week, all of which I answer. I just send them what they ask for, which is usually a picture of me to see what I look like. And also they want a picture of the casts. So I send those out. Every once in a while I get a meaningful letter. Usually I send them out in the order in which they arrive.You get letters that make you cry sometimes. Somebody writes me a letter that they spent three months in the hospital with some terrible disease and then only thing that gave them relief when the pills didn't do the trick was watching "Gilligan's Island."
TVP: Do you think the day will come that both shows are off the air?
SS: Not in my lifetime. I hope not in my kids' lifetime. But I'm an old man.
TVP: Are there shows you worked on or created that haven't gotten the recognition maybe they should have?
SS: No. No. I have other shows that I liked better than what got on the air, but they never got on the air. I have another show that got on the air and I did some wrong things with it. And the only thing people remember is the theme song. I guess I'm a theme song writer basically.
TVP: What show was that?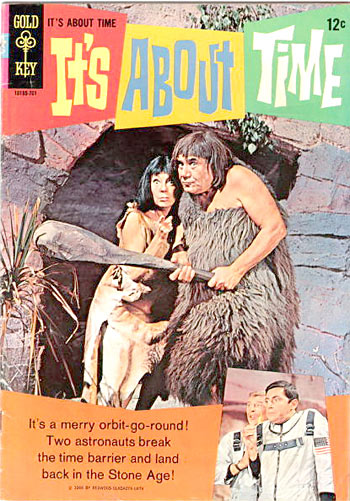 SS: It was a show called "It's About Time." (Sings) "It's about time / It's about space / About strange people in the strangest place." The only thing people remember about that show is the theme song.
TVP: It was only on for about a year, right?
SS: It was on a year, yeah.
TVP: What did you do wrong with that show?
SS: There's one thing. That show was a satire on the space program. We had not yet landed a man on the moon. We did that a year later. So I was playing satire against a non-event that had not yet happened. If I did that show two years later, it would have had a better chance for success because the image of the spacecraft landing, people walking out, that was not yet in the audience's head. You can do that with drama. Drama is much more successful with an unheralded event than comedy, which plays off things people know. So I did that too early.
TVP: Before your time?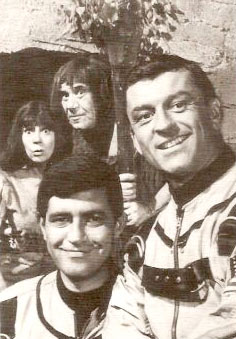 SS: Yeah. That was before its time. Also the caves, physically, were dull, brown caves. I was playing reality and I shouldn't have. I should have jazzed them up a little. So you make mistakes.
TVP: You've had caves in all three of those shows.
SS: Yeah (laughs). I like caves. My son likes them even better. His favorite thing is caves.
TVP: You mentioned the clipping in the LA Times sparked the idea for "The Brady Bunch." Was there anything similar that sparked "Gilligan's Island"?
SS: No. Although some people I must have stolen that from "Robinson Crusoe." I don't think so, but anything's possible. My memory of it is I wanted to do a show about democracy, in its basic form. Seven people who have to learn to live together. I couldn't do that with a job because you can get fired. Where could I put people where they could not get away from each other? That's what started that show. The only place I could think of was an island, a deserted island, where a group of people were for some reason stranded there.
TVP: I once won a radio trivia contest for knowing that it wasn't actually filmed on a real island.
SS: True. You didn't think of sharing that prize with me, did you?
TVP: The prize was a very bad record album.