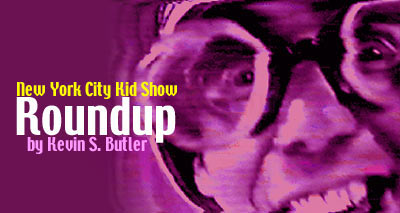 The Joe DiMaggio Show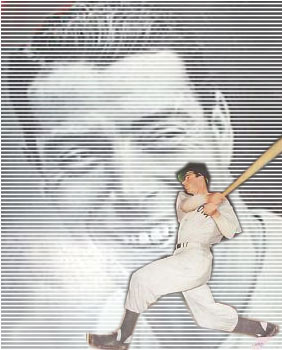 "The Joe DiMaggio Show" was seen Monday nights on the NBC TV network around 1950.
Jack Barry (the host and co-creator of "Juvenile Jury," "Winky Dink," "Tic Tac Dough" and "Twenty One") produced this kiddie show wherein Mr. DiMaggio would answer the questions from a panel of kids about how to play sports properly and other sports trivia.
More often than not the famous ex-baseball player would screen films for the kids in the studio (and those at home) with tips on improving their game and there would be demonstrations from famous sports personalities who would drop in to the studio.
It was part game show - kids who answered questions correctly could win toy trains courtesy of the show's sponsor: the Lionel Toy Trains Co.
Mr. Barry also served as the show's announcer.
There was also a "Joe DiMaggio Radio Show" that was heard on NBC radio that would feature a quiz segment but this show would have dramatizations of famous sports personalities' lives and careers - most notably the life and career of former boxer turned singer: Frank Sinatra was presented on the program.
Unfortunately, the Joe DiMaggio radio and TV shows" were not successful and were quickly cancelled after one season.
DiMaggio would MC one more kid's sports quiz show, "Joe DiMaggio's Dugout", a syndicated series seen Saturday afternoons on WNBT (WRCA/WNBC) channel 4 in NYC during the 1951 TV season.
Again DiMaggio screened sports films to help his viewers and his dugout members (aka the kids in the studio) learn how to play better and there would be a quiz to test their knowledge of sports history. The winners would get U.S. Savings Bonds, watches and boxes of Butioni Pasta as prizes.
This syndicated version of Mr. DiMaggio's NBC Radio & TV network kids sports quiz show was also a failure, it was cancelled after just a few weeks on the air.
After the cancellation of "Joe DiMaggio's Dugout!" the former "Yankee Clipper's" TV appearances were mostly limited to guest shots on documentaries but he was most famous for doing commercials for the Bowery Savings Bank in NYC and for being the nation spokesperson for Mr. Coffee machines.