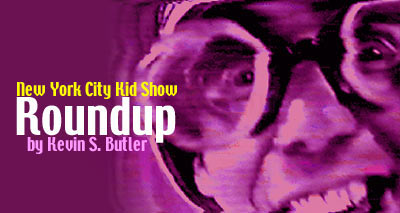 Tom Gregory / Cartoon Playtime
On Monday, December 12, 2006 Tom Gregory, former NYC based radio/TV broadcaster and one of the original hosts of WNEW 5's weekday afternoon show Cartoon Playtime died at a hospital in Sarasota, Florida. Mr. Gregory was 79 years old and had been suffering from heart disease.
Born in Charleston, South Carolina on July 26, 1927, Gregory became a Captain and a first officer by proxy during WWII. When his ship, the USS Tolovana, had trouble getting safely through the enemy waters of Japan, Gregory navigated the vessel through the shores of the Ryukyu Chain following an enemy attack. His heroism earned him many honors from the US Military. Upon his return to the states, he enrolled into Seton Hall University in New Jersey with the hopes of starting a career in law. A growing interest in broadcasting and joining the college radio station as an announcer sidetracked his plans and he switched his major to communications.
After graduating from Seton Hall with a Bachelor's degree in Communications, Gregory joined WPAT radio (then situated in NYC) as an announcer. He worked for WPAT until 1955 when he joined WABD TV channel 5 (the NYC flagship station of the now forgotten Dumont network) where he worked as a booth announcer.
In 1958, he was assigned to co-host WNEW's weekday afternoon kid's TV series Cartoon Playtime with another channel 5 announcer Fred Scott, one of the regulars from TV's first space opera Captain Video & His Video Rangers.
Gregory was not enthralled with the idea of becoming a TV cartoon MC, he really wanted to be a news anchor and balked at the idea of hosting the program.
"I really wanted to become a news anchor," he said with some bitterness in a 1980's interview, "but the powers that be at the station forced me to do it."
He co-hosted Cartoon Playtime with Scott and Ed Ladd as "Uncle Tom" from Monday, April 27, 1959 until Friday January 19, 1962. Gregory would also MC Cartoon Theater on WNEW TV Saturday mornings from October 27, 1962 to Saturday, December 22, 1962.
Cartoon Playtime screened reruns of the Merrie Melodies, Looney Tunes, Betty Boop, Gabby, Max Fleischer Color Classics and Terry Tunes movie cartoons.
Fred Scott's "Uncle Fred" MC'd the show from Monday, June 30, 1958 to Friday, September 4, 1964. Another channel 5 announcer, Ed Ladd, followed Gregory as the show's third host on Monday, January 22, 1962 and continued to host the program until Friday June 5, 1964. Fred Hall (who was finishing his stint as the host/performer and instructor of Felix & The Wizard / Hall In Fun) would serve as the last host of Cartoon Playtime from Monday, September 7, 1964 to Friday, January 29, 1965.
Gregory also produced, staged and MC'd personal appearances with many of NYC's most popular kids TV hosts/performers at many venues in NYC and in NJ. during the late 1950's and early-mid 1960's.
Mr. Gregory left kid's TV following his stint on Cartoon Playtime to work at WNEW channel 5 as a booth announcer, his only on-camera appearances had been on PSA's inviting viewers and FCC officials to review the station's programs during Ch. 5's annual broadcast license inspection period.
He also became famous for uttering these words for the introduction to channel 5's Ten O'Clock News: "It's 10:00pm. Do you know where your children are?"
Gregory also did newscasts in the early morning hours on channel 5. He continued working at WNEW until the late-1980s when the station was bought out by Rupert Murdoch's Fox network. Gregory left WNEW 5 and became a freelance announcer for many radio & TV sponsors. He continued to do VO's for radio and TV commercials until seven years ago when he began to suffer from heart disease and he and his wife moved to Sarasota, Florida.
---
(Ed Ladd continued to work at Ch. 5 as an announcer and as the host of other TV shows at the station until he died in March of 1986.)
(Fred Scott continued to work at the station as an announcer and the host of other TV cartoon shows and as the second and last host of WNEW's Saturday morning kid's game show Just For Fun until the 1970's, Fred Hall would MC some more TV cartoon shows at Ch. 5 until he left for Cooper City, Florida in the 1970s.)