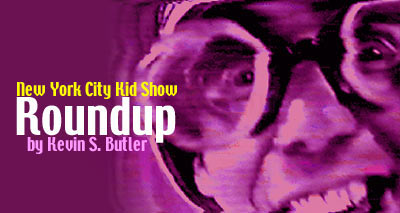 Bill Jackson
Puppeteer and cartoonist Bill (B.J.) Jackson hosted a NYC based kids TV show on WNBC Ch. 4 entitled 'B.J.'s Bunch' seen Saturday afternoons.
Mr. Jackson and his puppets Weirdly , Prof. Plumtree , Prof. Plumtree's Wife Mother , The Thumbwangers (crazy crowlike creatures), Dirty Dragon , W. C. Cornfield (a spoof of Movie, vaudville, radio and stage comic actor and juggiler: W. C. Fields) and a clay like creature (who spoke in unintelligible english) called The Blob that performed in skits that centered around a certain theme: love, food, hate, learning, and laughter.
Bill Jackson would introduce every segments then let the puppets perform their skits. At the end of each show, Mr. Jackson's BJ would do a chalk talk about the subject that was spoofed on that day's show.
WNBC Ch. 4 aired 'B.J.'s Bunch' until the station dropped the show on Saturday, December 28, 1974 and BJ and his puppets returned to Chicago, Ill. to host their last kid's TV show 'Gigglesnort Hotel'.
VISIT BILL JACKSON AT
www.dirtydragon.com!