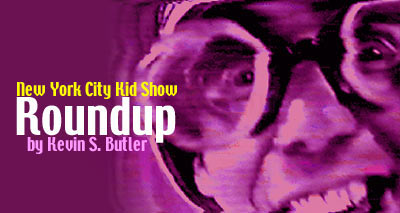 Dick Tracy Shows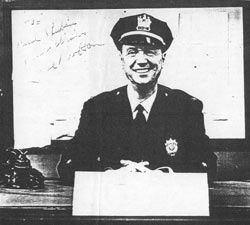 In 1961, UPA Productions produced and released a series of "Dick Tracy" cartoons to nationally syndicated TV. WPIX Ch. 11 was the first NYC based station to air the cartoons weekday evenings.
Unlike the original Chester Gould comic strip (which was violent and surreal) the UPA "Dick Tracy" cartoons were played more for laughs. The villains were foiled by the members of Tracy's detective squad: "Hemlock Holmes", "Officer Heap O'Calorie", "Joe Jitsu", & "Go Go Gomez".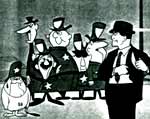 Character actor Everett Sloan was the voice of Dick Tracy, Benny Rubin was the voice of Joe Jitsu, former network tv kids show comedy performer "Uncle Johnny" Coons did the voices of Stooge Villa, Mumbles & Officer Heap O'Calorie, Paul Frees & Mel Blanc did the voices of "Prune Face", "Flat Top", "BB Eyes" and "Sketch Parrie". Jerry Hauser was the voice of "The Mole".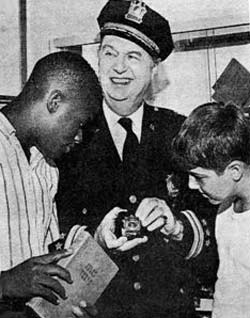 Joe Bolton hosted the series as "Police Chief Joe" Bolton. The show debuted on Thursday evening, September 7, 1961.
"Police Chief Bolton" entertained and informed the visitors to his police station set until the show was dropped on Friday, August 31, 1963.
A year later "Dick Tracy" cartoons were paired with "Popeye" movie cartoons on a weekday afternoon kids show: "The Popeye/Dick Tracy Show!" which debuted on WPIX TV Ch. 11 in NYC on Monday, September 14, 1964.
"Captain Jack" McCarthy entertained and informed "his Mateys" between the usual cartoons until Ch. 11 dry docked the show on Friday, October 16, 1964.
"The Dick Tracy Show" returned in the late 1970's on WOR Ch. 9 where the cartoons were screened without a host. The last NYC based station to air the cartoons was WNYW Ch. 5, they screened the "DC" cartoons on "The Fox Five Kids Club" hosted by Craig Marin's "Flexatoon Puppets".
The Fox Five Kids Club was seen weekday afternoons from 1990 until station execs at Ch. 5 shut the doors to the Clubhouse on Friday, March 15, 1991.