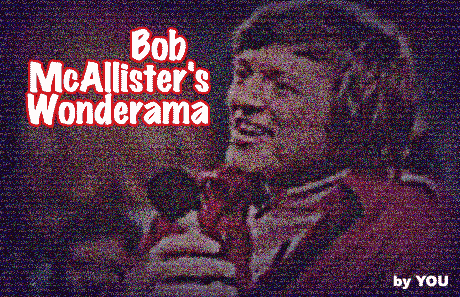 Vanessa's
Wonderama Diary
TVparty viewer Vanessa Phillips kept a diary during 1977, and occasionally would note what was happening that day on Wonderama. We present her entries here along with her updates and comments.
January 16, 1977: Two girls came on the show who made an statue of Bob McAllister out of plaster! Also the new Mouseketeers were featured.
Comment: The statue was as tall as he was and now I wonder whatever happened to these girls? Did they grow up to be sculptors? Does the statue still exist? Are there any photos of it? Does his daughter Susan know or remember it?
January 23, 1977: The music group Bay City Rollers were featured on Wonderama with a hit called "Saturday Night"
January 30, 1977: Pearl Bailey and her daughter Dee Dee were guests on Wonderama along with Harry Chapin and his son Josh and daughter Jenny. Dee Dee sang a song!
No entries for February!
Sunday March 20, 1977: wonderama featured singer/actress Melba Moore, who was pregnant and sang songs from her new album.
Comments: Her baby daughter is now in college.
Sunday March 27, 1977: Wonderama featured Pat Collins and her husband Joe Raposo, Rita Coolidge and her daughter, Casey.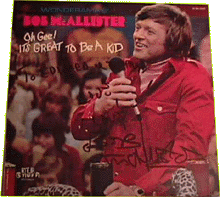 Comments: Raposo wrote the music to "Kids Are People, Too" and died in 1989 from cancer, I think!
Sunday April 3, 1977: Wonderama featured Ray Stevens who performed "The Streak" and "Gitarzan".
Easter Sunday April 10, 1977: Wonderama featured Van McCoy who demonstrated "The Hustle" while playing the song of the same name.
Comments: Van McCoy died in 1979 of a heart attack! Love the song to this day!!
Sunday April 24, 1977: Wonderama featured The Jacksons featuring Michael Jackson.
Comments: Bob got Michael to kiss one of the girls from the audience. I remember she had pigtails!!! Wonder where she is today.
Sunday May 1, 1977: Wonderama featured Jose Feliciano and actor Jim Backus
Comment: Jim Backus was the voice of Mr. Magoo! By George!!
Mother's Day Sunday May 8, 1977: Wonderama featured some Mouseketeers.
Sunday May 15, 1977: Wonderama featured a yo-yo expert, a maze expect and a singer (name unknown).
Sunday May 22, 1977: Wonderama featured two magicians. Some kids participated in the Olympiad while others made things out of paper - origami I think!
Sunday June 5, 1977: Wonderama featured stuntman and daredevil Evil Knievel, Penny Marshall and Cindy Williams (Laverne & Shirley)
Sunday June 19, 1977: Wonderama featured singer/actress Lynn Kellogg of 'Animals, Animals, Animals' as well as Mohammed Ali.
Comments: 'Animals, Animals Animals' came on after 'Wonderama' on ABC at 11:00 a.m. The show also starred Hal Linden (Barney Miller). Kellogg was also in the 1969 cast of the B'way musical "Hair".
Sunday July 24, 1977: Wonderama featured Ralph Graham and the cast from the Broadway Musical "Grease" were featured!.
Comment: Stephanie Mills and the cast from the B'way musical "The Wiz" was also featured on Wonderama (date unknown).
Bob tidbits: Dates are approximate!
I remember Bob had a Hungarian poodle named Ralph on the show doing tricks. (1970's)
Every year on Halloween night, Bob and his magician friends would go to a Bronx cemetery to visit Harry Houdini's grave to see if Houdini returns from the dead as he said he would. The news was there to document this event as part of their Halloween segment for at least two years in a row during the late 80's/early 90"s. Wonder what his friends will do this Halloween?
Bob had hosted the Hollywood Celebrity Christmas parade in Los Angeles with an announcer named Bob Welch for a couple of years during the 80's!!
Bob was good friends with Jerry Lewis, Lewis appeared on Wonderama and Bob appeared on the telethon doing magic tricks! (1970's)
I am still trying to find that taped conversation between him and Howard Stern regarding children's television! (1990's)
Bob's last public appearance was at IKEA in New Jersey. He and Cap't Kangaroo introduced a line of kids furniture that kids could get rough with. That happened last November! I found out about it too late though or I would have gone!!
Back in 1975, Bob's youngest, Molly Jo was featured on the show in a red wig and dress like Andrea McArdle wore in the Broadway musical Annie! Bob commented as she walked off stage that her hair under the wig was red also!
- Vanessa Phillips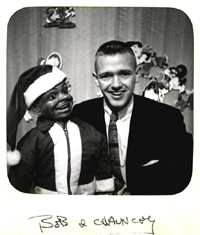 ---
I have a sister much older than I am, with kids who are my age. When we were little, my sister and her husband used to get up earlier than they had to on weekdays to watch a kiddie show called The Bob McAllister Show out of Baltimore, MD. This was prior to Bob's days on Wonderama. He did a number of characters on the show, even transforming himself from a geeky character into the mighty Mike Fury. He would duck behind furniture on the set and throw his clothes up in the air, then appear with the Mike Fury outfit on.
Eventually, they ran out of changing places on the set and expanded out of it. Once he was changing behind a car in the studio parking lot and a guy came out and drove the car away. The last time I remember him doing the character he changed in a telephone booth near the entrance of a store in downtown Baltimore and was chased down the street by hundreds of kids.
---
I noticed the dearth of information about Wonderama on your site. I, too, used to watch it regularly as a child. There was lots of music. One song in particular stood out, it was "The Aardvark song" and went something like this, "Does anybody here have an aardvark? Does anybody here have an aardvark? Everyone here has a right and left ear, but does anybody here have an aardvark?"
I have an LP by Bob McAllister called "Kids Are People Too". The copyright date is 1971 and it was on Roulette Records. One of the comments on the back says that all the songs are written by "Susan & Robin McAllister's daddy: Bob"
The list of songs include: Kids Are People Too, "Fingleheimer stomp", "I wish, I wish (the animal song)", Exercise, "Abracadabra (instrumental)", "Heavy, heavy", "(have you heard any) Good News", "The no, no song (eh-eh- eh)", "The make-up song", and "Ecology".
- Randy Ralston
---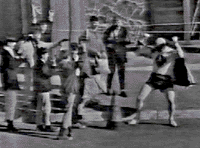 I grew up in washington, DC in the early 60's and watched Bob McAllister's show on WJZ TV 13 from Baltimore. I remember his characters Thurman, Prof. Fingleheimer (Fingleheimer song: "the more you fingle, the less you heimer"). Mike Fury was a super hero character who proclaimed that he was "courteous, kind, obedient, cheerful, thrifty, friendly, brave and a goody".
When Bob left for Wonderama, WJZ did a final show in which Bob talked about the Mike Fury character. In order to make him fly, they strapped him to the top of a Westinghouse van and drove around the Baltimore beltway. Supposedly the van was only available once a year so all flying was taped on that day.
The Baltimore show was fun and I felt that Bob lost something when he moved to Wonderama in New York. There was no real mention of his death in the Baltimore Sun other than a few short lines and then no mention of his work on WJZ.
The Washington Post, in an article surprisingly larger than the Baltimore Sun, mentioned his role on Wonderama, as well as work in Baltimore and Norfolk.
- Wesley
---
My parents sent in a ticket request when I was eight years old. I got my ticket and went on the show when I was 14. I felt like an idiot sitting in the middle of the audience with kids whose requests must have been put in when they were still in the womb. I have to admit though that I had a great time. Until I had to go back to high school the next day and face my friends who had seen me on the show waving my hands back and forth at the opening of the show like I was trying to guide a 747 to the runway.
I'm 38 years old now, I went to my 20 year class reunion this past November and guess what the first topic of conversation was when I got there. And I've still never seen an aardvark.
- Tom Larkin
---
I grew up in the Virginia suburbs of Washington DC, where, on the few television channels we received, was the local Metromedia affiliate that carried "Wonderama." Always a big fan of Bob McAllister, Wonderama was the only kids' program to watch on Sunday morning, other than the claymation religious cartoon, "Davey and Goliath."
In early 1967, while getting ready for school, I tuned in a Baltimore, MD, station that was broadcasting a weekday children's show featuring Bob McAllister. Tuning in the fuzzy Baltimore stations from Northern Virginia was difficult at best, but, back then, another city's programming was so mysterious and exciting, it was like I was viewing Mars.
On this particular day, McAllister was romping through the streets of Baltimore in his "Mike Fury" costume. At the time, anything "remote" or out-of-the-studio broadcasts was rare for local programming. It was so entrancing to a eight year old, that to this day I haven't forgotten it...
I can still recall the Mike Fury song, "Are you a goodie? Mike Fury is a goodie." Mike Fury, I'll miss you...
- Michael Jordan
Herndon, VA
---
When I was a kid in the mid 1960's, my father worked at WJZ TV in Baltimore and got me on 'The Bob McAllister Show' when I was about three. On my own appearance I followed him around and asked him so many questions he could hardly do the show. My father told me that he once ran into McAllister after a taping and McAllister described that day's group of kids this way: "They weren't just shitting in their own pants, they were shitting in EACH OTHER'S pants..."
- a reader
---
I too remember Bob from his morning shows on WJZ in Baltimore in the 60's. His Mike Fury bit was a fav in my school. I think he even showed "Diver Dan" shorts on the show. I'm sure he showed those goofy
Mighty Hercules
cartoons ("Herc, Herc! Wait for me! said the centaur).
Bob also hosted an afternoon adult program called People Are Talking while at WJZ. It was your basic man on the street interview show filmed at Lexington Market and other local places. Kind of like talk radio today. It was the coolest show on when I was in seventh grade. Bob would occasionally sing his song, "I Want To Take a Bath in Bath, New York, the Cleanest City in the State." :-)
Bob was a great magician, and you could run into him on Saturday afternoons at Phil Thomas's Yogi's Magic Mart on Charles Street. I was also way into performing magic tricks in seventh grade too. Bob created some very cool tricks. One I remember buying from Phil and performing was a color changing scarf trick in a spotted can. You'd have to see it, but it was a funny trick. We would watch Wonderama after he went to NY, but those shows never quite clicked with my Junior High crowd.
Baltimore television of the 50's and 60's was pretty good. We had the Buddy Dean dance show after school (I dated one of the dancers, Faith Worschofsky. She wore long, blonde hair that was ironed straight! And VERY short skirts!) John Waters immortalized the show in Hairspray, changing the name to The Corny Collins Show. And then there was that strange little 15 minute show after the news on WBAL with these really clever puppets. It was called Sam & Friends brought to you by Eskay. The puppeteer behind the show's name was Jim Henson-- I wonder what ever became of him?
- Mark Salditch
---

Wonderama was previously hosted by Sonny Fox and Robert Kennedy was a guest on that version of the show. Bob McAllister hosted afterwards, which was the part of the run I recall. McAllister came out as a character called 'Dr. Finkleheimer' on occasion.
There was also a contest called "What is it?", in which he would hold up an obscure object and the audience would try to guess what it was (one was an Ugli Fruit). After the audience was stumped, a voice with a thick Yiddish accent would say, "What the heck is it?" and McAllister would give the answer.
The audience dance segments were interrupted by the "Disco Kid" who would be a kid who would run in with a song request, although I recall that the song stayed the same for weeks on end.
Some of the guests I recall are: Michael Palin and Terry Jones, who were in town to promote Monty Python on PBS, as well as the "Big Red Book". The kids were completely bewildered by them, a pratfall or an explanation of the game "Pass the Bengal Tiger" notwithstanding.
Stephanie Mills, when she was in "The Wiz", Stan Lee of Marvel Comics, who appeared with Spider-Man, who did a dance called, "The Spider-Man". A contest was held for the kid who did the dance the best. I regret to say I remember part of the dance!
Mel Blanc was conscripted to do a contest - the kids had to guess how many voices he could do in a minute. He did 11, ending with Jack Benny's Maxwell.
- A Reader
---
Sunday mornings on KTTV CH.11 Los Angeles,
Wonderama
was on, and recall Watching Joe Frazier, Mohammed Ali, David Essex ABBA, Bay City Rollers, Maria von Trapp, Jerry Lewis and Bob McAllister asking an 11 year audience member who their favorite music artist is, their response being, "The Grateful Dead" Bob's expression was one of being oblivious to who they were or are. Adam Corrolla of "Loveline" waxes nostalgic of Wonderama on occasion, and it cracks me up hearing him sing the
Exercise
and Aardvark songs.
Your website rocks my world! COOL! - Ethel
---
It seems many people remember Bob McAllister fondly. Bob used to live in my home town of Pelham, NY. Every Halloween, Bob put on quite a show for the neighborhood kids. I remember the elaborately carved pumpkins and waiting in line for a quick show that was performed inside his garage. I was really impressed when R2D2 was there one year along with a magician. There was also a witch flying in circles around his back yard. I watched that witch for quite some time and never did figure out how it was done. We never saw Bob on those nights, but we did see around town and he always took the time to say hello to kids and to sign autographs.
- Robert Pflugfelder
---
When I was 7 years old, Bob McAllister came to do a show in New Milford, Connecticut - the high school auditorium was completely packed. When he came onstage, he opened with "Do you want to hear a joke?" (and 700 kids go:) YEAH! "Do you want to hear a *dirty* joke?" YEAH! "Well, I was behind the school here earlier today, behind the gym, and you know what?" WHAT!!!!!???? "I fell in the mud." GROOOOAAAANNNN......
I loved Wonderama, and remember it as one of the happiest points of a rather confused and messed up childhood. (My parents divorced right during that time.) Unfortunately, my memories are scattered - I remember his New Milford performance, and having him come through the crowd to pick kids to go on stage - we were mobbing him pretty badly, and he came to my row. In my enthusiasm in waving my hand towards him to be picked, instead of coming within feet of Mr. McAllister, I came within inches - and he rightly told me, "Get your hand out of my face!" He ended up picking the sister of my best friend, two seats away - it was a ball-and-blanket game. I just remember *really* wanting one of those balls (they looked neat under the purplish lighting.)
He didn't do autographs that day, but we managed to convince an assistant to bring a photo of him we'd bought back to him while he was eating lunch - I didn't get to see him, though. I can imagine it would be difficult, being mobbed like that show after show.
I had the album, "Gee It's Great to Be a Kid," but lost it somewhere along the way. All I remember of it is loving it immensely, and the second song being about a magician.
One show featured three cartoonists, one of which was the fellow who does "Hagar the Horrible" (Johnny Hart). They had a drawing contest, to see you could "draw the fastest" - each others characters.
I'm also wondering if Bob's magic video is still available from someone, somewhere.
I never got to do it while he was around, so I'll do so now - Thanks, Mr. McAllister, for some of the best, happiest memories of my life. May we meet on streets of gold, and may you pull a coin from my ear.
- Walter White