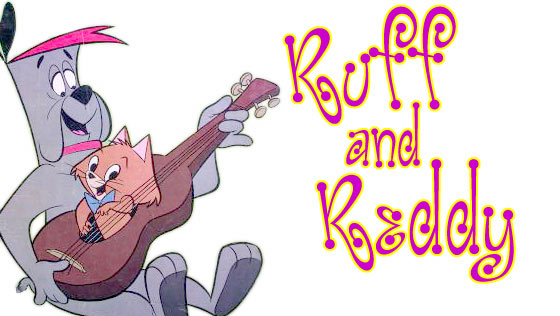 by Kevin S. Butler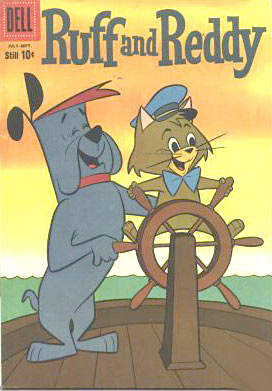 December 14, 2007 marks the 50th anniversary of William Hanna's and Joseph Barbera's very first venture into television animation.
After a long and successful tenure as MGM's premiere animators of Tom & Jerry, Droopy and other memorable cartoon characters, Hanna and Barbera left Metro in 1957 following the closure of the studio's animation department.
They were concerned about what their next project would be but those concerns were put to rest when NBC hired them to create and produce an original series of cartoons that would be screened along with old Columbia Pictures movie cartoons like The Fox & The Crow, Professor Small & Mr. Tall, and Lil Abner.
Together the duo created two seriocomic adventure characters - Ruff & Reddy - featuring a smart cat Ruff (who was performed by Don Messick) and a not too bright canine Reddy (voiced by Daws Butler) foiling evil villains like Killer & Diller, Harry Safari and Captain Greedy and his stupid stooge Salt Water Daffy to save humanity from total destruction. More often than not, Ruff & Reddy were aided by the daffy little inventor and scientist Professor Gizmo (also voiced by Mr. Messick) and his crazy devices.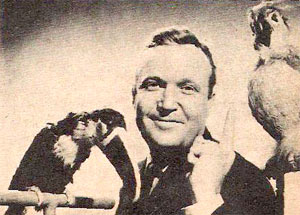 The Ruff & Reddy Show debuted on Saturday morning December 14, 1957. NBC also filmed live segments featuring the talents of entertainer Jimmy Blaine and the Rufus Rose / Bobby Nicholson Puppets for the program. Between the films, Blaine and his puppet bird pals Don Jose the Toucan and Rhubarb the Parrot would perform songs, exchange comedy banter and engage the viewers in informational segments along with interviews with guests.
The Ruff & Ready Show remained on the air until October of 1960 but returned in the fall of 1962 to join popular Saturday shows like Marx Magic Midway, America's Treasure Chest and One Two Three Go after FCC commissioner Newton Minow demanded better quality kid's programming.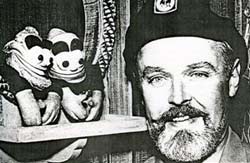 There was a new host and a different format. Ed Vaine (one of the programming execs at NBC TV) had seen the successful efforts of Captain Bob Cottle on WHDH TV 5 in Boston and felt that Cottle's educational and entertainment format would be perfect for wraparounds between the cartoons.
Mr. Cottle flew to NYC and, after some discussions, agreed to tape episodes of Ruff & Reddy on the weekends so he could continue hosting his own daily program in Boston.
Debuting on Saturday morning September 29, 1962, The Ruff and Reddy Show was set against the backdrop of a dock where Captain Bob and his first mate Efram Q. Judd (Andy Bader, the show's first head puppeteer) became involved in adventures to help aid nature and fight off evil villains with the help of puppet friends Jasper, Gramps and Mr. Answer, the Magic Talking Question Box.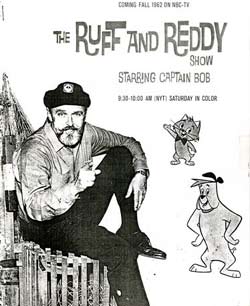 The show also featured Cottle's drawing lessons, informational segments, contests and craft making.
Cottle's segments were originally wrapped around three R&R cartoons however Captain Bob and his puppets became so popular with the viewers and the cartoon reruns were cut down to two per show.
Bader left the show abruptly and was replaced by another performer who became Capt. Bob's arch foe Barnacle Bill the Pirate (who looked like Captain Hook but sounded by Bob Newton's interpretation of Long John Silver). The actor who played Barnacle Bill is unknown.
Every week Captain Bob would become involved in secret missions for the U.S. Government, foiling the evil deeds of Barnacle Bill or some other comical bad guy. Or perhaps he would be off to some part of the world where he and his puppet pals would become involved in a project for the sake of maintaining our natural resources.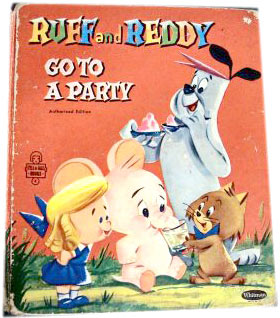 Contests were also a part of the show. On a certain number of episodes Captain Bob would ask the kids at home to draw the show's characters and send them in for a photo and one of Cottle's pieces of art.
(My brother Paul and I sent in our own drawings of the characters but only one photo of Capt. Bob was sent to our home and we argued for weeks as to who owned that photo.)
Cottle's Captain Bob program became popular not only with kids but it also received accolades from parents, TV critics and from educators. The series even beat out Bob Keeshan's Captain Kangaroo in the ratings. The only other kid's show that beat out Captain Kangaroo (at least on a local level) was WXYZ 7 Detroit's Wyxie's Wonderland starring Marv Welch, Diane Dale, Ken Muse and my dear friend and fellow performer Frank Nastasi.
Oftimes situations would occur that forced the host to make some drastic changes. During one weekend Jack Paar needed the studio to tape some extra segments for his late night talk / variety show. Cottle and his staff had to move the entire production to another studio on the other side of the building to tape The Ruff and Reddy Show.
During the taping of this episode Captain Bob and his friends were to save a little girl and her people from an evil monster (who was supposed to be Barnacle Bill in disguise). The actor playing Barnacle Bill was not following the script. It wasn't until a key part of the scene that he took off his mask and revealed himself to be Jack Paar.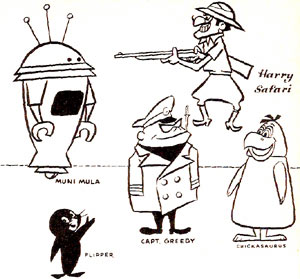 By the show's third season, the heads of NBC decided to change the series format and have Cottle and his puppeteer entertain for a studio audience.
For a time, they performed dramatizations from history and engaged in craft making, games, informational segments and interviewers with guests but the new format didn't click; by September of 1964 NBC had shuttered Captain Bob's dock for good.
WHAT HAPPENED TO THE
HOSTS AND THE CARTOONS?
After Ruff & Reddy was cancelled Bob Cottle continued to host his own kid shows in Boston and in national syndication into the 1990s; he also served as WHDH's weatherman. Captain Bob also made a guest appearance in the 1964 Macy's Thanksgiving Day Parade (which was broadcast on both NBC & CBS).
Captain Bob wrote and drew the pictures for a children's storybook Eli & The Whale that was published during the 1980s. He later adapted Eli & The Whale into a children's TV special that he wrote, produced, hosted, and narrated for either WHDH TV Ch. 5 or WBZ TV in Boston during the 1980s which won a local Emmy award for Best Children's TV Special.
Cottle continued working until his retirement in the 1990s. He moved to Block Island, Rhode Island and eventually to Notherton, California where he passed away on April 25, 1999.
Andy Bader would go onto other projects and Rufus Rose would later become a congressmen for his community in Connecticut until his death in 1975.
Bob Nicholson (from the first Ruff & Reddy Show) would continue working on The Howdy Doody Show on NBC TV until it's cancellation on Saturday morning September 24, 1960. He collaborated with Roger Muir on many TV shows like Funny Manns with Cliff Norton and the game shows Pay Cards with Art James and The Generation Gap with Dennis Wholey and Jack Barry during the 1960s.
Nicholson's TV last efforts were on The New Howdy Doody Show during the 1976-1977 season and Howdy Doody's 40th Anniversary Tribute in December, 1987. Nicholson retired to Cooper City, Florida where he was conductor for the town's orchestra and worked on various projects until his death in 1997.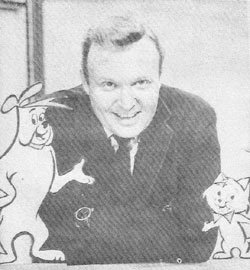 Jimmy Blaine made few television appearances during the 1960s. He briefly served as a guest host for Officer Joe Bolton's Three Stooges Funhouse on WPIX 11 in NYC during the summer of 1961 and would guest host Paul & Ruth Tripp's Birthday House on WNBC 4 in NYC during the winter of 1965. (This was during the Tripp's trek to Italy to film The Christmas That Almost Wasn't with Rosano Brazzi, Sonny Fox and Mischa Aurer.)
Blaine hoped that these guest hosting stints would lead to his MC'ing another kid's series. When these efforts failed to achieve that goal he hosted a local radio show in Connecticut. and recorded a Curious George record for MGM - Leo The Lion Kids Records. Blaine was preparing to start work on other projects but he passed away in the spring of 1967.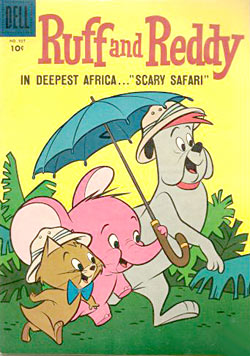 Ruff and Reddy was not seen again on TV until the 1980's on the USA cable network's Cartoon Express Show. The films were screened without a host but contemporary audiences didn't embrace the characters and the network dropped the cartoons after a brief run.
Ruff and Reddy made one final appearance on Cartoon Network in the 1990s but again audiences were unimpressed and they left the air after a few weeks.