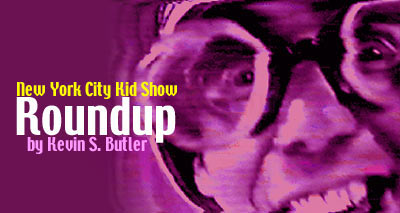 Tinker's Workshop
"Tinker's Workshop" first went on the air on WJZ (WABC TV) Channel 7 on Monday morning, November 15, 1954.
Bob Keeshan and his director Jack Miller developed the format over the weekend, when on the previous Friday, the programing director at Ch. 7 Adrian Rodian told them "You've been asking the station for a year to try and do a weekday morning kids TV show. You've got your chance.. have the pilot ready by Monday morning".
Keeshan and Miller worked hard to get the show ready. The costume was made, the set was built, scripts and other needs were created. Keeshan was unable to get a grey wig made, but that didn't stop him. He simply used grey hair spray and the makeup wizardry of one of the Westmore's (the same make-up people who worked on many films and TV series.. one of them was hosting a lady's beauty tips show at Channel 7).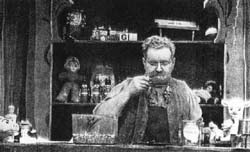 By Monday, "Tinker 's Workshop!" was open for business. And kids learned and were entertained by the kindly little toymaker who used his playthings and his knowledge of a child's love of life and simple play to get them started in life.
Keeshan would continue to 'tinker' on "Tinker's Workshop" until Friday, September 9, 1955 when he left to prepare for his 29 year stint as the tour guide of CBS TV 's "Captain Kangaroo".
Henry Burbig, a former comic/character actor, dialectician and storyteller from the stage, radio and burlesque took over as the host/performer/educator of the show on Monday September 12, 1955.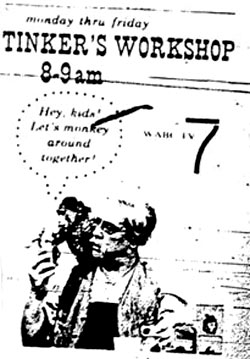 Mr. Burbig's humor was too sophisticated and at times too risque' for very young children and he was dropped from the show on Friday, December 28, 1956.
Gene London (who began his career entertaining kids on radio as a comic/character actor, mimic, singer and storyteller and later became a puppeteer and cartoonist on several NYC based kids TV shows including Herb Sheldon's version of "Wonderama"and "Hi Mom!" with Shari Lewis) was tapped to take over as the show's star on Monday December 31, 1956.
Mr. London took a different approach to playing the toymaker. He made the character a fun loving, gentle, articulate big brother type who was knowledgeable, creative fun-loving but at times a kultz. He did this because he wanted to be on a kid's level and not be pretentious.
London hosted the show until he left in early 1958. Dom De Luise was the fourth and the last host of "Tinker's Workshop". He would entertain and inform the kids until Ch.7 finally closed the doors to "Tinker's Workshop" on Friday morning, August 22, 1958.