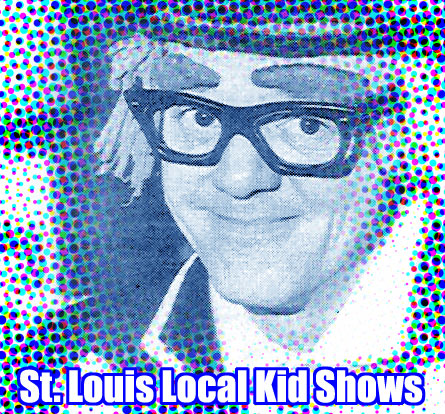 PART TWO / St. Louis Local Kid Shows Part One
I was looking over your page on the St. Louis kids' shows, and I used to watch Corky The Clown all the time back in the '60's. I remember going back and forth between Corky and Eighth Man on Channel 11, and sometimes Mom would want to watch Dark Shadows, so I didn't always get to see MY two shows! ;)

The first 'toons -I- remember on Corky were the Hanna Barbera Ruff'n'Reddy cartoons, but I didn't care for them too much, as they were always continued, and I never knew if I'd see the next chapter or not!

Corky also had the Marvel Super-Heroes on Saturday morning, and I never got to see all of THOSE, either! I had older and younger brothers who often wanted OTHER cartoons on! :)

In the 1970's, Corky had Bugs Bunny cartoons on for quite awhile, and even read the Sunday comics on his show when newspapers here in town went on strike.

Finally, in the '80's, before he was cancelled, Corky had at least one of the Flash Gordon serials on his show, showing one chapter each week.

Also, Romper Room showed MORE than "just" Casper The Friendly Ghost cartoons. We also got Baby Huey, Li'l Dot, and Fearless Fly.

I never got on Captain Eleven's show, but my older sister was on it two days in a row. I remember sitting glued to the TV, hoping to catch her on TV! :)

- Gernot C. Armbruster

Great site. It really brings back the memories. I found this picture of Corky in the studio (it was on a site dealing with RCA Television equipment!). Corky's Colorama was the first locally produced color TV program in St. Louis (October 1966). This photo probably came from the St. Louis Post-Dispatch (which owned KSD-TV) and probably dealt with this TV event. I hope this picture works on your site.
- Ray Brammer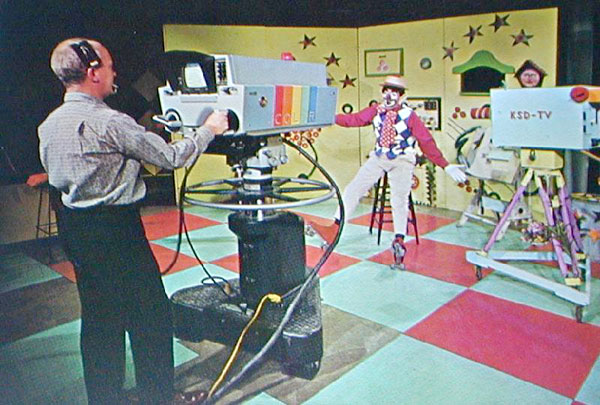 ---
TVparty viewers respond:
Saw in your web site that you didn't know who played the Captain on Cookie and the Captain that was shown on KMOX-TV (now KMOV) in the late '50's and early '60's. I had the same problem, that's how I found your web site. I broke down and called Channel 4 and asked them. I was told that the Captain was played by Dave Allen (or Allan), and this strikes me as being
correct.
- Grant Thompson
---
Kid's TV historian Kevin S. Butler adds:
Here's more info about the host/performer who played the kindly old skipper Captain 11 - he also MC'd KPLR channel 11's 'Three Stooges Showboat' - his name was Clarence Harry Fender.

Fender began his career as a singer/actor and dancer in vaudeville before joining the cast of the original Broadway production of 'Showboat.' He did 'Showboat' for a time but walked out on the production and pursued other ventures, eventually becoming a performer in nightclubs, on radio and on TV.

In the early 1960s, Mr. Fender was hired to host 'The Three Stooges Showboat' for KPLR TV 11 in the St. Louis, Mo. viewing area. In order to create the proper characterization for his viewers, Fender researched the many colorful showboat captains of the past to emulate.

He choose a well-known skipper by the name of Samuel Langhorn Clemmens - best known to literary buffs as "Mark Twain" - adapting Mr.Twain's previous experiences on the river and creating an elderly gentleman's make up and showboat captain's costume for the show.

Fender's Captain 11 and his comedy asistant Jo Jo The Cook (played by comic/character actor and dialectician Joesph Cusinelli) entertained and informed their viewers and studio audiences between the reruns of the Three Stooges films.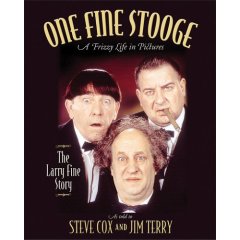 As a result, the Stooges themselves (Moe, Larry and "Curly Joe" DeRita) made many guest appearances on the show and did personal appearances with Capt. 11 at many venues in St.Louis. In one rare photo that was used in the new bio on Mr. Larry Fine (One Fine Stooge written by Messers: Steve Cox and Jim Terry) found the boys and Capt. 11 promoting an upcoming appearance at the St. Louis Police Circus, a poster heradling this event was seen on the railing of the showboat.
Mr. Fender was slated to play Doc Holiday in The Three Stooges' last feature film 'The Outlaws Is Coming' but, according to the Cox and Terry book, Fender's conflicting schedule prevented him from appearing in the movie.
Fender and Cusinelli continued to take passengers on their fun-filled and informative treks to "Stoogeville" on 'The Three Stooges Showboat' until the show was cancelled around 1964. Fender left kid's TV after that for a much different career - that of a NYC police detective.
During a stakeout, Police Det. Fender and his partner were caught in an ambush; luckily they survived but Fender gave up police work after that and returned to St. Louis to work as a radio/TV broadcaster.
He retired years later to write his memiors, 'It's A Long Way From Broadway.' Printed by a vanity press, there are no known surviving copies.
Clarence Harry Fender passed away in 1995.
---
Do you have info or
photos from these shows
we can add to the site?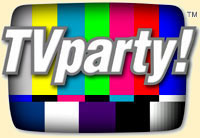 PR4 & PR5 Pages for ads - CHEAP!
Mr. Patches
"Saw your St. Louis Kid's Show site. Very neat! I lived next door to Jack Miller in Hazelwood, MO in the sixties. His wife's name was JoAnne and he had two boys, Scott and Mark. His wife made his Mr. Patches outfit. I was under ten, and remember he also put on puppet shows, especially Punch and Judy shows. He worked for the city of Kirkwood, MO until he died. In addition to being Mr. Patches, I believe he was also the first Ronald McDonald in the St Louis area that made appearances on behalf of McDonalds. He always had lots of junk food, candy, and cheap toys for the neighborhood kids."
- SOK1960
---
Another popular St Louis kids show was The Wranglers Club. It ran from 1955 to 1963. It was sponsored by Adams Milk. The show's host was named Harry Gibbs and he played a dairy cowboy named "Texas Bruce."
- Thanks, Jim Struckel
---
TV on DVD
Holiday Specials on DVD
TV Commercials on DVD