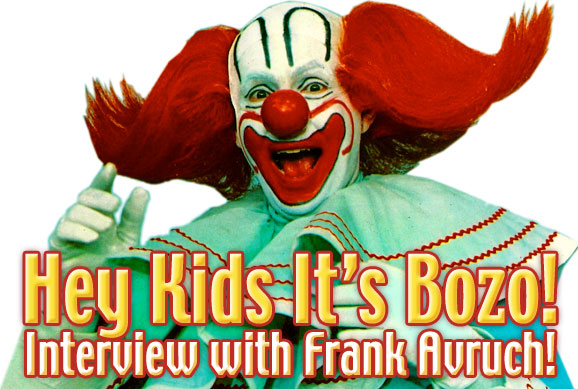 PART TWO / PART ONE HERE
by Jay Blotcher

JB: To what extent did Larry Harmon take control?
Frank Avruch: Oh, he was in charge for the syndicated show. I tried to do things that were not screaming and not manic. He wanted it to be really more hectic -- like boom -- shooting out of a cannon. And if you watch some of the syndicated show, it's like bedlam, from the opening to the closing.
JB: Did you have to go head-to-head with Harmon?
Frank Avruch: I didn't really, no. He appreciated the effort and the passion I had for the show. He always called me his alter-ego. He wanted to run for President of the United States. Did you know that? Yes, he actually mounted a campaign. He had a bus and the whole thing and he came [laugh] to me and wanted me to run for vice-president. [laugh] I mean, the guy is Bozo incarnate in real life. After you got through talking to him, you were exhausted. You know what I mean? Have you met anybody like that, that just goes constantly? He's like – he just doesn't stop. [imitating him] "We can do this, we need to do this, and gotta go here and over here, yeah we gotta do that." [stops and breathes out as if exhausted] We all had to take a breather.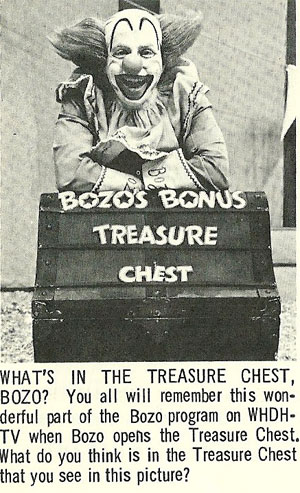 We tolerated Larry, let me put it that way. He basically is a good guy. He believed honestly in what he was doing. But sometimes it was just so overly done and I would be biting my tongue while pushing all the Bozo products in the Treasure Chest segment. Even though we all got paid very well for doing the syndicated show, my biggest mistake is that I didn't get quote 'a piece of the action" [a percentage of the profits] in the end because all the royalties for the Bozo merchandise were amazing.
JB: How did you deal with kids who were a little restless or undisciplined on the set?
Frank Avruch: I would give the signal to the Ringmaster – the floor guy – and he would calmly remove them from the set.
JB: My uncle claims that he was on the show and tried to pull off your wig. And during the commercial break, you scolded him. Would that have happened?
Frank Avruch: Uhhh… I don't know. The kids probably remember more than I do, because I would go through 125 kids a day. I don't remember that. More than likely, I didn't scold him but I'm sure the Ringmaster did. 'Cause if I scolded him in front of the other kids, Bozo would be a meanie. So we couldn't do that. Bozo had to be just wonderful, kind and good and America. [laugh]
JB: Let's talk about your public appearances outside of WHDH, which you mentioned earlier. Shopping centers, hospitals, charity events? Which ones were the most rewarding?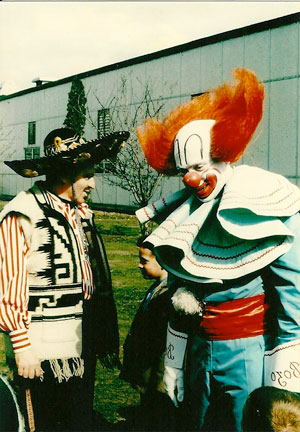 Frank Avruch: Probably visiting the kids in the hospital. Bozo would come in, in his full regalia, and we'd give them little balloons and do a couple of little tricks. I had a little magic fan. I had a little squeaker in my glove and pretend my nose is squeaking. I would tell a child, "You know, you got a squeak too" and touch their nose and press my glove squeaker. They couldn't get over it.
Oh, I will tell you an interesting story. Rex Trailer was the cowboy host of Channel 4's Boomtown show. He is also a pilot. It was the 1960s. My agent had booked me at three places on the same day, so I asked Rex if he could take me by helicopter? He said, Sure, he'd love it. So he picked me up from an appearance in Rhode Island and we're heading back to Massachusetts. Picture this helicopter: Rex Trailer in his cowboy hat and buckskin clothes and I'm in full clown regalia. And something seems wrong with the helicopter and he's got to make an emergency landing. The thought that's going through my mind is: Two leading TV personalities killed in a remote crash. But Rex landed safely in a field in southern Massachusetts somewhere. Can you [laughs] imagine the sight of Bozo the Clown, coming out of the helicopter and walking up to the farmer to ask, "Can I use your phone?"
JB: You're a Boston native?
Frank Avruch: Yes. Born in Roxbury in 1928 of Russian-Jewish background.
JB: Avruch, is that a contraction of something?
Frank Avruch: No, it is actually a Hebrew name [with the 'ch" pronounced like clearing the throat]. When I first started out, I didn't use that name. You had to go on television, you had to change your name. Frank Stevens was my name. And when I came out of the Army, I decided to use my real name. I just softened it to Avruch ["ch" is "sh" sound]. There was a very famous announcer from the network television called Andre Baruch. And I said, well, if he can do it, I can do it too. It's a Hebrew name that means "young prince." You're talking to royalty.
JB: Duly noted. I wonder if you tried to transmit to your audience any personal values?
Frank Avruch: I think the best example is my trips for UNICEF -- The United Nations Children's Fund. We had a segment on the show around Hallowe'en about those little orange collection boxes which kids took around. I wanted to tell the kids, When you go around, think of the boys and girls around the world who aren't as fortunate as you. Maybe the pennies, nickels and dimes, they all add up and will bring milk and medicine and all that there. And one of the WHDH producers thought it would be a good idea to show the kids what happens to those little orange boxes. UNICEF in New York liked the idea and I went to Asia for seven weeks for UNICEF. We were in Pakistan, India, Burma, Thailand, Philippines and Taiwan. It was very exciting. We were taken to schools, to clinics. It became a special documentary called Bozo's Adventures in Asia. And it proved that a clown is a universal symbol. Kids everywhere loved it and kids are basically the same.
I performed in Manila for about 40,000 people. This was probably 1962. We did a second series for UNICEF, Bozo's Adventures in South America. The station got tremendous public relations out of that thing. They came out with a big lovely booklet called "The Best We Have to Give" and it was called "International Understanding Through Television." After we ran the footage on Channel 5, we gave it to UNICEF and they made a documentary that was translated in various languages and sent all over the world. It was probably the highlight of the Bozo part of my career.
JB: What we haven't talked about is the daily process of putting on make-up.
Frank Avruch: Remember this is a local station; it isn't Hollywood or anything. They brought in Jack Stein who was at that time the big make-up man in Boston. So he came once and showed me how to put on make-up and I bought all the stuff – the white and the red and everything. And then I was on my own. And I learned how to do it very carefully and meticulously, like maybe 30-40 minutes. And Sundays, if I was in a rush, I could do it in ten minutes. It becomes second nature.

JB: How long were you doing double-duty with Bozo and Dateline: Boston?
Frank Avruch: I'd say maybe about five years. The Bozo Show changed through the years; our peak point was in the mid-60s. And as the television business changed, the station was trying to save some money. In 1968 or '69 they felt that a live audience was just too much turmoil. So they decided – I thought wrongly, but that was not my decision – to eliminate the audience. So it was me and a few puppets and Judy Valentine. [laugh] And it lost its pizzazz, let's put it that way, towards the end. And they even took us out of the 5 o'clock spot and moved us to weekends. And the show ended in 1970. At that point, Larry Harmon wanted me to go to another city and do it there. After 12 years, I said, "You know, I think it's enough." [laugh] And I just made the break and had no idea what I was going to do after.
The FCC forced the newspaper -- The Herald Traveler – to sell off the TV station and a group of Boston businessmen bought that coveted license. And that's when WCVB was born. And the new owners asked us to come over to the new place in Needham. So one day we left Channel 5 on Morrissey Boulevard. It was not a happy transfer. But we moved over there and a whole new era was born. [Avruch spent about three years as a booth announcer on WCVB, while also doing segments for the "Good Day!" Show. His next WCVB gig, which would last 17 years, was as the tuxedoed host of The Great Entertainment, presenting old movies on Saturdays and Sundays.]
JB: Do you keep up with other alumni of the show?
Frank Avruch: The only one is Judy Valentine. I see her occasionally and speak to her occasionally. And Carrol, as I said, we've become even closer the past couple of years. Armondo DelGrosso died.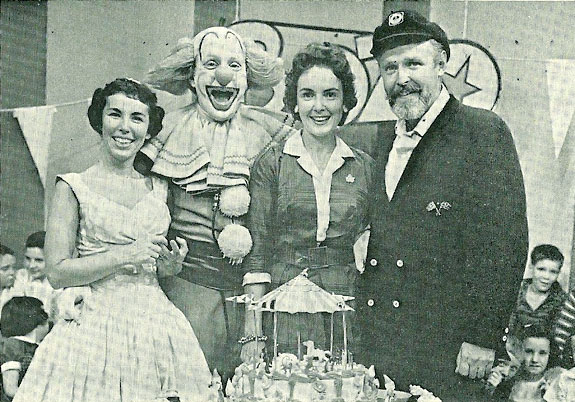 Bozo (Mr. Avrusch) is aided in a celebration on the set of "Bozo's Big Top" by series regulars Judy Valentine, an unknown young lady, and fellow WHDH TV kid's host/performer Capt. Bob Cottle.
JB: You said you were friends with Rex Trailer. How about other Boston children's TV hosts: Major Mudd and Willie Whistle?
Frank Avruch: Obviously our careers were different and we wouldn't get together that often. But a couple of times. I think it was the opening of the Ringling Bros., Barnum & Bailey Circus. It was a big charity event. They had Rex Trailer, Major Mudd, myself and even Miss Jean [Harrington] who did Romper Room in Boston.
JB: Now, Miss Jean's husband Bill was Nozo [the Clown]. How did that happen?
Frank Avruch: Bill was a good personal friend of mine and also did some acting on the side. And he was from the North Shore. I needed a vacation every once in a while. We were doing a live show; you couldn't tape a show ahead. So I came up with Nozo, Bozo's brother. He would fill in a couple of weeks. Everything was the same, except the nose. His was a long honking nose. But it was my wig, my costume. And the biggest time I used him for was when I broke my hip playing racquetball locally. I had to be in traction in the Peter Bent Brigham Hospital for close to two months. So Nozo filled in.
The station said, How can we put a little spin on it? So I said, kids are always nervous about going to the hospital. How about a few segments of showing Bozo in the hospital? And Nozo says, "Now let's see how my brother Bozo is doing." And then we'd go to the hospital. And I'm in the hospital bed – remember, I can't get out of bed – so I put on the wig and make-up. And we talked to the kids and tried to explain, "Hey kids, if you have to go to the hospital, it's the best place. And you don't have to be afraid." So we would have a few segments. And I wanted that too, because I didn't want them to forget Bozo [laugh] at the time, either. This was after the UNICEF tour, maybe 1963 or 1964. And it was a little traumatic experience for me, but everything worked out well [laugh].
JB: Let's think back to that final day of taping Bozo. I wanted you to tell me as much as you recall of that last program.
Frank Avruch: The last program. It's kind of a blur, to be honest with you, because I was not too happy with the way things were going and I was just doing it. I could see the handwriting on the wall and it was the end, so there was no big goodbye or stuff like that. I don't even remember it, to be honest with you.
JB: Looking back, what memories of being Bozo dominate?
Frank Avruch: I think what I remember most is the – I don't want to say adulation, but the feeling I could see in the faces of the kids when they saw me in person. Their eyes would just pop out of their heads and they just wanted to touch me. I loved being able to accomplish and to teach, as I said, to bring a lot of fresh new ideas to the kids. As I say, I loved the role that I was handed and I think I made the most of it. When I meet people today, it's amazing. It's 40 years later and they say, "You were part of my childhood." I have done a couple of memorabilia shows.
JB: Were you in touch with Larry Harmon in his final years?
Frank Avruch: Yes. He wanted to open a Bozo series of restaurants: Bozo's Big Top. Of course, it never materialized. And I [laugh] tried to explain to him, young kids today, I don't know what shows they're watching now. But it's certainly not any local clown show.
JB: In your travels, did you ever meet the biggest Bozo fan in the world, who had huge rooms of memorabilia?
Frank Avruch: Not personally, but a couple of years ago I went into the attic and I came across a treasure trove of Bozo material, including the Parker Brothers board game with my picture as Bozo on it. And I said, What am I gonna do with all this stuff? [laugh] You get to a certain point in your life where you want to downsize and get rid of a lot of stuff. So, somebody told me about eBay. It went like gangbusters. So I really sold most of the Bozo material I had.
JB: So, the final question, sir: How did playing Bozo change you?
Frank Avruch: I just felt the – I guess the word is love – the love that I received from complete strangers, young and old. Parents to young kids who just stared at me with awe. It just made me realize that I better watch what I do, 'cause it's like people who become an idol or an icon. People look up to you and you want them to see you in the best light. And I tried to lead my life that way, so I don't do anything I would regret, as you have with so many of the celebrities today. They get into trouble too quickly and people just jump on it. What I learned is that I have to guard this [image] and just treat it as a very special thing. It's a relationship that I have with the public, when I go out, to make sure I put my best foot forward. I think that way it has influenced my life. But maybe I was that way before Bozo, I don't know. [laugh]
---
LET'S HEAR FROM THE GUY
WHO WROTE THE BOOK ON BOZO: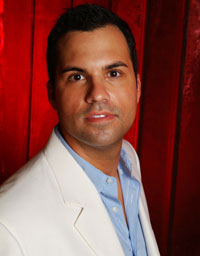 An emai linterview with Thomas Scott McKenzie, co-author (with the late Larry Harmon) of the book The Man Behind the Nose: Assassins, Astronauts, Cannibals and Other Stupendous Tales
Jay Blotcher: How did you come to be involved in this project? What previous credentials cemented your qualifications? Did you know about Bozo before this project?
Thomas Scott McKenzie: As Larry Harmon reflected on his life and amazing adventures, he decided to do a book and started looking for a collaborator. A mutual friend introduced me to Larry and his wife Susan. We hit it off and began working together.
Actually, I did not know a great deal about Bozo the Clown prior to embarking on this effort. I did not get to see the show as a child. But I certainly knew and understood Bozo's iconic place in our culture's entertainment history. So I was well aware of the impact of the Bozo character even though I had not followed the show or the cartoons to that point.

JB: Please tell me about the collaborative process. How many times did you meet in person? How many Sundays on the phone? When did you join the project? Did he have something already written, or did the material come solely from his conversations?
Thomas Scott McKenzie: Larry was very involved in this book. Oftentimes, celebrities don't spend a great deal of time with their co-authors. Larry was the complete opposite. He would parse out individual words and images.
We met in person numerous times at Larry's office in Hollywood. And we spoke on the phone quite regularly and frequently. Larry did not have material on paper when I joined the project but had some great ideas for how he wanted the book to flow and what he wanted to be included. And, he had these amazing stories that he had been telling for decades. Sometimes it can be a challenge to get details out of celebrities, but with Larry, he could entertain you for hours.

JB: Tell me about Mr. Harmon as a personality? What are your enduring memories of him? Tell me about those moments when you became skeptical towards his reminiscences.

Thomas Scott McKenzie: It's such a cliché, but the truth is that Larry Harmon had a personality that was larger than life. He was always laughing, always telling a joke, always entertaining. My enduring memories are his eyes and his smile. He just had such a glow and passion in his face when he was telling a story.
Working with Larry was like riding a roller coaster. As he told his tales, you just strapped in and enjoyed the ride. Later, when I was alone, I might wonder about this or that in his stories. So I would do some research and there was Time magazine with a reference to Larry's presidential campaign announcement or a newspaper report about how much Caroline Kennedy loved Bozo while she was growing up in the White House. Also, the Harmon's tremendous treasure trove of photos and videos about Larry's adventures were also a big help in being a tool for examining some of the stories.
JB: How did you prepare yourself for this project? Did you watch old Bozo shows? Other methods?
Thomas Scott McKenzie: I tried to immerse myself into the world as much as possible. I watched hours of old Bozo shows and cartoons, I collected and perused memorabilia that was for sale on the internet, and I tried to research peripheral material to whatever story we were writing at the time. For example, while working on the chapter about Larry's trip into New Guinea, I hung maps of the area on my office walls and read books by anthropologists and researchers who had studied the area.
Another method that I used while writing The Man Behind the Nose was to create specific soundtracks for the various tales. Music was such huge passion of Larry's and it really influenced his life. I created a playlist that ranged from John Philip Sousa to Buddy Rich and included some kooky motion picture soundtracks by Danny Elfman. And, obviously, I included the 2003 compact disc, Get Down with the Clown, by Bozo and pals. It features Larry as Bozo along with performers such as Tony Danza, William Shatner, and blues guitar great Joe Bonamassa. Those playlists really helped get in the mood to capture the tone of Larry's stories.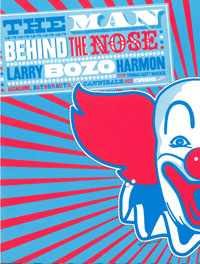 JB: The graphic design of this book is marvelous. Tell me more about Meat & Potatoes, who created the design?

Thomas Scott McKenzie: Meat & Potatoes is a design firm in Los Angeles that does amazing things for clients in a variety of industries. They've worked on packaging for Cabo Wabo Tequila, dvd packaging for Sex and the City, murals for the Hard Rock Casino, music videos for rock supergroup Chickenfoot, and much more.
Led by founder and creative director Todd Gallopo, the Meat & Potatoes team working on the book consisted of T.J. River and Bahia Lahoud. They did a fantastic job of designing the book.
It was important to everyone involved that The Man Behind the Nose be visually distinctive. We strove to create a book that would look good on a coffee table, that a customer would be proud to give as a gift, and that would do justice to the rich visual history of Bozo and Larry Harmon. In the end, as a result of T.J. and the gang at Meat & Potatoes, we ended up with a book that looks like nothing else in the store and really leaps off the shelf.
JB: How far along on this project was Mr. Harmon when he passed away in July 2008? Did his wife or children help you to complete the book?
Thomas Scott McKenzie: We had made a good deal of progress on the stories that you see in the finished book. After Larry's passing, his wife Susan stepped in and helped with editing and finalizing some of the details. She worked very hard and did a great job in ensuring the book is what Larry would have wanted.

JB: Did Harmon articulate what his hopes for the book were?

Thomas Scott McKenzie: Larry wanted The Man Behind the Nose to appeal to readers of all ages and certainly we've accomplished that. Older readers who grew up with Bozo have responded well to the sort of inside history of how the character was spread around the globe. Younger readers, who maybe don't know much about Bozo, have responded to the reality-show kind of adventures Larry had.

It was also important to Larry that the book be inspirational and show people that there really is a way to achieve anything you dream, if you always remain positive and work hard.

JB: With his passing, Bozo is in danger of becoming forgotten as there is no Bozo show on TV and no current merchandising. (Hallowe'en costumes notwithstanding.) Did Harmon have plans to keep the brand alive?

Thomas Scott McKenzie: Larry himself was full of ideas for television shows, films, cartoons, and even game shows. Every day, he seemed to have another idea.
Since his passing, Larry Harmon Pictures Corporation is being run by his wife Susan. They continue to license products such as the Halloween costumes you mention, along with DVD sets, bop bags, banks, and other collectibles. The corporation continues to brainstorm ideas and to also receive proposals from other people within the industry so there is every reason to be optimistic that we'll see more Bozo in the future.

JB: Was he concerned that the kids of today would not be as receptive to Bozo as kids of earlier eras? Was he dismayed by the current generation of youngsters?

Thomas Scott McKenzie: Larry was so passionate about Bozo that he believed the character could reach any generation of child. And while that belief might be easy for cynics to dismiss, he had successfully spread Bozo to places like Brazil, Thailand, Greece and other exotic locales. So it's hard to bet against him.

Also, a cornerstone of Bozo was that he always interacted with children on their own terms. He didn't talk down to them or try to relate to them in a way that he wanted. Instead, he engaged the child in whatever way the child wanted. So in current society, Bozo could chat with kids about video games and text messaging. He wouldn't be stuck in the past, he would interact with them based on their lives today.

JB: You mention in your afterword that this book only represents a small portion of the stories he told. What tales did he mention briefly but never get to embellish?

Thomas Scott McKenzie: There were a number of asides and references that we never got to follow up on and get on paper. For example, there are photos of Larry meeting world-famous mime Marcel Marceau. There are photos of Larry on the set of Willy Wonka and the Chocolate Factory. Larry mentioned Charles de Gaulle a couple of times. Just so many stories that we didn't get to hear.

JB: Frank Avruch, the first syndicated Bozo, recalls Larry Harmon as often mightily possessed by his ideas, and at times very eccentric, almost evangelistic. Did you experience such moments with him as well?

Thomas Scott McKenzie: Larry Harmon was determined, driven, passionate, and unwavering in his beliefs. Evangelistic isn't a bad way to describe it because he was just dedicated to spreading the Bozo love around the globe. He was also so firmly convinced that anyone can achieve anything if they work hard enough and never give up. He possessed an unwavering optimism and an incredible amount of ambition that always propelled him forward.