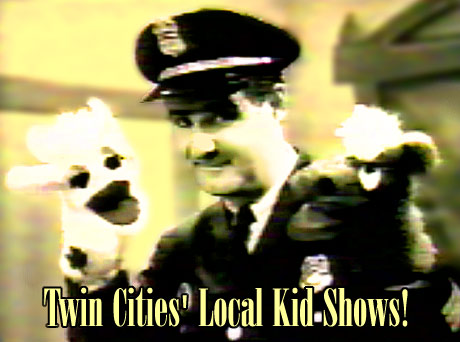 PART THREE - by Julian West ( part 1 / Part 2)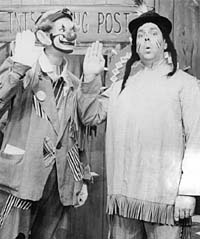 In April 1955, KSTP-TV hired Daryl Laub away from WTCN-TV. He brought his characters to the new station, although his nautical alter ego Skipper Daryl was promoted to Captain Daryl and his clown character J. P. Patches metamorphosed into T. N. Tatters.
KSTP-TV evidently felt that two new kiddie characters were more than enough, because Jimmy Valentine's tenure as a kids' show host came to an abrupt end. Ironically, T. N. Tatters never got great ratings at KSTP-TV, most likely because he didn't have those excellent Warner Brothers cartoons to bolster his program at the new station.
Because his two shows aired live back to back, Daryl Laub went through hectic makeup changes every day. T. N. Tatters, like J. P. Patches before him, was a hobo clown of the Emmett Kelly stripe. He slurred words as if he'd had a few too many, or was simply a bit demented. His show was pretty eerie, too, featuring a phallic flying snake with a voice like The Great Gildersleeve, a talking TV set, a weird whispering phantom doll, and assorted other bizarre guests.
Captain Daryl was much more sedate, although one of the regular features on his show was a toy judge and jury passing judgement on a "case" submitted by one of the young viewers. He also had a Wishing Well that was effective for requests made on behalf of someone else, but didn't work on selfish wishes. T. N. Tatters ran on Channel 5 until September 1962.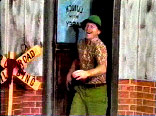 Back at WTCN-TV, Lynn Dwyer joined "Lunch with Casey" as Roundhouse Rodney after Chris Wedes left for Seattle. The short but sturdy Lynn had previously been a skater with the Ice Capades. A gifted performer and talented mimic, Roundhouse's manic personality contrasted perfectly with Casey's pleasant quiescence.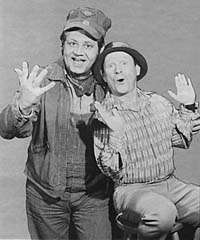 On the show, Roundhouse might appear as Tarzan spouting one-liners, a life-size windup female doll, or do his dead-on Jimmy Durante impression. Every year at Halloween, an evil witch would shrink Roundhouse and trap him in a pumpkin -- probably so Lynn could take a vacation. Just in time for Halloween, Casey would carve the pumpkin, rescue Roundhouse, and restore him to normal size.
Each day Casey would have lunch delivered by a local restaurant like Shakey's Pizza or McDonalds. Guests like Bob Duerr, animal handler from the St. Paul Como Park Zoo, or a musical act would sometimes entertain.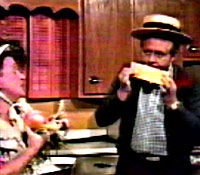 Occasionally they produced musical segments that could best be described as early music videos, featuring Casey and Roundhouse lipsyncing to novelty tunes. A particular standout was a song called "I Love Onions."
By the summer of 1957 back at WCCO-TV, it had been established that Axel's Tree House existed in a mythical place called Magic Island.
That fanciful isle became the locale for all of Channel 4's growing list of children's shows:
"Johnny .44!," with Jack Hastings as a cowboy bunking at the Lucky Horse Shoe Ranch;
"Popeye's Club House," originally featuring unlikely sailor Mel Jass until Mel joined WTCN-TV in July 1957 and he was replaced by Dale Woodley;

and "Commodore Cappy," starring John Gallos as a nautical geezer who piloted an atomic submarine called The Crazy Carrot, and sounded like a cross between Lionel Barrymore and (according to Gallos) "Walter Brennan in heat."
In the fall of 1959, John Gallos appeared as a new character: Clancy the Keystone Cop, who had a voice that owed a lot to Bob Hope's mustachioed sidekick Jerry Colonna ("Aaaaahhh, yes!"). Two years later, he metamorphosed into the drastically different futuristic Clancy the Space Cop in a vain effort to exploit the space race.
After just one season the Space Cop vaporized, but Gallos returned as the modern-day Clancy the Cop on Tuesday, September 3, 1963. Unlike his predecessors, this contemporary version of a policeman was not so much a characterization as he was a reflection of the real John Gallos. This version of Clancy also proved to be Gallos' most enduring role, appearing on Channel 4 until 1977.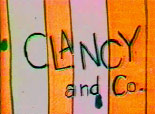 The new show, set in a small detective agency, was called "Clancy and Company." Aspiring theater actor Allan Lotsberg was the "Company." "John needed somebody to talk to," Allan said, "because we found out at that time [that] teams work a lot better than somebody talking into a lens - and if you've ever done that, it gets real lonesome out there."

Allan was originally recruited to handle a witch puppet named Vivian Vulture on the new Clancy show. After a week or so, director Harry Jones persuaded him to appear on camera as well.
The next day, Clancy walked over to the portrait of Sherlock Groans, the founder of the Detective Agency, and tweaked his nose. The picture slid up, a big door opened, and a wheeled box came rolling onto the set, carrying a silly little guy dressed in a hound's tooth checked suit, his legs akimbo. "Ah! It's Willie Ketchem!" Clancy exclaimed.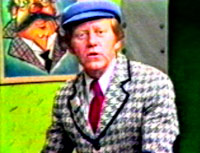 Willie quickly became an integral part of the show, his youthful, bumbling exuberance balancing Clancy's reserved and somewhat obtuse persona. Later, Allan developed other characters for the show, notably Willie's Auntie Ketchem, who persistently called her nephew's superior "Clanky," and Wilfred the Wiener Wolf, a furry puppet with a predilection for a particular sponsor's products.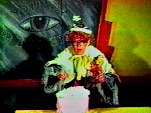 Clancy and Company often had actual storylines, usually centering around a silly mystery or a light-hearted adventure. The yarn might be told in one self-contained episode or strung out over several weeks, depending on the strength of the material and the needs of the moment. Allan and director Jones usually developed the rough plot, which Clancy and Willie would improvise on from day to day until the tale reached its resolution.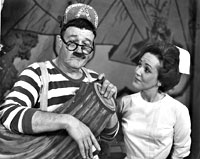 Meanwhile, Don Stolz had left "Axel and His Dog" around the spring of 1962, due to his increasing workload at his ever more successful Old Log Theater. Mary Davies, a talented singer who as Carmen the Nurse had been making sporadic appearances on the show since 1954, was eventually chosen to co-host the program. Under Carmen's influence, Axel's show became a kinder, gentler program. Some viewers felt that it lost some of its edge.
Another factor in the mellowing of the program may have been Clellan Card's declining health. Diagnosed with cancer, he endured years of chemotherapy but finally succumbed to the disease on April 13, 1966. Mary Davies carried on with the show, eventually moving it out of Axel's Treehouse and into Carmen's Cottage.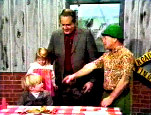 By the early 1970s, the heyday of local children's programming was coming to an end. After almost nineteen years on the air, Channel 11's "Lunch with Casey" was cancelled by Metromedia, Inc., the conglomerate which then owned WTCN-TV. A storm of protest from the local community ensued, but Metromedia stood fast. Casey pulled into the station for the final time at noon on Friday, December 29, 1972.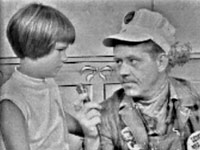 It was a bittersweet finale. Regular chef Hank Meadows gave Casey a pumpkin pie, animal man Bob Duerr presented him with a mounted South American butterfly, and Minnesota Twins legend Harmon Killebrew "... poked in his balding head to mutter a farewell."
People from the Como Zoo brought Billy the monkey and Peaches the skunk to say good-bye; Billy expressed his condolences by stomping through the pie.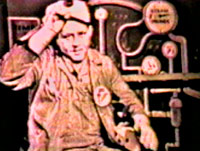 Minneapolis Mayor Charles Stenvig put in a surprise appearance, toting a bag of McDonald's hamburgers. He announced that he had signed a "Bring Back Casey" petition, which unfortunately had no impact whatsoever. Hizzoner promised Casey a distinguished service award, chomped on a burger, and departed.
An audience had accumulated in the studio as the show progressed, and at the end they burst into applause. After the broadcast, Roger Awsumb quit his other job in WTCN-TV's announcing booth and left the station forever.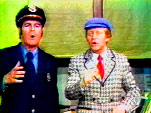 At WCCO-TV Channel 4, the kids' shows lasted longer but the end finally came. One day, the station announced the wholesale cancellation of its long-running children's programs to make way for the hot "Donahue" show. On Friday, March 25, 1977, "Carmen" and "Clancy & Willie" made their exit.
In the opening of her final show, Carmen shuffled stiffly onto the set, her eyes puffy. "It's a very special day on Magic Island," she declared without enthusiasm, "and I'll get to that with a little story for you later."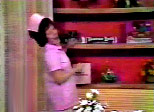 After some uninspired bits and a "Little Rascals" episode, Carmen told a little fable: "About twenty-seven years [ago], a beautiful young girl wandered into WCCO television, walked over to a piano, and started singing a song on a show, and immediately fell in love, not only with the people on that show, but with people [on] many, many shows to come.
"And that beautiful young girl is still beautiful --" she paused and sniffed in a exaggerated way, "albeit long in the tooth - however, twenty-seven years is a long, long time to have a wonderful time and a wonderful love affair with great and wonderful people. I am the gal who came in, and today is the day that I am going to leave WCCO Television, and I will be leaving as Carmen... I'm going to miss you, and I know you'll miss Carmen, but that's the way it goes. Time moves on."
"There is so much I could say," she continued, smiling bravely, "and there's so much love I would like to express, but most of it for those daddies and moms who were little kids twenty-four years ago when Carmen came to join you for the first time, who now have little kids themselves. I just want to say 'Thank you.'"
Steeling herself, she went into the wind-up. "WCCO Television, that's the place to stay. God bless you. I love you." She blew a kiss and abruptly got up from her desk. "Remember me!" she called out plaintively, and then quickly walked off the set.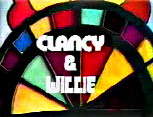 Following a commercial break, the final installment of Clancy and Willie began. The centerpiece of the program was Clancy's histrionic telling of "Casey at the Bat," a recurrent highlight of the show.
Typically, near the end of the program Clancy and Willie would talk to the kids in the studio, but on that melancholy occasion there was no audience. Instead, Willie soberly informed viewers, "This is the last day. We are closing the Agency here at old WCCO Television." He then introduced Clancy for the last time.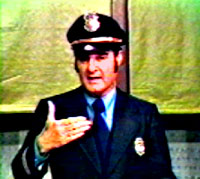 "It has been a real pleasure and a privilege to have been a part of many of the routines in many homes around the Twin Cities, and Minnesota and Wisconsin, for lo, these past many years," Clancy declared. "We've had a lot of laughs over the years, we've had some ups, we've had some downs - and it isn't over yet, because I know I'll be looking for you on other programs here on Channel 4. I'd like to close with an Irish blessing that I think Clancy would enjoy:
"Wishing you always Walls for the wind And a roof for the rain And tea beside the fire. Laughter to cheer you And those you love near you And all that your heart might desire. May the road rise to meet you May the wind be always at your back May the rains fall soft upon your fields And until we meet again, May God hold you in the palm of his hand."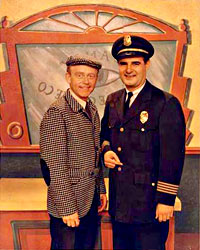 As he recited the verse, the camera slowly moved in until at the finish Clancy's face filled the screen. He gazed steadily into the lens, forced a sad little smile, and said simply, "Good-bye."
UPDATE: John Gallos, a WCCO-TV legend, died November 15th, 2005 from complications from diabetes. He was 82 years old. Gallos was born in 1923 and graduated from Macalester College in St. Paul.
In 1950, he joined WCCO-TV, where he worked for 46 years. He was best known as the children's television character Clancy the Cop but also appeared as Commodore Cappy and Clancy the Keystone Cop. Gallos was a longtime booster of the films of Laurel & Hardy, and he hosted the longest running locally-produced religious talk show in the United States, "Sunday Morning With John Gallos." Gallos is survived by his wife and two children.