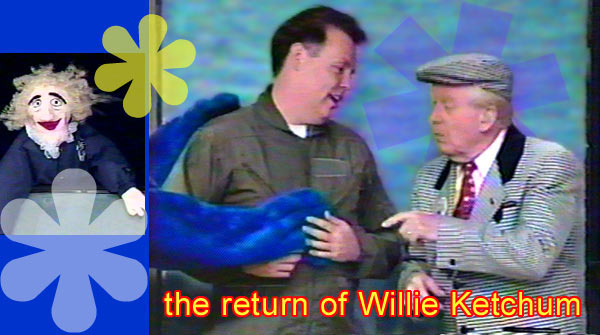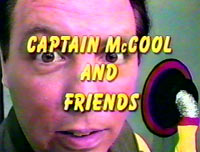 Television history is the history of communities. In the days when all television was basically a local enterprise, regionally produced children's programming helped shape the manners and morals of a community. By the late-seventies, almost all of these local programs were swept off the air in favor of network, nationally syndicated and bartered programming.
There is one group in the Twin Cities reviving the format, while paying homage to the great broadcasters that came before them.
St. Paul schoolteacher Tony Ducklow is the producer and star of Captain McCool and Friends. Revolted by the fact that his students were watching Jerry Springer when they got home after school, he set out to create a wholesome alternative.
Tony Ducklow tells us more: "We are a close-knit group. Myself, my wife, and a high school friend of mine named Bill Schiff first began talking about putting together this program in 1998. We approached SCC cable station manager Ted Arbeiter with our idea and he loved it. It turns out he was as big a fan of Casey/Axel/Clancy & Willie era shows as we were. Randy Schichel was added soon after and became invaluable as the puppeteer for Moondoggy, Ozzie, and Harry Razleflavin.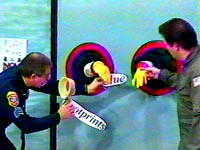 "My wife does the voice of Yikes and does the sign language arms for Otto. I also do the puppet Pony Oliva. I have a son in college named Marcus who does the sound and runs much of the production booth.
"We started working on the first episode in the fall of 1999 and Captain McCool first aired in February 2000."
INSPIRATIONS
Tony Ducklow tells us about the great local shows he grew up with, and his effort to keep that memory alive: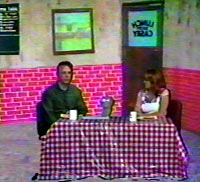 Casey Jones
"Not long after Captain McCool and Friends began, I sent a tape to Roger Awsumb aka Casey Jones, who was living in Brainerd, MN. I was shocked one Saturday morning to look at my caller I.D. as the phone was ringing and see "Roger Awsumb" on it!
"He told me he loved the program and that it reminded him a lot of his show and the type of programs from that era. He gave me a lot of tips about how to interact with kids and he had questions about how the program was shot. He was as nice as he appeared to be on the Casey Jones show. I asked if he minded if I occasionally showed clips from his Casey Jones video tape on my program and he was gracious enough to not mind. I also thought it'd be nice to boost the sales of his video too.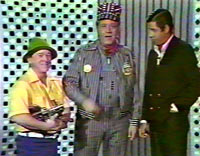 "By coincidence, it was my birthday and I told him I couldn't have wished for a better birthday present. He said, "It is? Today is really your birthday? Well then... Happy, happy birthday, to every girl and boy, hope this very special day, brings you lots of joy..." and went on to sing me his famous birthday song he sang everyday on the Casey Jones show. From that day on, I'd send him a tape or a card when I'd get the chance. It was a very sad day for all of us grownup kids when we lost him in 2002.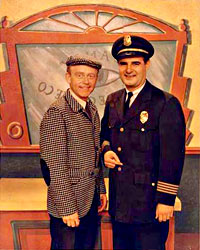 Willie Ketchum
"McCool did well in its first year and we swept the cable awards that next fall. One of the presenters at the award program that evening was the multitalented Allan Lotsberg.
"Allan will always be better known in the Twin Cities as detective Willie Ketchum, Clancy the Cop's sidekick on the popular Clancy & Willie show. Allan wrote much of that program, was puppeteer for the very popular puppet character Vivian Vulture, played Willie's nutty relative Aunty Ketchum, and also created the children's program, Allan's Window which ran on WCCO after the run of Clancy & Willie ended. He is still active as the creator and director of a Twin Cities theater group called "The New Fogey Follies" (newfogeyfollies.com).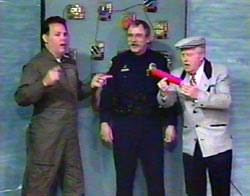 "Allan had some kind words for me at the awards, and encouraged by station supervisor Judy Skeie-Voss, I sent him a video and a letter asking if he'd be interested in reprising his Willie Ketchum character for an episode of Captain McCool. I found a message from him on my voice mail saying he'd love to do it. He added that someone else wanted to use the phone and then I got another special message from the distinctively scratchy voiced Vivian Vulture telling me hello!
"I'm also an elementary school teacher and Allan was generous enough to come out to my school the day before we shot this episode and speak to my kids. The students were going to also appear on this Captain McCool episode with Allan.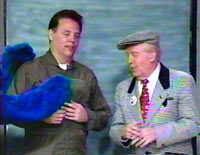 "I'd shown them clips from Clancy and Willie and they were totally in awe when he walked in the room. It was pure magic as they asked him questions like "What was it like to be famous?" and he told them stories about the show and being an actor and how nervous he was before he did his first episode. Allan and his wife Jackie came for the shooting the next day.
"The original Vivian Vulture had disappeared not long after the end of the series so we tried to recreate her the best that we could. It was remarkable watching Allan manipulate this new puppet because it was so limited in its movements, but he made it come alive and had the kids cracking up as Vivian and Yikes traded knock-knock jokes. It's a day I'll never forget and I'm glad I have the tape to watch all over again!"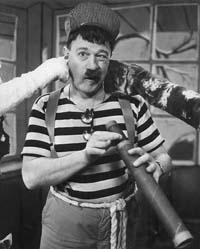 Axel
"Clellan Card in Axel and His Dog has played a large role in the McCool program despite Card passing away in 1966. I adored Axel Torgeson, he was a boisterous and happy-go-lucky Swede, and I was very fascinated by his two sidekicks that appeared on his show, Towser and Tallulah. They were much like Soupy Sales' White Fang and Black Tooth, where the only part of the character revealed were the paws. I would always desperately hope to catch a glimpse of what they looked like but of course this never happened.
"I thought this type of character would be great for McCool (and cheap too!) and I was right. Probably the most often asked question I get from elementary kids is, "Why can't I see all of Moondoggy? I really want to see what he looks like!" As a kid I had owned a copy of Axel's 33 RPM version of "The Night Before Christmas" (The other side contained "A Close Call for Santa" by Clancy & Willie and according to Julian West, both were produced by Allan Lotsberg).
"Card had turned the classic rendition on its head and shaped it into his own wonderfully goofy rendition. His thick Scandihoovian accent and mispronunciations produced a record that had me and my friends literally rolling on the floor with laughter. Unfortunately, the local stations have ignored this Christmas classic and I hadn't heard it since the 1960s.
"I was delighted to find Julian West sold a copy at his Axel website and when we did "Captain McCool's Old Fashioned Christmas Special" last year I knew we had to incorporate this piece into it. We thought about trying to act it out, but decided the easiest way would be to simply show the pictures from a book and match them to Axel's silly version. It was fun to share this little piece of history and a great way to wrap up our Christmas show."
---
Captain McCool and Friends airs on channel 15 on SCCTV at 4:00 every Monday (but they have a tendency to run it more than that). SCC covers many of the communities surrounding St. Paul. It also will start airing again on SPNN in St. Paul soon.