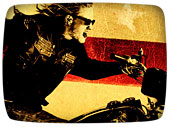 Sons of Anarchy – Season Three:
More Leather, Gunpowder & Gasoline
by K.L. Stover
While most of us might not admit why we tune in to Sons of Anarchy each week, it's safe to say there's a vicarious thrill in watching those out on the margin of society take the law into their own hands. We willing suspend our disbelief as we watch the local sheriff smoke a joint in public while in uniform, or Jax's doctor girlfriend perform emergency surgery on an outlaw biker. But it's not simply the manner and frequency of these people flouting the law so openly that keeps us watching, but the moral code at the center of the Brotherhood of the two-wheel thunder. We are reminded repeatedly, that the human code endures, even in the dark places of our disintegrating society.
Even if most of us try to avoid the dangerous circles of heavy-hitting criminals, we've all watched enough television to learn the fascinating sociological truth— that even convicted prison lifers still strive to retain their basic human integrity and defend the honor of the their families and friends; they know it's all we really have.
At the very center of the Sons Of Anarchy brand is one such clan—SAMCRO leader Clay; Gemma, his matriarch, and her son Jax, the club's co-leader and heir apparent. The terrific triumvirate of Ron Pearlman, Katey Sagall and Charlie Hunnam is so compellingly watchable that whole episodes seem to roar by like a pack of Harleys on the open road.
While the weekly plot revolves around the various nefarious—gun-running, drug dealing, porn-peddling and ethnic street warring, we never forget it's actually about this nuclear family: Clay, the grizzled veteran with stiff hands and bad knees who has been known to dump his bike but somehow turns down all challenges to his authority; Gemma, a fiercely loyal and independent mama tougher than any of the brawny, bad-ass, beer-swilling dudes; Jax, the outlaw Brad Pitt who represents whatever sense of vision a violent motorcycle club can possibly possess.
While each week we await the next explosive event in Charming, it is the dynamic of this family interplay that rivets us to our seats.We never forget that Gemma endured a savage beating and rape at the hands of SAMCRO's rivals and yet stayed silent for the sake of protecting her husband and son, or that Jax is trying to raise the infant son of his junkie ex-wife while honoring the club's founding legacy established by his late father.
As Season Three approaches, we carry our questions with us as a form of legacy: will stepson Jax finally supplant Clay as the club's fearless leader, guiding SOA into the existential twilight of the 21st century? Has Gemma truly shaken the effects of a rape so devastating she lost whatever small trust she has ever placed in men? Will Tara inevitably have to choose between being a motorcyle mama or a practicing medical professional? Will Police Chief Unser finally step down before stress and cancer kill him?
I'll be watching FX September 7th, to find out, because no matter what patch we're wearing, it's all about being loyal, right?
---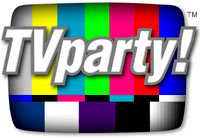 Reviewed by: K.L. Stover
A freelance journalist and critic, Stover, 55, has published pieces on music criticism, sports, and politics throughout New England for three decades. He studied English Literature and creative writing at the University of Maine in the mid-1980's before venturing briefly into newspaper journalism, publishing a variety of freelance fiction and nonfiction pieces in New England newspapers, including a series of editorials analyzing the 2008 American Presidential race, featured in the Bangor Daily News, the Ellsworth American, and the Portsmouth Herald/Seacoast Online in Portsmouth, NH.
Stover completed his first literary novel, Whistler's Father, in 2005. Pig Nation, his second novel, is a cross-genre political thriller, science fiction and urban fantasy, completed in April of 2010.
Keith is a resident of coastal Maine and member of the Maine Arts Commission.
Shop Amazon's New Kindle Fire