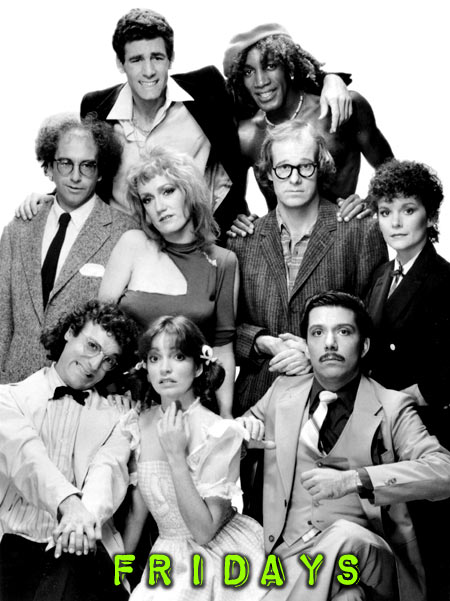 PART FOUR - by L. WAYNE HICKS
Fridays - Fridays TV Show part one here
ENTER ANDY KAUFMAN
Three weeks after Lee's death, Fridays welcomed a guest host who would provide a lasting memory of Fridays. On Feb. 20, 1981, Andy Kaufman took the stage.
And he wouldn't get off. Kaufman opened his monologue by telling the audience the show was live and no one could stop him. He ignored off-stage entreaties by Moffitt and Burns to get on with the show. "They told me I couldn't say crap. I just did!" Kaufman said.
During the rest of the show, Kaufman appeared distracted, as though he didn't want to be there. He didn't appear to be trying hard. His point-counterpoint with himself on Friday Edition was sloppily done.
Everything was leading up to the now-infamous restaurant sketch.
"I'm sure that single event got us picked up for the next year," Moffitt said.
Kaufman, who would die of lung cancer in 1984, had become increasingly known for off-the-wall antics, stunts such as wrestling women.
Bob Zmuda, a writer for Kaufman who appeared on that Fridays as a masked magician who gives away secrets, later wrote the biography Andy Kaufman Revealed! Best Friend Tells all. In it he noted that when Kaufman was offered the chance to host Fridays, "The only edict given him: Kick start this dog and get it some attention."
Kaufman's idea for Fridays: break out of a sketch and cause a fight on the air, on live TV. The scene was recreated for the Kaufman biopic Man in the Moon, with Zmuda portraying the part of Jack Burns.
"We didn't tell many people because it wouldn't have worked," Moffitt said. "Like the stage crew did not know. The director did not know. Most of the cast didn't know. We told one or two people because we thought Melanie might freak out. In any case, we had the script written. During rehearsal, we rehearsed the script, with an ending to it, and during dress rehearsal, we did the whole script, we did the whole scene. It was complete. It was beginning, middle, end. Only on air did Andy stop in the middle and just say 'I can't do this.' That part was totally unrehearsed, live on the air."
Roarke wasn't in on the joke. Before the sketch started, he saw Kaufman backstage, bullying people.
"He went over to one guy and started pushing him. I said, 'That's it.' I went behind him and I got him in a headlock, 'cause I thought he was really out of control. And I realize he's not really resisting me that much. For a guy who's acting so hot, he's not straining against me."
Roarke let Kaufman go when it was time for the sketch to start.
The sketch featured three couples in a restaurant. The situation called for each person to leave the table, smoke a joint in the bathroom, then return. When it was Kaufman's turn, he came back to the table, broke character and announced he couldn't do drug humor. His announcement was greeted with silence and then increasingly hostile whispers from the cast.
Richards walked off stage, grabbed the cue cards and plopped them in front of Kaufman and told him to read them. Kaufman responded by throwing his drink at Richards. Burns, who was in the plan, rushed the stage and shoved Kaufman, sparking a brief scuffle between the two men.
"We were told to stay in character," Chartoff said. "I was playing his prissy wife and tried to play along till the crew, who weren't in on the joke and wanted to protect us and the show, got violent with Andy. I took off at that point, which is what my character would have done."
"It was all planned and nobody believed us," Moffitt said, "but we got more calls. For the next week we got solid press. I mean, everybody was calling left and right and nobody believed us."
Peter J. Boyer, the TV writer for The Associated Press, wrote: "The folks at ABC's Fridays are delighting over the windfall hype that has come their way this week after guest host Andy Kaufman's on-camera 'fight' at the end of last Friday's show." Fridays milked the gag by having Kaufman return the next week to announce that the fight had been a planned event. Kaufman spoke haltingly, like he was reading unfamiliar words off a TelePrompTer.
"ABC wants you to know the truth," Kaufman said. "The truth is it was an experimental piece to do something different." After a pause, Kaufman added: "I can't do this. "I won't do it. I'm sorry. I will not say it. This has been a very hard week for me. Because of last week's show my job on Taxi is in jeopardy. I'm having trouble getting producers to hire me for other shows. My friends won't talk to me. The show has led to a separation from my wife. We were just trying to have some fun. Maybe I went too far."
Kaufman wasn't married. It was all another put-on. But the fight and Kaufman's second appearance on Fridays gave the show considerable press attention.
FRIDAYS SAYS FAREWELL
The second full season for Fridays began Sept. 18, 1981. Andy Kaufman was back as guest host. This time, he appeared a remarkably changed man. Dressed in a suit, his hair slicked back, Kaufman treated the crowd to his Foreign Man character and lip synched the Mighty Mouse theme. Then he was joined on stage by his fiancee, a gospel singer from the Lawrence Welk Show. They sang a duet together.
"That was the Andy Kaufman thing. He was brilliant in his own way," Moffitt said. "Andy was always trying something different."
PART FIVE: How the show ended!
And why Fridays won't be seen on DVD!
---
FRIDAYS TV SHOW
FRIDAYS - The Creators & Cast
FRIDAYS - Drugs & Death
FRIDAYS - Andy Kaufman on Fridays
FRIDAYS - The End