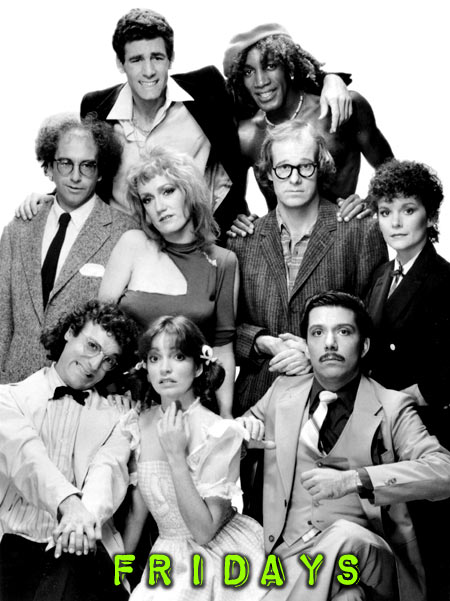 FRIDAYS - PART FIVE - HOW THE SHOW ENDED
by L. WAYNE HICKS
Read part one here
The second season of Fridays would be its last. The show would be cancelled after just 57 episodes. The killing blow came from the desire to expand Ted Koppel's Nightline to five nights a week, filling up the spot on the schedule for Fridays.
"I think that's largely the reason we got thrown off the air," Roarke said. "I do know that before that happened, I imitated Ted Koppel one night on Fridays with a big hairdo and big ears with a dress. I heard he wasn't happy about that. I don't think people in the news department and Ted Koppel are that petty. I hope not, but I heard he didn't like it."
Moffitt said Fridays was hurt by having Nightline in its time slot. The audience wasn't tuning in to Nightline waiting for Fridays to begin. "The ratings are just going down, down, down and they just called us in one day and said it was losing money."
Rather than kill Fridays outright, ABC tried another approach - a shot at prime time, with a special that aired April 23, 1982.
But the prime time edition of Fridays, which featured a performance by Paul McCartney and Stevie Wonder singing "Ebony and Ivory," aired against a rerun of Dallas, which still outdrew Fridays in the ratings. Fridays was doomed.
By then, Moffitt was ready to move on. He had purchased American rights to the British program Not the Nine O'Clock News and pitched his Americanized version, Not Necessarily the News, to ABC. Rejected by ABC, Moffitt took it to HBO, where it became the cable channel's first piece of original programming.
Fridays last aired Oct. 22, 1982. "I wish we'd been on longer," Moffitt said. "I think we would have gotten better and I would love to have had a couple of people break out from our show rather than later on. I think if we were on another year. Michael Richards would have broken out. Maybe Larry David would have broken out. Maybe somebody else would have broken out."
Tom Kramer, who wrote and directed the Friday Focus news parodies, said in an interview he thought Blankfield deserved to become the biggest star. "He reminded me of Buster Keaton. He was so likable and inventive and such a great guy to be around."
LIFE AFTER FRIDAYS
The cast fully expected Fridays to make them stars. That didn't happen. "I went to unemployment in nicer clothes," Chartoff said.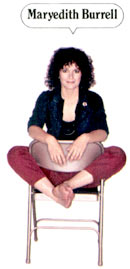 Life after Fridays has proved a mix bag for the nine cast members. Maryedith Burrell costarred in several short-lived series, including The Jackie Thomas Show and Parenthood, but lately has concentrated on writing, including the 2002 TV movie Mr. St. Nick, about Santa's son.
Darrow Igus has appeared in a string of independent films, and made appearances on several TV series, including The Steve Harvey Show, NYPD Blue and Sister, Sister.
Brandis Kemp briefly starred in the 1983 series After MASH, which followed several of the crew from the 4077th stateside, but the series was widely panned.
Mark Blankfield went from Fridays to a starring role in Jeckyll and Hyde... Together Again. And he turned in an impressive performance in a December 1982 episode of Taxi, portraying a monk who woos Elaine. But his other TV parts put him in a strange career loop. He portrayed a legally blind elevator operator in Mel Brooks' 1989 series The Nutt House. In the 1991 series Good & Evil, Blankfield played a psychiatrist who fumbled along as he got used to having recently lost his sight. And in 1993, Blankfield again played a blind character in Brooks' movie Robin Hood: Men in Tights.
Bruce Mahler appeared in a string of the Police Academy movies - the first, second, third and sixth - but in recent years has chosen to work behind the camera. He served as a assistant production manager on two recent movies, Bruce Almighty and Freddy vs. Jason.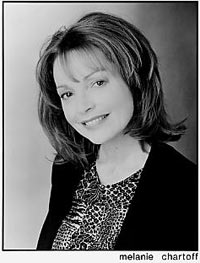 Melanie Chartoff has been heard on TV more than she's been seen. She gives voice to two characters on the Nickelodeon series Rugrats, which debuted in 1991, but she also won recurring roles on Newhart and JAG and starred in the 1990-93 Fox series Parker Lewis Can't Lose as the principal. In addition, Chartoff demonstrated her inventive mind by earning a patent in 1994 on a system that uses recycled water - from showers, for example - to flush toilets.
John Roarke continued his impression of Ronald Reagan on the Sid and Marty Krofft political puppet show D.C. Follies, where he supplied some voices, and in Garry Trudeau's musical Rap Master Ronnie. He also appeared as President Bush in the second Naked Gun movie. He busies himself these days entertaining at corporate meetings.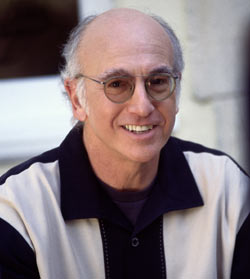 Larry David spent an unsatisfying season writing for SNL, 1984-85, during which he saw only a single one of his sketches used, but a few years later rallied to create the extremely successful series Seinfeld, with his longtime friend Jerry Seinfeld. David wrote many of the early scripts for the show and lent his voice to several characters, including George Steinbrenner. Most importantly, he based the character of the hapless George Costanza on himself. Today David is the star of the HBO series Curb Your Enthusiasm, an unscripted show in which he plays himself.
The last of the Fridays ensemble, Michael Richards, became the most visible, as one of the stars of Seinfeld.
"Knowing Jerry and Larry helped get me into the door," Richards said in a 1997 interview, "but I still had to audition to prove myself."
The set of Seinfeld proved a way station for former Fridays talent. In addition to David and Richards, Bruce Mahler, Maryedith Burrell and Melanie Chartoff all appeared on at least one episode. Fridays writers Bruce Kirshbaum, Elaine Pope and Larry Charles also wrote episodes for Seinfeld.
The history of Fridays doesn't end here. Still to come is the possible release on DVD of the entire series, including the infamous Diner of the Living Dead and Ronny Horror Show sketches. The DVD release hinges upon a solitary one of the nine - Richards.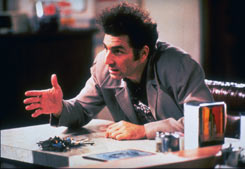 "Michael Richards was the only person that in his contract had approval that was anything that was not a rebroadcast," Moffitt said. "There's a clause in there which prevents us from doing a home video without his permission. Unfortunately, in our ignorance at the time, we signed it."
FRIDAYS TV SHOW
FRIDAYS - Part Two
FRIDAYS - Part Three
FRIDAYS - Andy Kaufman
FRIDAYS - The End