HERE'S GERALDINE
Does anyone else remember "Here's Geraldine"? It aired on WBKB, the predecessor to WLS-TV, Channel 7 in Chicago. Host was Jim Stewart (no relation to actor Jimmy Stewart).
Geraldine was a giraffe puppet. Their closing theme song was "Be Kind To Your Parents." Here's what I can recall of the lyrics:
"Be kind to your parents,
You know they deserve it...
Remember they're grown-ups,
a difficult stage of life
They're apt to be nervous and over-excited
Confused from the daily storm-and-strife
Just keep in mind
Though it sounds odd, I know,
Those parents once were children long ago.
(shouted by kids) "INCREDIBLE!!"
So treat them with patience
And sweet understanding,
In spite of the foolish things they do,
Some day you may wake up
And find you're a parent, too."
- Audrey Rosen
---
Wilma Tryka writes: "I hope someone can help me with a recurring 'memory.'

"I remember watching Here's Geraldine with Jim Stewart in the Chicago area venue of children's broadcasting. I believe he used to sing a song (I don't know the exact title) that reflected a sort of conversation between a father and child and one stanza went something like this:

LOOK THERE DADDY, DO YOU SEE
THERE'S A HORSE IN STRIPED PAJAMAS

NO - THAT'S NOT WHAT IT IS AT ALL
THAT'S AN ANIMAL PEOPLE CALL A "ZEBRA"

I SEE -
BUT IT STILL LOOKS LIKE A HORSE IN STRIPED PAJAMAS TO ME!

"If there's anyone who can furnish the lyrics for me or can tell me where to find them, I would be most appreciative (I want to teach them to my grandson). I still remember the tune. THANKS."
---
Jim Stewart: It's Light Time
Sadly, on March 28, 2001, Jim Stewart, the host/ performer and co-creator of WBKB-TV Ch. 7's 'Here's Geraldine', 'The Gloveables' and the nationally syndicated kid's religious TV show 'It's Light Time' passed away. He was 74 years old and suffering from Alzhiemer's Disease.
Mr. Stewart also produced and hosted Safariland and he MC'd 'Passage To Adventure' and 'Game Room'.
His last regular broadcasting stint was on 'A Course In Miracles' on radio station WVVX -FM where he lectured on hypnotherapy and on human potentials. His last TV appearances with the puppets from 'Here's Geraldine' and 'It's Light Time' was on a series of TV commercials for Oscar Meyer Wieners and their hand puppets/ puppet theater giveaway promos. He performed with his ex wife and former TV puppeteering partner Mrs. Bud Stewart.
'It's Light Time' was seen Sunday mornings on WNEW TV Ch. 5 in New York during the early 1960's. Mr. Stewart and his ex-wife Mrs. Bud Stewart were two very talented and caring people who were able to teach their young viewers some values and entertain them without boring or preaching to them.
---
I recently found your site and was extremely happy to find mention of my parents' television show. Unfortunately, my father, Jim Stewart died on March 28, 2001 at home in Harvard, IL from complications related to Alzheimer's disease.
The lyrics from "Be Kind To Your Parents" was from a Broadway show, "A Little Night Music", and they were quoted accurately. Much of the music and songs my parents performed were from musical theater and movies. They didn't believe in playing down to kids and attracted as large an adult audience as their children fans.
Geraldine and the other puppets, Helen Hippo, Pearl Squirrel, J.P. Alligator, and Virgil Vulture (which was made by Roy "Cookie" Brown) as well as a lot of other memorabilia was donated to the Museum of Broadcast Communications and is included in a great exhibit titled, "Puppets, Pies & Prizes".
There is also a very rare film you can view of a pilot for sponsors that was produced before Geraldine went on the air at WBKB.
Thank you for keeping our rich television history fresh in peoples minds and hearts.
- F. Chris Stewart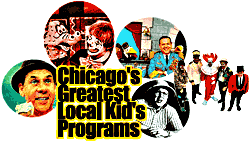 Chicago Local Kid Shows / Garfield Goose
Bob Bell's Bozo Show / Gigglesnort Hotel
Unforgettable Ray Rayner / Here's Geraldine
Chubby Jackson / More Chicago Locals

Lost Kid Shows Homepage / Shock Theater's Zacherle / Sesame Street / Andy's Gang / Sandy Becker / TV Pow! / Hilarious House of Frightenstein / The Friendly Giant / Madison's Cowboy Eddie / Who Was Doodles Weaver? / Lost Kid Show Recordings / Winky-Dink and You / Remembering Winky-Dink / Captain Kangaroo / The Old Rebel Show / The Soupy Sales Show / Walt Disney's Shows / The Magic Garden / Mad Mad Monster Party / Houston Local Kid Shows / Boston Local Kid Shows / Fabulous Sally Starr / New York City Locals / More New York City Locals / Tooter the Turtle / Crusader Rabbit / Paul Winchell and Jerry Mahoney / Alex Toth's Television Work / Diver Dan and Whirlybirds / Sonny Fox's Wonderama / The Pinky Lee Show / Bizarre Kid Shows / Chicago's Kid Shows / Chicago's Ray Rayner Show / Garfield Goose and Friends / Bob Bell's Bozo Show on WGN / Bill Jackson's Shows / Gigglesnort Hotel Memories / Bob McAllister's Wonderama / Cincinnati Local Kid Shows / More Cincinnati Locals / Make A Wish / Hot Dog / Supermarionation Puppet Shows / Philadelphia Kid Shows / Philly's Captain Noah / The Chief Halftown Show / Philly's Gene London / Bertie the Bunyip / Dickory Doc / Adam Android / LA Kid Shows / The Merry Mailman / Do Do The Kid From Outer Space / Romper Room / Romper Room Around the USA / St. Louis Kiddie Shows / Religious Kid Shows / San Francisco Local Kid Shows / Johnny Jellybean / Johnny Jupiter / Shrimpenstein / Uncle Fred Sayles / Raleigh's Uncle Paul / Shenanigans and Video Village / Pip the Piper / Thanksgiving Day Cartoon Specials of the 70s / Monster Movie Matinee / Big Blue Marble / STM Club / Popeye on TV / Cleveland Local Kid Shows / Wixie's Wonderland / Jet Jackson and Sky King / The Original Animated Hercules / Ruff & Reddy