Anatomy of My Television Crushes

by Ervin Anderson

I was 11 years old when I had my first television crush. I'd just learned at 10 that I wouldn't be allowed to marry my mother—apparently, that sort of thing is not only frowned upon, it's also illegal—so it was time to move on, time to find a new woman. It didn't take long for me to pick a replacement. My new crush was on television every Saturday night at 8:30.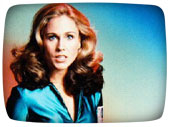 Her name was Kate Summers (Erin Gray) and her show was "Silver Spoons." Okay, maybe it wasn't her show, but for me she was the star. Kate was tall, brunette, motherly yet still sexy, and wore lots of sweaters. On the show, she was the sensible one, always keeping the boys in line. Kate looked exactly like Wilma Deering from "Buck Rogers," but no one on "Silver Spoons" ever mentioned the resemblance. My hormones hadn't yet kicked in. I didn't even know what boys were supposed to do with girls. I just knew I wanted to marry Kate Summers, and also have a house full of arcade games, just like Kate's future son-in-law Ricky Stratton. Unfortunately, once puberty kicked in, I ditched Kate faster than the Cunninghams ditched Chuck on "Happy Days."
At twelve, I found a new crush, tomboy Samantha (Lara Jill Miller) on "Gimme a Break," a not-so-bright but sweet character who believed that kissing a boy on the mouth could get you pregnant. She was 13 and had yet to mature, her voice like a children's doll come to life. I'd just discovered what boys were supposed to do with girls—hold hands and smooch—from my public school classmates, and I desperately wanted to hold Sam's hand and kiss her lips, while skillfully avoiding her dangerous-looking braces. Sam had a hot blonde older sister named Katie (Kari Michaelson), but I wasn't yet old enough to appreciate a woman with curves. I spent a wonderful year fantasizing about all the innocent fun I'd have with Sam, until I learned the truth about the birds and the bees, then I moved on yet again, like Dr. Banner in "The Incredible Hulk," my inner-beast ready to bust out.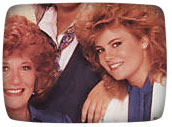 I was 14 when I first started crushing on Jo Polniaczek (Nancy McKeon), the tough-but-lovable, motor cycle-riding Eastland girl on "The Facts of Life." I liked her potty mouth, her penchant for cracking wise. It was the first time I'd fallen for a girl on tv who wasn't wholesome. My friends and I all thought she was the promiscuous one in the bunch. She worry baggy clothes, but it was clear she had some terrific curves beneath all that material. Who would've guessed that it would be Natalie (Mindy Cohn) who'd be the first of the Eastland girls to lose her virginity years later? Looking back, I wonder if Jo really liked boys at all. I'm sure that if "The Facts of Life" were re-imagined for today's 2009 viewing audience, Jo would be a lesbian. But back then, she was simply the smart-mouthed girl of my dreams. But I soon found someone even cooler than Jo, not Fonzie cool, but hipster cool.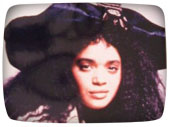 My eyes and heart quickly turned to Denise Huxtable (Lisa Bonet), on "The Cosby Show." She was a bohemian, a peace-loving, stylish, adorable, sometimes grumpy but always pretty girl. Denise loved fashion and music, and I imagined her opening up all sorts of cultural doors for me, between our heavy make-out sessions. Denise managed to be a "bad girl" without ever actually doing anything all that bad. But she would end up disappointing her parents over and over, which was inevitable, since her father was a doctor and her mother a lawyer. She would then disappoint me by marrying a boring dude named Martin. My taste in women soon evolved, though, and suddenly things like brains and style didn't mean as much as a nice tight sweater.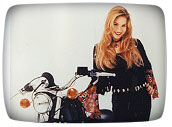 Yes, it's true, I fell for Kelly Bundy (Christina Applegate) from "Married...with Children." Sure, Kelly wasn't the smartest fuse in the tv set, but she was funny, bleach-blonde, and wore increasingly-tight clothing. Not only was Kelly kind of dumb, but she seemed to get progressively dumber as the series progressed, but, to be fair, so did every character on the show. At 17, though, I must admit that a woman's intelligence was far down on my list of noticeable features. I had to say goodbye to Kelly not long after my crush began, though, but not for another television beauty. No, this time I moved on to a real-life girl. I snagged my first girlfriend, and had to let my stand-in tv girlfriends go. Fantasy girls were nice, but they couldn't compare to actual kisses from a three-dimensional, sweet-smelling, soft girl who existed in my small New Jersey town and not just in a little box in my living room.
The problem with most real girlfriends is that they come and go, and they change. As the years move on, as real-life girlfriends disappear or become unrecognizable, it's nice to know that my tv crushes will always be there, just as they were when I was a kid. Kate, Sam, Jo, Denise, Kelly, and all the rest will always be just a click away. They'll never change. They'll always be funny and gorgeous. My old girlfriends are long gone, but my tv crushes are forever, and I'll always know right where to find them.
THE EIGHTIES: EARLY EIGHTIES NETWORK PROMOS / TV 1986 / WOODY HARRELSON AS WOODY ON CHEERS / FALCON'S GOLD: CABLE TV'S FIRST MOVIE / BILL & TED'S EXCELLENT ADVENTURES SITCOM / MOST UNEXPECTED MOMENT IN TV HISTORY / FALCON CREST / THERE ARE FUNNY EPISODES OF MAMA'S FAMILY - HONEST! / IT'S A LIVING / THE GOLDEN PALACE / PAUL McCARTNEY vs MICHAEL JACKSON / HOW NBC GOT ITS GROOVE BACK / 1980's WCW WRESTLING / ALAN ALDA DISCUSSES THE M*A*S*H FINALE / I WAS ALMOST CUJO IN THE STEPHEN KING MOVIE / 1986-87 TV SEASON / 1988-89 TV SEASON / 1990-91 TV SEASON / 1991-92 TV SEASON / WHY SHELLEY LONG LEFT CHEERS? / JASON ALEXANDER BEFORE SEINFELD / PEOPLE vs JEAN HARRIS / TROUBLED 1980-81 TV SEASON / "KISS MY GRITS" FLO HAD HER OWN SHOW? / CULLY HOLLAND / ONE SEASON WONDERS... THAT GOT RENEWED! / DWIGHT SCHULTZ ON WORKING WITH GEORGE PEPPARD / DEMPSEY & MAKEPEACE / THE BAXTERS / G.L.O.W. / FRIDAYS / GREATEST AMERICAN HERO / Great 1983 Carson Tonight Show / EARLY '80s TV COMMERCIALS / LOST MOVIE POSTERS /RICH HALL /FILTHY RICH/1980's TV WRESTLING STARS / TV DADS / FOX'S JOAN RIVERS / CHEVY CHASE DEBACLES
TV on DVD/ /Holiday Specials on DVD
TV Commercials on DVD
TV Shows on BLU-RAY