* Classic TV Blog *
Your host: Billy Ingram

SUNDAY YOU TUBING
When I was a kid I would get up earlier on Sunday mornings and move the TV antennae around until I could pick up a station a hundred miles away and watch Laurel & Hardy, Bowery Boys, and Popeye shorts along with old sci-fi films.
Here's a bit from an interview with Leo Gorcery of The Bowery Boys, one of my favorite movie shorts series that were occasionally seen on TV in the 1950s & '60s. He talks about Ernie "Sunshine Sammy" Morrison, the token black in the series that left during WWII but declined to return to the film series after the war.
After the shorts proved a hit on TV (there was very little else to watch) it was decided to make new Huntz Hall and Leo Gorcery Bowery Boys-style movies but the deal fell through.
This 1956 home movie footage purports to be the last time Stan Laurel & Oliver Hardy were seen in public together and the last footage shot of the duo. The first part was shot at Hardy's home in North Hollywood, the second at Stan's in Tarzana, California. Note how thin Oliver Hardy is here, he weighed only 112 pounds when he died.
Sunday, December 30, 2007 - 8:03am
WOULD YOU LIKE TO RESPOND?
NEW YEAR'S STUFF
It looks like CBS will be rerunning the second season of Dexter which earned record audience numbers for its season finale on Showtime. If you haven't caught this excellent series yet you're in for a treat.
VH1 will be offering a half-hour Classic 60 Minutes featuring show biz interviews and some new material.
TVparty-er Charlie has posted a list of U.S. cable stations airing TV show marathons on New Year's Eve and New Years Day (some classics are airing).
Friday, December 28, 2007 - 10:58am
WOULD YOU LIKE TO RESPOND?
R.I.P. JACK LINKLETTER
Kevin S. Butler writes: "TV host Jack Linkletter, the son of radio and television personality Art Linkletter is dead. He died on December 10, 2007 having lost his battle with cancer.
"Jack Linkletter hosted such 1960's shows as Hootenanny, a folk music series on ABC Saturday nights, and talk shows like On The Go and Here's Hollywood on NBC.
"Among the many performers that he interviewed on Here's Hollywood were Bud Abbott and The Three Stooges (he also interviewed the Stooges for On The Go). He co-hosted Life With Linkletter with his famous father during the 1969-70 season. This is the second tragic loss for Mr. Art Linkletter, his daughter Diane died from a drug induced suicide in the 1970s."
Jack Linkletter was a very talented interviewer, Hootenanny was remarkable and, for some reason, I have fond memories of watching Life With Linkletter as a kid. I suppose it stems from watching it as a young boy while taking a break sledding on a snowy, school-closed day. I can still remember drying our frozen gloves on the radiator and watching Life With Linkletter and thinking how modern it seemed for daytime TV. Here's the info and video clips (in Real Player format) I have from the TVparty 1969 tribute:
Life With Linkletter
Art Linkletter hosted the very popular CBS afternoon talk show House Party from 1952 until the fall of 1969. On December 29th, 1969 NBC launched Life With Linkletter pairing Art with his son Jack, who had hosted Hootenanny a few years earlier on ABC. This new program (airing 1:30-2:00pm) was more high tech and up to date than stodgy House Party had been, with an emphasis on politics and world events along with the expected celebrity interviews.
In this sample, Art and Jack welcomes guests Herb Klein, communications director for the Nixon administration and boxing champion Sugar Ray Leonard. (Art Linkletter was a Nixon friend and insider.)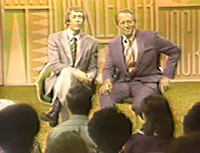 In this clip, Herb Klein remarks about one of the first things Nixon did upon taking office - it has to do with television.
Sugar Ray Robinson tells Art how he ran through millions of dollars and was now broke.
Life With Linkletter never caught on and was cancelled in the fall of 1970. Despite a run of 18 years on network daytime TV, Art Linkletter never hosted another network TV series, in part due to his fervent, heart-breaking anti-drug crusade following his daughter's death. In October of 1969 Art's daughter Diane Linkletter (who was featured on the last season of the previous series when it was re-titled The Linkletter Show) made headlines when she committed suicide by jumping to her death during an acid trip.
Chances are this is the only surviving episode. Thanks to A.J. McWhorter from Television Archives for the ultra-rare footage!
Thursday, December 27, 2007 - 8:58am
WOULD YOU LIKE TO RESPOND?
FUNNY
What would happen if a commercial director got Santa into a recording booth to record his trademark "Ho Ho Ho?' Holarity!
Merry Christmas! Is it over yet?
Tuesday, December 25, 2007 - 8:18am
WOULD YOU LIKE TO RESPOND?
HO HO HO!
Check out this article on how Christmas tunes pay off big for recording artists over the years.
One of my favorite Christmas comedy skits of all time is from the Carol Burnett Show when Eunice, Ed and Mama celebrate the holiday. That clip isn't on You Tube but here's an early family skit that fits with the season.
Monday, December 24, 2007 - 9:13am
WOULD YOU LIKE TO RESPOND?
Latest TVparty
Classic TV Blog Entries
TV BLOG - 57
TV BLOG - 56
TV BLOG - 55
TV BLOG - 54
TV BLOG - 53
TV BLOG - 52
TV BLOG - 51
TV BLOG - 50
TV BLOG - 49
TV BLOG - 48
TV BLOG - 47
TV BLOG - 46
TV BLOG - 45
TV BLOG - 44
TV BLOG - 43
TV BLOG - 42
TV BLOG - 41
TV BLOG - 40
TV BLOG - 39
TV BLOG - 38
TV BLOG - 37
TV BLOG - 36
TV BLOG - 35

TV BLOG - 34
TV BLOG - 33
TV BLOG - 32
TV BLOG - 31
TV BLOG - 30
TV BLOG - 29
TV BLOG - 28
TV BLOG - 27
TV BLOG - 30

TV BLOG - 29
TV BLOG - 28
TV BLOG - 27
TV BLOG - 26
TV BLOG - 25

TV BLOG - 24
TV BLOG - 23
TV BLOG - 22
TV BLOG - 21
TV BLOG - 20
TV BLOG - 19
TV BLOG - 18
TV BLOG - 17
TV BLOG - 16
TV BLOG - 15
TV BLOG - 14
TV BLOG - 13
TV BLOG - 12
TV BLOG - 11
TV BLOG - 10
TV BLOG - 9
TV BLOG - 8
TV BLOG - 7
TV BLOG - 6
TV BLOG - 5
TV BLOG - 4
TV BLOG - 3
TV BLOG - 2
TV BLOG - 1
---
'TVParty.com, a TV history website... its links to Amazon.com help sell TV DVDs."
- Boston Globe,
1 / 07
"All the coolest, strangest, most absurd shows and peculiar tube trends ever -- they're all part of the wallow that is TVparty!"
- Diane Wertz, Newsday, 7 / 07
'A twisted walk
down memory lane!'
- Sharon Edry, TV Guide
'Top Five Sites - Interviews and articles... are must reads.'
- London Sunday Times
'It's too good to be true. Put together by Billy Ingram, TVparty.com has gossip, scandal, sex, singing, dancing, action, drama and celebrities with their 'original parts''
- LA Times
'An ingenious tribute that elevates the TV past to artlike proportions. Site guru Billy Ingram has compiled features both over-the-top and museum worthy, blissful nostalgia for those born in the '40s or the '80s. A+
- Entertainment Weekly
'Every decade expresses its kooky collective unconscious on the tube, celebrated affectionately at Billy Ingram's TVparty. Ingram provides a hilarious glimpse into the American pop psyche.'
- Yahoo
'TVparty is hands down the best site on the Web for classic TV.'
- Discovery Channel
'Get the inside scoop on all your favorite classic TV shows at TVParty.'
- USA Today