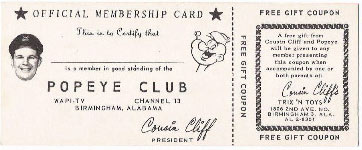 Cousin Cliff Holman
WAPI-TV channel 13 Birmingham, Al

A veteran magician and pantomimic since his teens, James Clifton Holman, Jr. began performing while still in high school on radio (as a comic/character actor and mimic) and with a singing team The Novelaries. In 1950, Cliff Holman made his TV debut as a puppeteer on a local series, 'Mr. Bingle.'
Holman performed with the puppet Mr. Bingle in an early version of an "infomercial" for the toys that were being sold during the 1950's Christmas Clearance Sale at Loveman's Department Store.
'Mr. Bingle' was seen in the Birmingham, Al. viewing area from Monday, November 20th until Friday, December 22, 1950. After a stint serving in the military, Holman and his wife operated a dairy; he returned to TV for WABT channel 13's 'Tip Top Clubhouse as "Cousin Cliff" on March 15, 1954.
Sporting a black, long-tailed cutaway coat, stripped t-shirt, bow tie and a black top hat with a white rabbit sticking out of the crown, Cousin Cliff engaged his viewers and studio audiences with magic tricks, puppet skits, riddles, contests, lip syncs and "Crayon Capers" where Holman would draw simple cartoons and add humorous commentary about the images.
The series was retitled 'Cousin Cliff's Clubhouse' on September 7, 1956 and the host changed his costume to a striped shirt and pants. The series was a big hit with the kids and Cousin Cliff was in high demand for personal appearances and charities like The March Of Dimes, United Cerebral Palsy and he Muscular Dystrophy Association.
Cousin Cliff Holman was one of the first local kid's TV performers to promote the MDA Backyard Carnival program.
Cousin Cliff (and the other local TV hosts around the country) asked the kids at home and in the studio audience to send away for the kit and put on a carnival in their backyard with the proceeds going to The Muscular Dystrophy Association.
Cousin Cliff even hosted a genuine carnival with real rides, games, food concessions and entertainment for MDA outside the WAPI-TV 13 studios during the 1960's. The carnival featured real rides, games, food concessions and entertainment with all of the proceeds going to MDA. Cousin Cliff continued to promote The MDA Carnival kits project until the early 1970's.
This show screened Little Lulu, Crusader Rabbit and Casper, The Friendly Ghost movie cartoons. Mrs. Ann Holman manipulated the many animal puppets that appeared on the program including a popular segment featuring the antics of "Kim" (a boy puppet) and "Corky" (a not-too-bright character).
Cousin Cliff continued with his WABT Clubhouse until September 15, 1958 when Holman began his long association with Popeye the Sailor.
Working against a simple flat and sporting a nautical cap, Cousin Cliff performed magic tricks, puppet skits and engaged his studio audiences in games, hobbies, informational segments and interviews with guest performers, personalities and members of the audience.
For a time, Holman added the cinematic antics of The Three Stooges to his show's format. 'The Popeye / Three Stooges Show' became very popular; by 1962, a more elaborate backdrop was added and Birmingham's youngsters could celebrate their birthdays with Cousin Cliff. The supporting cast included "Spongehead", "Little George" Fitchner and "Boo Boo" (the equally evil cousin of Popeye's arch foe Bluto) played by channel 13 staffer Thomas Adams.
'The Popeye Show' was Birmingham's highest-rated children's show, continuing until 1972 when Cousin Cliff's program became a victim of Action For Children's Television (ACT) drive to change local kid's TV fare.
Holman left for other venues but returned on the Alabama Cable TV Network on April 15, 1985. His new show was so successful that a year later he MC'd a second series for WDBB TV channel 17 in Tuscaloosa where he screened Tom & Jerry and Looney Tunes movie cartoons.
Unfortunately, ACT revived the Children's TV Bill in 1990 and Cousin Cliff was forced to remove cartoons and commercials from his show. His program moved to the local zoo where he used magic tricks to teach viewers mathematics but eventually the Alabama Cable TV Network was forced to pull the plug on 'The Cousin Cliff Show.'
Beloved kids' star 'Cousin Cliff' Holman died of Alzheimer's disease Monday night, September 8th.
From the Birminghan News: "He's such a sweet guy," his daughter Lynn Brown said Monday night. "We're going to miss him so bad. He was good to all of us. He was just a good man. I'm going to miss him - corny jokes and everything."
---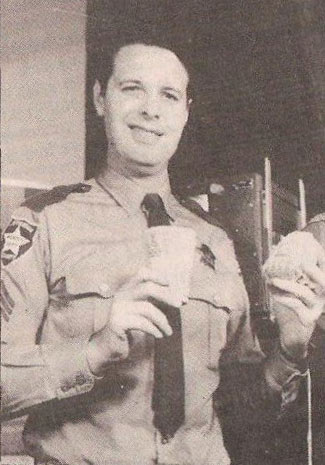 Sergeant Jack
WAPI-TV channel 13 Birmingham, Al
ABOVE: "Sgt. Jack" (the late Neal Miller) hosted 'Popeye' and 'Mr. Magoo' in Birmingham, Al in the mid-seventies. He was one of the last working local kid show hosts in the country.
Sgt. Jack took over after "Cousin Cliff" Holman's run as Popeye's host.
---
Local Popeye Shows:
Los Angeles / Miami / Pittsburgh / Wichita, KS / Baltimore / Springfield, MA / NYC / Birmingham / Cleveland / Detroit / Philadelphia / Richmond / Other Local Popeye Shows
Do you have info or
photos from these shows
we can add to the site?