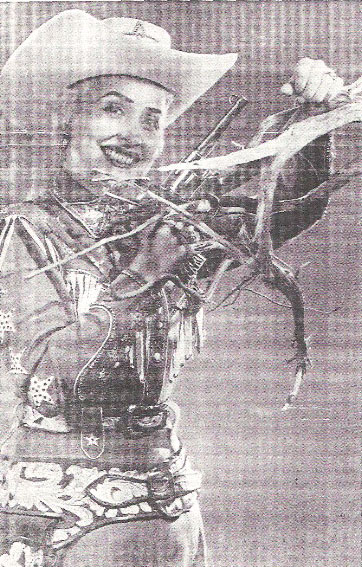 Sally Starr
WFIL / WPVI-TV channel 6 Philadelphia, PA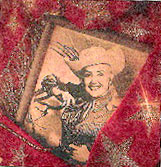 ABOVE: A rare photo of Ms. Sally Starr - "Our Gal Sal" - of Philly's 'Popeye Theater.'
---
"Sally Starr started at about 4PM in the afternoon (after American Bandstand) till 6PM. The old show was called 'Popeye Theater' with a giant cut out of Popeye wearing a cowboy suit. (I wish I had that now!!) Her opening line was "I hope ya feel as good as ya look to your gal Sal" and closed with, "May the Good Lord be blessing you and your family, bye for now!" She never talked down to her audience, you knew she was sincere." - Will Hill
---
"I just finished reading your article about Sally Starr. Being from Philly, and watching her every day when I was growing up; BOY did that bring back a lot of memories!!! But; I just want to share with you & your readers some of my memories of her and the Popeye Theater. First off; she was my first exposure to the 3 Stooges (who I'm still interested in-they're all dead, by the way). Someone else mentioned that Larry (the one with the fuzzy hair) was also from Philly. (South Philly - his house is still there); but did you know another one of them was also from Philly? Joe Besser was from West Philly.
"But I don't remember her ever interviewing them. Or having them on the show. I didn't know that she's still around; that's good to know. I may write her a fan letter. I saw her in person once; back around 1987 or '88. It was at a 3 Stooges convention - she's also a fan of them; and was in one of their movies. She was giving autographs; but I didn't get one - I forget why. But, she was sharing her memories of the Popeye Theater; and doing TV in Philly and showing the 3 Stooges. She'd had a fire in her house a few years earlier and was saying that one thing she lost that she was really upset about was a trailer she had for the Stooges' movie that she was in. She was also saying that there was going to be a scene with her on horseback (the movie was a western) where a little boy asked her something and she was supposed to say something like 'Get outta here, kid. Ya bother me!' But she refused to do that scene because she was a kiddie show host."
- Joe Kienlen
---
Local Popeye Shows:
Los Angeles / Miami / Pittsburgh / Wichita, KS / Baltimore / Springfield, MA / NYC / Birmingham / Cleveland / Detroit / Philadelphia / Richmond / Other Local Popeye Shows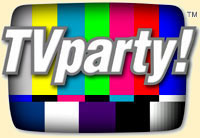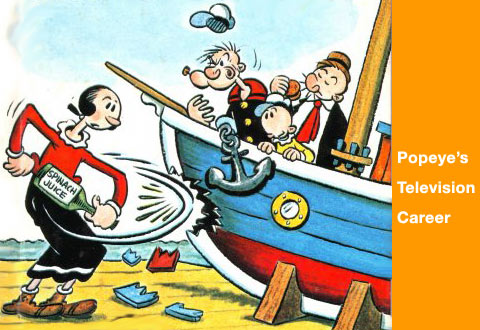 Popeye TV Hosts
Around the Country
by Kevin S. Butler

PR4 & PR5 Pages for ads - CHEAP!
TV on DVD
Holiday Specials on DVD
TV Commercials on DVD

Incredible Values - Blu-ray players, movies, PlayStation 3 consoles
Everything you're looking for is here:

DID YOU KNOW:
Sally Starr is on the web
- sallystarr.net
---