OTHER POPEYE
TV SHOWS AROUND THE USA
The Old Rebel featured Popeye cartoons for much of his 27 years on WFMY-TV in Greensboro.

VIDEO:
Old Rebel
Retrospective
In the Washington, D.C. viewing area, Lee Reynolds ("Grandpa" of WTTG-TV channel 5's 'Grandpa's Place') began hosting 'The Captain Tugg's Show' on WTTG in the late 1950's.
Sporting a beard, captain's cap, turtleneck sweater and working from inside of the pilot's room of a tugboat, "Capt. Tugg" entertained viewers in framing segments between the cartoons.
In 1964, the show underwent a title changed to 'Capt. Lee's Pleasure Cruise' then later became 'Capt. Lee and his Mates.'
Providence, RI Popeye Show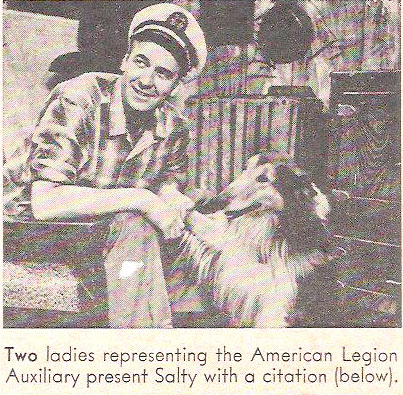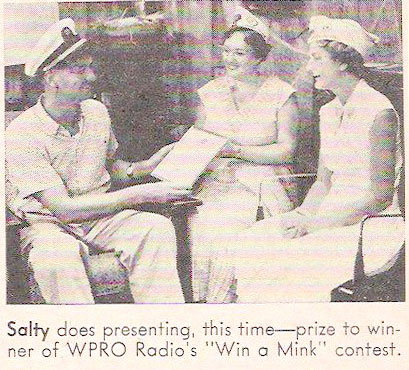 Salty Brine & his dog Jeff.
KRON TV in San Francisco, CA aired 'The Skipper Bruce Sedley Show.' Ventriloquist and TV personality Bruce Sedley's "Skipper Bruce" MC'd his show from the late 1950's until the early 1960's; then helmed 'The Sir Bruce Sedley Show' on KTVU where he hosted reruns of The Three Stooges films.
Entertainer and radio/TV broadcaster Hal Fryer donned a captain's outfit as he entertained the kids of Youngstown, Ohio on 'The Captain Hal Fryer Show' on WFMJ TV channel 21.
Mr. Fryer eventually jumped ship and headed for Indianapolis, Indiana where he gained more success as "Harlow Hickenlooper" on 'The Harlow Hickenlooper Show' on WFMB TV channel 6; there he hosted the cinematic antics of The Three Stooges.
In the Dallas/Fort Worth, TX viewing area, KFJZ (now known as KVTV) TV channel 11 had a fellow named George Nolan playing "Capt. Swabby" with a puppeteer named Dick Clayton who worked with two mud turtle puppets, "Mickey" and "Michelle."
Sioux Falls, S.D. weatherman David Dedrick began a long assignment during the late 1950's as futuristic superhero "Captain 11" on KELO channel 11. He retired from the series in late December of 1996. Captain 11 entertained a studio audience of kids between reruns of Popeye cartoons but switched to the Hanna-Barbera cartoon package in the late-1960's.
My friend Mr. Rex Trailer reran the Popeye movie cartoons on his Boomtown show on WBZ TV in the Boston, Ma. viewing area.
The films were screened on the Popeye Playhouse Show weekday evenings with local TV personality "Skipper Al" (no known last name) was the series' host on WFGA TV Channel 12 in Jacksonville, Fla.
CINCINNATI: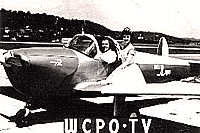 - Hal Erickson writes: In 1960, WCPO acquired the new King Features package of made-for-TV POPEYE cartoons for a daily Bob Shreve series, with Shreve sitting in a makeshift canoe, trading wisecracks with a stuffed eagle named "Bird-uh." This show was WAY over the kid's heads, with Shreve telling risque jokes, doing Perry Como and Lawrence Welk imitations, and making insulting remarks about the cartoons.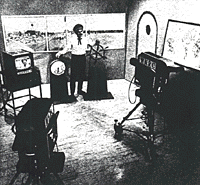 Meanwhile, the original theatrical POPEYES were being shown on rival station WKRC. In the morning, the station featured an hour-long kid's show, POPEYE & BILLY (the actual name of the host escapes me).
In the afternoon, Popeye appeared on THE SKIPPER RYLE SHOW, hosted by WKRC announcer Glenn Ryle, who did his show from a set resembling the control room of an old-fashioned riverboat.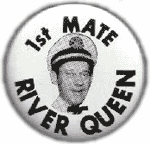 On Sundays, Skipper Ryle emceed a two-hour audience-participation show, with games, stories and cartoons. I remember that Ryle was kind of cranky and on occasion stopped the show to chew out a particularly unruly kid.
Popeye and Pals on WXON in Detroit from 1989.
---
The Officer Don Popeye Club was on WSB TV Channel 2 in the Atlanta, Ga. viewing area.
---
The Popeye Show from New Orleans circa 1988 with host Matt Borel.
---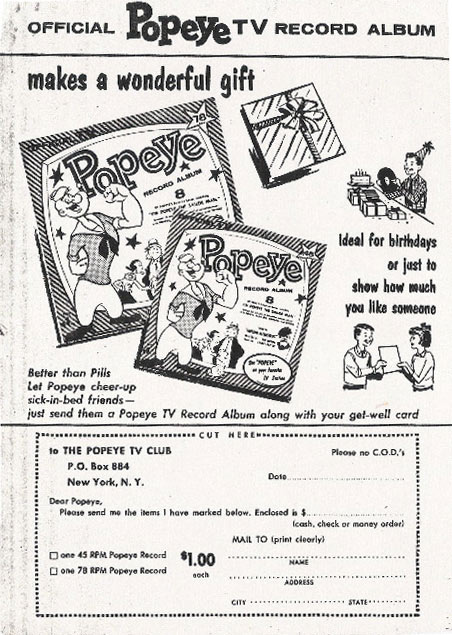 ABOVE: Better than pills???

The Popeye TV Album was a hit with kids across the country. Here's the Popeye Song sung by Jack Mercer, the voice of Popeye.
---
Local Popeye Shows:
Los Angeles / Miami / Pittsburgh / Wichita, KS / Baltimore / Springfield, MA / NYC / Birmingham / Cleveland / Detroit / Philadelphia / Richmond / Other Local Popeye Shows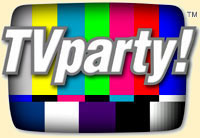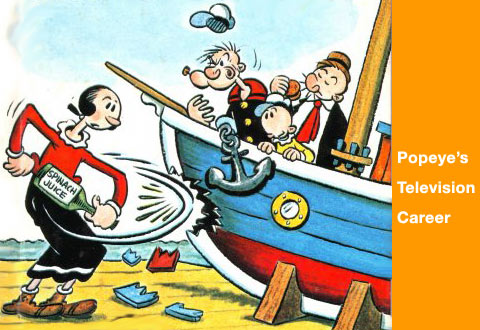 Popeye TV Hosts
Around the Country
by Kevin S. Butler
PR4 & PR5 Pages for ads - CHEAP!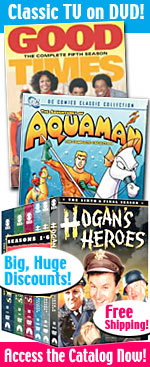 POPEYE FACTS:
The comic strip Thimble Theater was renamed Popeye in the 1970s.
There is a chain of Popeye's Fried Chicken in some areas of the U.S. - but do they have spinach on the menu?
The first Popeye cartoon debuted on July 14, 1933 entitled Popeye the Sailor. Eugene the Jeep made his first appearance in the cartoons on April 1, 1936.
Bluto's name was changed to Brutus when the cartoons were made for TV by King Features Syndicate.
Popeye's nephews were named Pipeye, Peepeye, Poopeye and Pupeye.
Catalog of all Classic TV Shows on DVD
TV on DVD
Holiday Specials on DVD
TV Commercials on DVD
TV Shows on BLU-RAY

Incredible Values - Blu-ray players, movies, PlayStation 3 consoles
Everything you're looking for is here:
---
Do you have info or
photos from these shows
we can add to the site?