The Perfect Fool:
The Life and Career of Ed Wynn
Review by Billy Ingram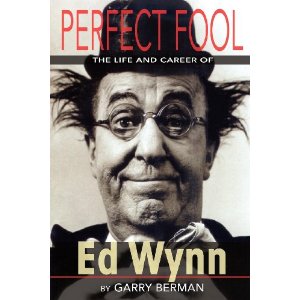 Woe be it to the biographer who writes about the forgotten genius - and that's just what Garry Berman has wrought with his new biography, The Perfect Fool: The Life and Career of Ed Wynn.
Light on pretension, long on facts and anecdotes, Berman provides a sweeping look at one of Hollywood's most respected, most talented but least remembered superstars.

In case you don't know this legendary performer, Ed Wynn became known in the radio days as the Texaco Fire Chief, the star of one of radio's most popular variety shows. This after a successful career in Vaudeville. He was as big a star as Bob Hope or Jack Benny during the glory days of audio entertainment but his persona was a lot more loquacious and frenetically bizarre.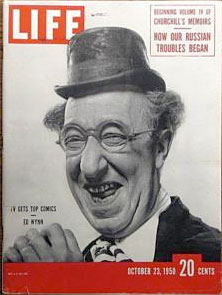 Hence the 'Fool' appellation as opposed to being categorized as a comedian or a clown. They're different things, as evidenced by this LIFE magazine cover from 1950, shot when Ed Wynn was making the transition to the new medium of television. It wasn't until Jim Carey came along decades later that the public embraced such an extreme Fool again.

Wynn had limited success on the small screen at first but quickly and unexpectedly made an unlikely transition to a second career as a dramatic actor. A brilliant one at that, if you ever saw the Twilight Zone episode 'One for the Angels' where a small time salesman is visited by Death and has to get his priorities in order - that was Ed Wynn. In fact, Serling wrote that first season episode especially for the actor. He was also cast as the old man who thinks he'll die if his grandfather clock stops ticking in another Twilight Zone storyline, 'Years Without Slumbering.'

Illustrated with plenty of lively pictures, The Perfect Fool: The Life and Career of Ed Wynn shines a light into the musty forgotten crevices of the entertainment business and the result is a solid, entertaining, and detailed biography of a seminal American entertainer. A time capsule of an earlier form of entertainment, classic TV lovers will enjoy Berman's coverage of Wynn's innovative television productions and will appreciate the breezy tone that makes this book such a satisfying read.
Order here from Amazon! / BearManorMedia.com