EDIE ADAMS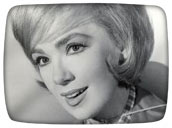 Kevin Butler writes: TV comedy and music has suffered another loss - character actress, mimic and singer Edie Adams, the widow of TV comedy pioneer Ernie Kovacs, is dead. Ms. Adams left us October 15th; she was in her 80s, suffering from pneumonia and cancer.
She performed on numerous TV shows and Broadway musicals (most notably Lil' Abner and Wonderful Town and on her husband's TV programs.
Ms. Adams also appeared in many films including The Apartment with Jack Lemmon and It's A Mad, Mad ,Mad, Mad World. Following her husband's death in a car crash in the winter of 1962, she was forced to work off her husband's debts to the IRS. She fought hard to regain the rights to Ernie's TV shows and re-released them to the home video market.
In addition to appearing on tributes to her husband, Ms. Adams' only major TV performance in later years was in the made for television movie Ernie Kovacs: Behind The Laughter which was based on the real life story of Kovaks trying to locate his two daughters Bette and Kippie who were abducted by his ex wife.
Of all of her television appearances Edie Adams' most memorable was when she sang 'That's All' on the very last installment of The Lucy/Desi Comedy Hour in 1961. Her performance of this sad ballad moved everyone on the set of the show to tears.
Ms. Adams three daughters - Mia Susan, Bette Kovacs, Jr. and Kippie have passed away. She is survived by a son from another marriage.