Access our
extensive catalog
of classic TV shows
on DVD!
---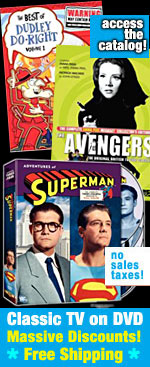 Access our
Classic TV
Catalog Now!
---
TV Guide's Tammy Grimes Show Page, with TV Listings, Photos, Videos, Exclusive News and More.
THE TAMMY GRIMES SHOW

"Dear Billy;
There's one show that I've checked for in a couple of "lists everything" TV books, and it was not listed, 'The Tammy Grimes Show'. The unique aspect of it was that it only aired for only four episodes in 1966. That doesn't sound so remarkable now, because today networks don't give shows much of a run, but this was one of the few times that practice had ever occurred.
Tammy Grimes had quite a TV career before this series was aired, but the show didn't make it and she was relegated once again to supporting roles. New shows were heavily hyped back then, so it was a shock when it disappeared so quickly."
- John Wilson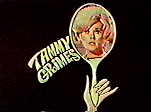 YOU were shocked, John - imagine how Tammy Grimes must have felt. She's barely been heard of since (except as one of the most recognizable voice-over artists of the Seventies and Eighties).
Take the premise of one top-five rated show ('The Lucy Show') and add the executive producer of another top-rated show ('Batman') and what do you get?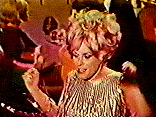 The Tammy Grimes Show (September 8 - September 29, 1966) starred Broadway actress Tammy Grimes as a young, 'Madcap' heiress who loves to spend large amounts of money frivolously.
Trouble is, her holdings are closely guarded by banker Uncle Simon (Hiram Sherman), her prissy twin brother Terence (Dick Sargent) who also works at the bank, and the nosy housekeeper.

Ironically, series co-star Dick Sargent took over the role of Darin on the program that followed this one on Thursday nights - 'Bewitched'. (In fact, Tammy Grimes was one of the original choices to play Samatha on the same show!) Tammy Grimes turned up in later years in lots of guest-star roles on shows like 'Love American Style', 'The Snoop Sisters' and a bunch of TV-movies over the next couple of decades but never starred in another series.
Several episodes of 'The Tammy Grimes Show' were filmed but never broadcast when the show was abruptly cancelled.
ABC contacted game show producer Chuck Barris for a quick fix - "could the Dating Game make the transition from daytime to prime-time" they wondered? It could, and ratings were so high the 'Newlywed Game' followed a few months later.
Please consider a donation
so we can continue this work!

Amazon Prime - unlimited streaming
of your fave TV shows and movies!
Get your FREE 30 Day Trial!
PR4 & PR5 Pages for Advertising