the men from shiloh
NBC - 90 minutes
September 16, 1970 - September 8, 1971
24 episodes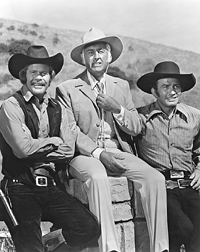 by Paul Arnold Green
As Virginian fans viewed the opening title sequence of 'The Men From Shiloh', they knew that the old and much loved show had gone forever. Jack Cole's visuals, consisting of a mixture of authentic western stills and early seventies lower case typography served as a backdrop to Ennio
Morriconne's stylish theme. Not since 'The High Chaparral' had there been a more memorable title sequence to a TV Western series. Expectations for the show were high. But viewers would soon become disappointed and frustrated by the new format.
The setting had moved forward in time to the early years of the twentieth century. The latest owner of Shiloh Ranch in the form of Colonel Alan MacKenzie, played by Stewart Granger, was in residence. His manner was formal as becoming a former Indian military academy member. He even had his own batman (John McLiam as Parker). The Virginian had longer sideburns and Trampas a moustache. Lee Majors was Roy Tate, a ranch hand, en route from The Big Valley to a bionic body. The feminine touch was sorely lacking.
Universal was producing a show at the time called 'The Name of the Game'. Stories rotated between different characters that shared the same show, but rarely interacted. Unwisely the producers on 'The Men From Shiloh' adopted the formula. Trampas and the Virginian appeared in different storylines, each with a different producer. Lee Majors was rarely given a chance to make an impression and the Stewart Granger storylines were stolid and unmemorable. Granger often lacked warmth in his role and expressed dissatisfaction with the show. "I created the role myself and the episodes took ten days at a time to shoot. But I have to say again I did not enjoy doing the show. I hate doing TV. It's all rush and dash and you work too many hours. It is done too quickly, so there is no quality in a show."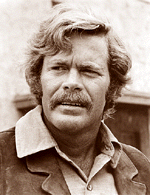 Granger's dissatisfaction also included fellow cast members. On the set he was reported to be at odds with James Drury. A native of New York City and son of a New York University professor, Drury proved to be as enigmatic as his character on the set. He was known for being temperamental and often refused to talk about his private life in interviews or to be photographed with other members of the cast.
It soon became obvious that 'The Men From Shiloh' wouldn't survive into a second season. The final episodes of the season went unnoticed by all but the die-hard Virginian fan. Some commentators refer to 'The Men From Shiloh' as the final season of 'The Virginian', under a new name. I prefer to view it as a spin-off series. The style and format had changed to such an extent that to categorize it as season nine of 'The Virginian' would seem unlikely. It was obviously intended as a fresh start for familiar, if weary characters. Its failure to attract the loyal audience 'The Virginian' maintained had probably as much to do with the decline of the Western genre as the quality of the show. Universal would produce one last hit Western series, 'Alias Smith and Jones', before the genre all but disappeared from television screens with the cancellation of 'Bonanza' in 1973 and 'Gunsmoke' in 1975.
Following the cancellation of 'The Men From Shiloh', Drury found work hard to come by. His reputation for being demanding on set worked against him and his only subsequent series was 'Firehouse' in 1974. This short-lived 30 minute action-adventure series centered around a group of firemen, with Drury in command as Captain Spike Ryerson. After a long absence from the screen, during which he pursued business interests in Texas, Drury made two appearances on 'Kung Fu, The Legend Continues' in the mid-nineties and was interviewed in a BBC documentary hosted by comic actor Richard Wilson of 'One Foot In The Grave' at his Texas ranch.
Doug McClure went on to star in the short-lived Western series 'The Barbary Coast' with William Shatner, a series of Edgar Rice Burroughs fantasy movies filmed in England and the sitcom 'Out of this World'. His last TV appearance was on an episode of 'One West Waikiki' and he could be seen with a host of TV Western favourites in the big screen version of Maverick.
In a 1994 interview McClure expressed plans for the return of Trampas to TV. "It's the turn of the century. A lot of it would unfold as you tell the story. Part of that would be that he's still a cowboy, a top hand, but the world has changed. There's a car now. There's flushing toilets. Things have changed and become industrial. That would make it interesting." Unfortunately, McClure's premature death at the age of 59 from lung cancer on February 5,1995 extinguished all hopes of ever seeing him as Trampas again except in reruns of 'The Virginian' and 'The Men From Shiloh."
---
Paul Arnold Green writes and illustrates two syndicated features, TV CULTS and SHOWBIZ TEASER and is currently writing a book on the life and career of the late actor, Pete Duel.

Special thanks to Barbara Townsend for her kind assistance in my research.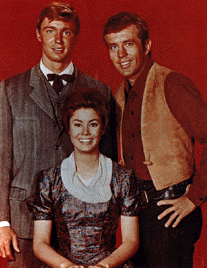 James Drury and Doug McClure became something of a double-act through their joint success on The Virginian. In 1968 they both made cameo appearances on the pilot film of 'It Takes A Thief', followed by an appearance on 'Rowan and Martin's Laugh-In', bemused by the antics of singer Tiny Tim. In 1983 they were reunited in an episode of 'The Fall Guy' dressed as The Virginian and Trampas, but playing themselves, and in 1991 they appeared as 'Doug' and 'Jim' in The Gambler - The Luck of the Draw, with Kenny Rogers.
A theatrical feature film, "Backtrack", was released in 1969 comprising of a compilation of "Ride a Dark Trail" from 1963 and - "We've Lost a Train" from 1965. The latter episode serving as a pilot for 'Laredo' which ran until 1967.
Jeanette Nolan (Holly Grainger) appeared in the original 1958 pilot film as the cook. The character of Trampas was absent and Steve was Judge Henry's (minus the Garth) son. Dan Blocker, who had a small non-speaking part, would be cast later that year as Hoss Cartwright in 'Bonanza'.
---
"Trampas and the 'Shiloh Family' gave me a picture of what I always thought Christian life was supposed to be like. The transformation in Trampas' character from the wild and selfish boy he was to the compassionate and caring man he became was like watching 'A Pilgrim's Progress'".
- Barbara Townsend, Texas
"Trampas is quite a role model of how to enjoy life. Yet care, compassion and loyalty still have their place. The Virginian can be shown today and it stands up as a well written, well acted piece of work.
"On The Men From Shiloh the writers lost the ability to make you really understand or care about each character and Trampas was stifled somewhat into a purely comic role."
- Lynda Wright, Cheshire, England
Links:
Trampas home page
Stars and Horse Stars Photo Gallery
TV on DVD
Holiday Specials on DVD
TV Commercials on DVD