Three Rocks
Introductions of the cast of the Front Row have been few. There is a reason for this, there is no way to tell you about this crazy bunch in one column. But there were three rocks that never missed a show.
First is Obin Johnson. I met Obin waiting for tickets at the Greensboro Coliseum. (Matter of fact there is where I first met Big Eddie). At every wrestling show I ever went to in the eighties they both were there. It did not matter if it was at a cow barn, those two guys would always be at the show. Hey, wrestling fans like that had to be pitied or admired so we became fast friends.
My favorite Obin moment? Well, there was a Managers battle royal once and it was a total piece of crap. Those matches had to be punishment for poor behavior or a sick rib. There is no reason for a bunch of washed up old fat guys to be in the ring and even think that it would be entertaining. Well, Obin thought it was funny. He almost fell off his chair laughing at these guys. Sir Oliver Humperdink was in the ring and, for some reason, he bladed and started gushing blood all over the place. Obin must have felt that this was a humorous spot or something because he started yelling at the top of his lungs in a high shrill voice and I quote, "Juice Humpy Juice!"
I will hear that in my nightmares forever.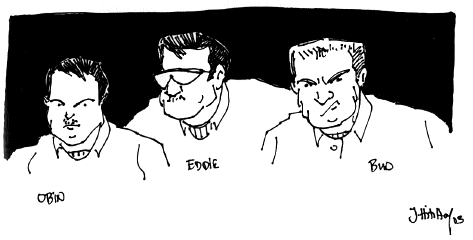 Big Eddie Beason was only 15 when he joined the front row and you would never have guessed his age. The guy was huge and quiet and loved his graps. One night in Winston Salem the Road Warriors went nuts and jumped out of the ring and humiliated a New Jersey redneck. Hawk went into the crowd and wanted a piece of this guy and it could have easily been me he got. At the next show I mentioned that I was a little afraid of the Roadies because they had more money than me and could afford better lawyers if they snapped and killed my ass. Big Eddie just looked at me and said and I quote, "John, I would not let that happen."
See why I love the big guy?
He would have stood in front of the Road Warriors for me!
And last is Bud Grondy who found his wife on the Front Row! Bud and I would go anywhere to see a show and he is one of the most decent people I ever met. He met Lisa at the wrestling shows and they now have two children and a mortgage to show for it. My favorite Bud memory is his weakness in that he was the biggest Road Warrior mark in the world. At one of the Starrcade shows he failed to notice that the Road Warriors had thrown Tully Blanchard and Arn Anderson over the ropes for a DQ and all the Front Row just razzed the hell out of him for it. I true vet of the Front Row should have seen the Dusty finish coming miles away.
So there you have it, three rocks that made going to wrestling worth it. And three of the best friends any one could ask for.
Next Time:
The Mid- Atlantic Cardboard Title