- PART TWO -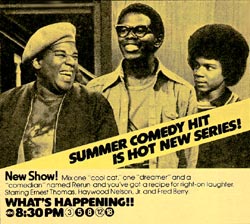 SEASON ONE
There were basically two kinds of 'good' sitcoms in the 1970s - the well-written and acted series (M*A*S*H*) and the competently written show with a cast of characters that were well-liked. What's Happening!! fell into the latter category.
After a very successful four-week summer run (August 5 - 26, 1976), What's Happening!! was brought back in November, 1976; as the first full season opened, the focus of the series shifted more to the young people.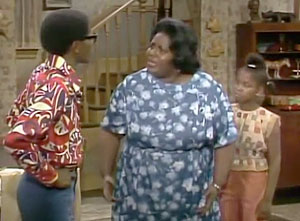 "We have fun and that's important," Ernest Thomas ('Raj') said in 1977 about working with his co-stars. "We know each other and like each other."
"The cast is like a big family now," Fred Berry was quoted as saying at the time. "Seeing us all together you'd never know that none of us even knew each other before we did the pilot."

After a few weeks on Saturday nights, the show was moved to Thursdays sandwiched between Welcome Back, Kotter and Barney Miller. Ratings flourished despite TV Guide calling What's Happening!!, "a look at urban black life that manages to capture the offensiveness of Amos and Andy while avoiding that program's fun." Harsh!
To that end, Mabel King wasn't particularly happy with her role as written (she was playing a maid, after all) and expressed her dissatisfaction by frequently making script changes on the set. While her character provided the strong moral center for the series, King lamented the fact that this couldn't be a two parent family, calling the lack of good familial role models for Blacks, "one of the biggest tragedies on television."
And basically no one was happy that little Dee always got the last word and all the best punchlines - before long her character was driving the plotlines as well.
For instance, an episode that found 9 year-old Dee giving life lessons to a cranky, aged Negro League ball player (who hadn't spoken to his daughter for 12 years because she married a white guy) would more logically have been played by Mabel King's character. This was a trend that would continue unabated.
SECOND SEASON
1977-78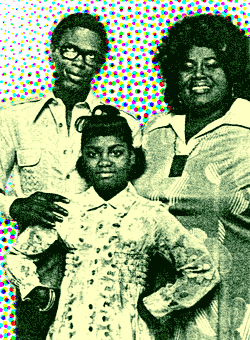 Shortly after the second season started production, Danielle Spencer was involved a devastating head-on car accident that killed her stepfather and left her with a broken arm and injuries to her face that required cosmetic surgery.
At the same time, Eric Monte sued the producers of What's Happening!! for $300 million dollars over a number of issues, including not receiving proper credit as creator of the show.
To this day, Monte contends that, after the success of What's Happening!!, Norman Lear, Bud Yorkin, Mike Eisner and Fred Silverman conspired with the networks to rip him off for hundreds of millions of dollars he felt was owed him from The Jeffersons, Good Times and What's Happening!!.
"Everyone who has ever created a show for Norman Lear owns a part of it except me," Monte told the National Enquirer. "I'm also the only one who doesn't get residual payments from repeats. My question is... why? In my lawsuit, I charge racial prejudice because that's all it can be. Monte complained that his only compensation for Good Times was $300 every time an episode was shot. He got nothing for the other series. Monte wrote the script for the pilot episode of What's Happening!! with an understanding that he would produce the series. That didn't happen.
Monte further alleged that he was subsequently blacklisted when he fought for the money he felt was rightfully due him as the creator of these monster hit shows.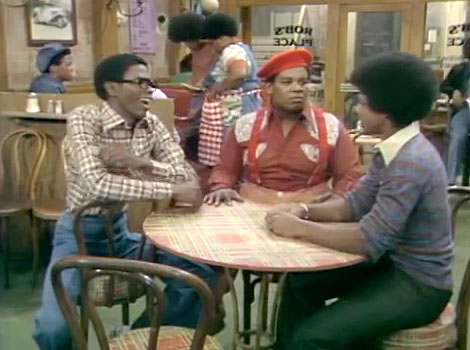 There was more turmoil as the second season unfolded. Cast members Ernest Thomas and Fred Berry walked off of the production, battling producers for more money and better dressing rooms (calling them "small and unsanitary"). The actors adamantly refused to return to work until their demands were met.
"Fred Berry didn't just ask for more money, he asked for a WHOLE lot more money," according to TVparty-er Brian Phillips. "He was quoted in TV Guide about this. He said that there should have been no reason that he wasn't a millionaire! 'I want my MDD [million-dollar deal].' That was in 1980's dollars.
"To put this into a modern perspective, the Friends cast were making $750,000 per episode after eight years and What's Happening!! only made it to three.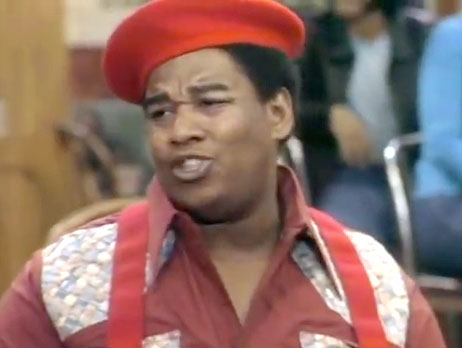 "I recall seeing Berry guesting on Soul Train. He was interviewed and then they played another song (not by Berry). A camera shot showed Berry dancing with a line of people behind him and that was the last you saw of him. He didn't make it through the whole song!"
"The stress of success got to me." Rerun confessed to People magazine in 1996. "The fat jokes got to me. And I got heavily into drugs and alcohol. I was empty inside." He spoke of coke dealers accosting him "right there in the studio."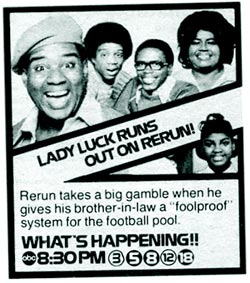 Still, What's Happening!! was a solid top twenty hit, reaching the top ten three times in 1977-78 - despite its timeslot following the sagging Welcome Back Kotter and competition from two hits, The Waltons on CBS and C.H.I.P.S. on NBC.
ABC moved the show to Saturday nights in January, 1978 and ratings took a nosedive. The network switched the show back to Thursdays later in the season, stabilizing the numbers.
By this time, the principals were earning about $3,000 an episode for a 22 episode season (that's about $15,000 per show in today's dollars).
After two years of cross-country commuting, Haywood Nelson finally moved with his family to LA during season two, as the show seemed to offer steady employment. Danielle (Dee) Spencer, on the other hand, was now living with her family in a spacious Malibu beach home while Fred Berry (who had ballooned to 250 pounds since production started) made his home in the Bay Area.
Ernest Thomas was living the swinging bachelor life with a home in Malibu, then Beverly Hills. He immodestly stated at the time, "It's like whoever is the best woman will get the prize - me." Shirley Hemphill, largely unspoiled by her success, was still living with her mom in the Valley.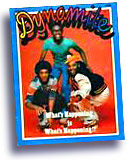 The increasing shift in focus to the youngsters in the second season meant less screen time for Mabel King. She wanted to see her character evolve, she envisioned scripts that had Mama Thomas going back to school, perhaps getting a better job. It was not to be.
In anticipation of year three changes, the last episode of the second season had Raj and Rerun moving into their own apartment. In the episode's typically silly plotline, Mama keeps dropping in on Raj and Rerun to snoop on them. It was the last episode of What's Happening!! to feature Mabel King - and only the second time she had any significant role during the second season at all.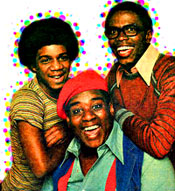 THIRD SEASON
1978-79
What's Happening!! was revamped slightly for year three. Raj and Rerun had now graduated High School, gotten their own place and moved on to college. Rerun took a job as an ABC network page.
Mama Thomas was nowhere to be seen, only referred to - Mabel King was dropped from the regular cast while Shirley moved into the Thomas house.
Dee's "Ooooh, I'm gonna tell mama" line started to get stale by the third season. Instead of a sure laugh, it now earned a low groan from the audience. Maybe the studio audience knew there was no longer a Mama to tell.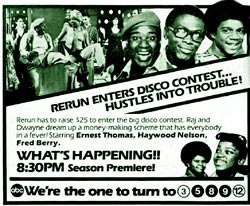 Still on Thursday nights at 8:30, What's Happening!! had the good fortune to follow a new ABC show that became the surprise hit of the season - Mork and Mindy. While ratings were up, What's Happening!! wasn't holding on to enough of the enormous lead-in audience. Numbers dipped at 8:30, rebounding somewhat for Barney Miller at 9:00.
New characters were introduced in an attempt to broaden the appeal of the show. David Hollander was cast as Little Earl, a wisecracking white kid (with a crush on Dee) that lived in the building Raj and Rerun moved into. Forced exchanges between the impossibly precocious Little Earl and the robotic Dee bordered on the surreal.
John Welsh played Little Earl's dad, a cop, and Leland Smith was occasionally seen as 'The Snake,' a basketball player working at Rob's Diner. The action was now primarily taking place at Raj and Rerun's apartment.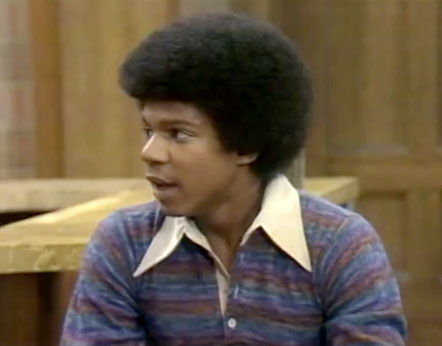 The retooling just made the show lamer - and two mid-season timeslot changes sent ratings permanently south. Despite beginning the year as the 16th most popular show on TV, What's Happening!! was gone before the season ended.
Why didn't ABC give the show another chance? Famed director Alan Rafkin, in his excellent autobiography Cue The Bunny On The Rainbow, had this to say about working on What's Happening!!: "Haywood was a really good kid and Ernest was an excellent actor. Fred Berry was the one to look out for. He could be trouble. He received many of the show's big laughs. Unfortunately, he later had some personal problems that carried over onto the set. After I had left the show, there was a big contract dispute and I was told that Fred was the instigator behind the trouble that followed. He convinced Ernest and Haywood to join him in a strike for more money. Eventually, the producers simply had enough of the boys' antics and they closed the series down."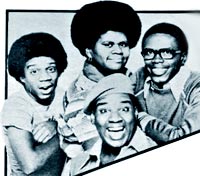 After three seasons, there were enough episodes to syndicate and that's where the real money is. Besides, the scripts were getting really stale, consisting mostly of inserting the cast into standard 70's sitcom clichés and simplistic morality tales.
Examples of this included the kids busting a bootleg scam with the Doobie Brothers(?), Raj taking a job as a nude model and, in the very last episode, Rerun pretending to know Sammy Davis, Jr. and having to produce him for a teen center performance.
AND THEN...
In January, 1980, six months after What's Happening!! was cancelled, Shirley Hemphill (still living with her mother in West Covina) returned to ABC as the star of her own series, One In A Million.

In it, she played Shirley Simmons, a cab driver who inherits Grayson Enterprises, a huge corporation complete with stuffy, white managers who resent her input.

Despite the best timeslot on television, between Happy Days and Three's Company (the second and third highest rated shows in the country), and despite being a genuinely funny series, One In A Million failed to spark any interest. It lasted only a few weeks.

During the early-eighties, Fred Berry legally changed his name to Rerun, and became a well-known pioneer break-dancer. He was a frequent guest on sitcoms like Alice and dance programs like Dance Party, USA.

After being dropped from her own TV series, Mabel King stayed busy during What's Happening!!'s final season, reprising her role of the Wicked Witch in the 1978 film version of The Wiz and playing Steve Martin's mother in one of the top films of 1979, The Jerk. She turned up in a handful of TV episodes (Amazing Stories, Wiseguy) and movies in the mid-eighties including The Jerk, Too, a 1984 pilot/TV-movie sequel on NBC. That show was not picked up.

Television work was sparse for the What's Happening!! cast members. African-American sitcom actors were no longer as hot as they were a few years earlier when Good Times and Sanford and Son ruled the ratings.

In fact, a scan of the network prime time schedules from the early-eighties finds very few Black actors in regular series starring roles. It wasn't until Dianne Carroll joined Dynasty (and she had to 'blackmail' producers for the role) and the debut of The Cosby Show in 1984 that the trend reversed.

It was then that the What's Happening!! cast was called back to the sitcom salt mines.

PART THREE: The show is revived,
Rerun quits (again), three
cast members die - and
who ends up homeless?