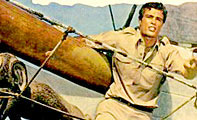 1961 TV Season
Top 25 shows, Bob Newhart,
The Hathaways, Dobie Gillis, Bachelor Father, more!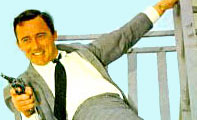 1964 Fall Season
Top 25 TV shows, Jack Paar,
'That was the Week that Was',
cool commercials & more!
1960's Soap Opera
Opening Themes
by Billy Ingram
The Edge of Night came on CBS in the afternoons so this is the Soap Opera theme I remember best as a young kid, just getting home from school. It reminds me of laundry being done and dinner on the stove (the kids ate early at our house). There's something eerie about this theme, the show had a dark undertow and a generally seedy nature.
The one Soap I watched was Dark Shadows, I would rush home from school in time to catch the second half, if I was lucky. You see, school let out at 3:30 and that's when Dark Shadows aired on ABC. Well, not on our ABC affiliate - I had to use the TV in my parent's room with the 'rabbitt ears' to pick up a station 100 miles away. I loved the fantastic storylines and creepy characters but the music by Robert Colbert was what gave the show its foreboding edge.
As The World Turns was part of CBS' winning mid-afternoon Soap line-up following Search for Tomorrow, and Guiding Light, both of which ran for only 15 minutes in the mid-1960s.
The Guiding Light was popular for 57 years on television but was cancelled by CBS on 9-18-09.
General Hospital...
"And now... Search For Tomorrow."
Funny how just hearing these themes instantly transports me back to my elementary school days and those long ago summers when they would be playing somewhere in the house.